Are you interested in connecting a Roku player, Xbox Game console, IPTV box or laptop to an old TV?
An RF Modulator is a HDMI to Coax converter that allows you to hook up
Streaming media players ( Apple TV, Amazon Fire Stick, Fire TV, Roku, etc.) ,
Game consoles (PS3 , PS4 , PS5 , Xbox 360 , Xbox One etc.),
DVD, Blu-ray players, VCRs,
Laptop , PC or computer
New HDMI-equipped media players such as an IPTV box
to an older TV or video equipment.
Then you can watch videos, play games, share old pictures / photos on old CRT TV models and other non-HDMI devices.
In this post we walk you through our top picks and discuss the pros and cons of each. We also discuss our main criteria when evaluating such products. So without further ado let's get into the details.
The Modulator allows you to convert streaming content delivered over HDMI to an old TV operating on the ATSC broadcasting system, ISDB-T, or DVB-C, you no longer need to worry about your TV and HDMI modulator compatibility.
(ATSC which stands for Advanced Television Systems Committee is the OTA digital signal broadcast in the USA. ISDB-T is used in Japan and other countries. DVB-C is the cable standard used in Europe).
Simply connect your HDMI source to the Thor Broadcast modulator, feed the RF output to your TV, and start controlling its GUI interface. Although you can control the basic functionality using the front buttons, you need to connect it to your computer network via LAN cable to configure it. While this might not be an issue for many people some have complained about the requirement
The default IP address is 192.168.1.10. You can find the step-by-step instructions to connect to your PC network here. Please note that you don't have to connect it to your PC network all the time, only at the time of configuration.
The modulator supports a video resolution of up to 1080p and integrates HD MPEG-2 encoding and AC3 Dolby for the best video and audio experience. It comes with the desk/wall mount brackets for easy installation and use. You can connect the RF to the splitter and watch the same thing on multiple devices simultaneously.
Pros
HDMI loop out feature that allows you to tap into the HDMI input while still driving a TV
RF In and Out ports allow you to combine the modulated video signal with the antenna input or other RF sources
Easy to set up and low latency
Provides good audio and video quality
Cons
This modulator doesn't support 4K or UltraHD resolution.
The web-based setup requires adjusting your PC's network settings. You might need to call tech support to get this document as it's not provided in the box. This info should be provided along with the product
Front Panel controls and settings are very poorly documented
User Reviews
It has plenty of good reviews. Users are happy with its low latency, high-quality output, and compatibility with multiple broadcasting standards. Although some users find it challenging to configure the modulator through networking, others feel that basic networking knowledge is required and not a deal breaker.
If you want to feed your HDMI source to the existing TV distribution cable via a wall socket and convert the HDMI video signal into a regular HDTV channel, go for VECOAX Minimod-2.
The VECOAX supports both cable and over-the-air broadcasts. One of the primary use cases for this device is in an RV.
Its full HD video quality of up to 1080p and Dolby audio quality gives the video signal a feel of the original broadcasted signal. You can simply feed the output of VECOAX minimod-2 into the wall socket and receive it on any other TV by re-scanning the channels list. It is easy to install and simple to set up. It works out of the box without any complex configuration needs.
Here is a video that shows how easy it is to configure the Minimod
Setting up the channels is relatively easy because of its LED color display and front buttons. You can give each channel a name of your choice using the front buttons and display. This HDMI modulator also gives the functionality of an HDMI extender without any extra unit, as you can feed the output to the wall socket and scan the channel on any TV.
Pros
Can connect multiple TVs at the same time
If activated in the video source, it can pass the closed caption to the destination TV
5 Year Warranty plus Free Unlimited Tech Support
Doesn't need programming via a computer unlike many other RF Modulators on the market
Cons
It doesn't have an On/Off switch and is designed to operate continuously.
User Reviews
Users are happy with the ability to connect with multiple TVs simultaneously as they can watch their favorite videos while moving around freely in their house or workshop. They also find its output video quality good and the closed caption activation feature a plus. Some users complain about its audio quality, while others think its too bright LED disturbs them at night.
If you are looking for a converter to solve your HDMI source's short-distance limit problem, the Aoespy modulator is for you.
This HDMI to RF modulator lets you connect your old TV to your HDMI source without worrying about the distance limit. Whether you want to connect your Roku, DVD Player, Blu Ray, Laptop, surveillance screen, or any non-HDMI device, this little device with broad features can serve the purpose quite well.
If your TV supports the picture-in-picture function, you can even keep an eye on the surveillance screen while watching your favorite show. Included remote control lets you configure and control the channels remotely. The LED indicator lets you confirm if the modulator is connected to the HDMI source or not. If the HDMI source is not connected correctly, the indicator becomes red and turns green otherwise. The device only supports PAL-BG, PAL-I, PAL-DK, and NTSC-M TV formats. Also, it can't work in reverse, which means it can't convert RF to HDMI. If you encounter the noise in your video output, press the 'SYS' button on the remote control until the noise goes away.
Pros
Connection requires no additional driver or software.
You can share programs on TVs in different rooms.
It is a budget-friendly modulator.
Cons
When power is turned off, the settings are lost and need to be configured again when turned on.
User Reviews
Users like the affordable price point of this modulator. Some users got confused with its channel selection and TV formats initially but overcame it afterward. The remote inclusion has made it a favorite of many users due to their increase in mobility in the house. According to its users, the Mode and SYS buttons must be operated carefully to get a good quality video and a clear audible sound.
What to Look for in HDMI RF Modulator
Now that you have gone through our three top picks for the best HDMI to RF modulator let's look at important aspects to keep in mind when making your final purchase.
Output Video and Audio Quality
Do you know that the output coming from the modulator is not the actual signal but the re-transmitted form of the original one? So the output video and audio quality might be compromised. Look for an RF modulator that supports up to 1080p resolution at least. Do check the modulator's manual to adjust the audio settings.
Multiple Connections Support
If you are someone who likes to keep following their favorite show while moving around in your home or workshop, you might want to set the same show on multiple TVs, including your favorite childhood TV. In that case, a modulator with the extender functionality might be your top preference.
TV Format Support
While reading the customer's reviews of different modulators, we came across the comments that tell us that the customers chose the wrong modulator for their TV format. If you live in America, your TV format would probably be NTSC-M. Otherwise, there are multiple TV formats, including PAL, ISTC, DVC, and ATSC. Not all modulators support all the formats. So ensure to match the format before purchasing.
Ease of Use and Configuration
Mostly the instruction manuals of the modulators are available online. We recommend you download and give them a birds' eye view once. This way, you can judge the modulator's ease of use and configuration procedure. Even for a layman, an exemplary modulator should be easy to configure and set up.
Frequently Asked Questions
What is the difference between RF In and RF Out?
Radio Frequency (RF) In port connects to an analog input signal such as from an Antenna or a Wired Cable TV signal. The RF out port is where this signal is routed to such that it can be accessed by a receiver. RF out can be connected to the Antenna port on the back of a TV.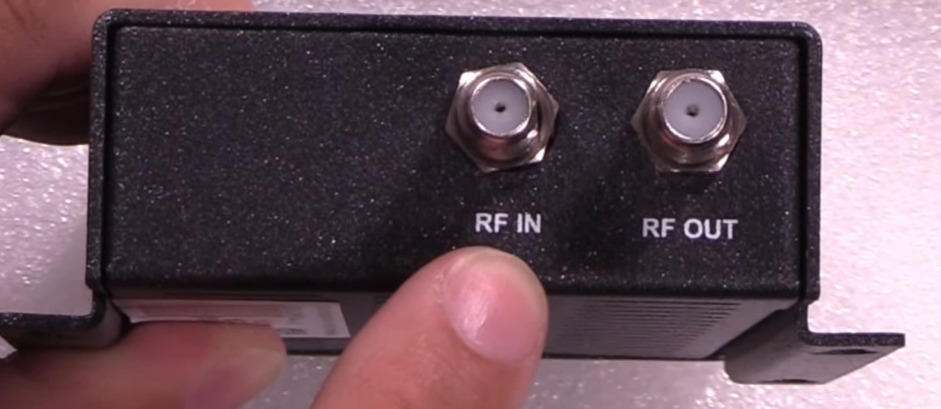 In an RF modulator a user can choose to view either
the signal on the RF Input port or
the HDMI input
In the case of an RF modulator the digital HDMI signal is first converted to an analog signal, while nothing is done to the RF input signal which is already in analog form.
Conclusion
We have carefully researched and reviewed the three best HDMI to RF modulators. As a recap here are our top picks: