AIS stands for Automatic Identification System. It was developed to ensure that maritime vessels have data about the location of other vessels in their vicinity. This helps people managing the vessels to avoid collisions and accidents. AIS does this by wirelessly transmitting the identity, location, speed, course and other relevant information to nearby vessels. AIS systems use the VHF band (30 MHz to 300 MHz) for transmission and reception.
AIS systems include built-in GPS receivers. Relevant information from the GPS is automatically transmitted to AIS systems on vessels within range. This enables each AIS to build a "picture" of the maritime activity in its area, which can be used by the vessel's crew for safe navigation. It should be noted that AIS, as a tool, should be used to augment marine radar information, and not to replace it.
In this review, we will present an overview of five AIS transceivers and their features.
The Si-tex SAS-900 6″ Color Class A AIS Transceiver is a sophisticated and robust Class A transceiver. The transceiver features several integrated features including a high-definition color screen, multi-lingual interface, Wi-Fi and IPx6 / IPx7 water and weatherproof enclosure. The AIS receiver supports integrated shock and vibration protection for reliable operation in harsh environments.
Features and Specifications
5 inch display, 800 x 480 full color LCD
GPS and GLONASS support
1 Watt or 12.5 Watts output power
12 to 24 Volts DC operation, maximum 12 Watt consumption
-15 to 55 degrees Celsius operating range
152 x 156 x 111 millimeters
1.5 kilograms
An external GPS antenna and cable are provided with the transceiver. The SAS-900 is a Class A transceiver. Class A instruments are required for ships in excess of 300 gross tons such as commercial vessels, cruise liners and military craft.
The Garmin AIS 800 Class B Transceiver is a Class B AIS transceiver with internal GPS antenna. The transceiver includes integrated VHF splitter which enables use of the same antenna for AIS and VHF. An external plotter needs to be connected to the AIS for visual display of nearby marine traffic.
Features and Specifications
GPS
NMEA 2000/0183 interface for plotter/display connectivity
5 Watt AIS output power
12 to 24 Volts DC input voltage
-15 to 55 degrees Celsius operating temperature
175 x 142. X 54.5 millimeters
414 grams
External GPS and VHF antennae are required for the Garmin AIS transceiver.
Users have generally expressed their satisfaction with the ease with which the system was installed. The product has received mostly 5-star reviews from Amazon customers.
The Si-Tex MDA-5 Class B AIS Transponder is a Class B AIS transceiver. An integrated zero loss VHF splitter is available on the transceiver. In addition to transmission over VHF, the AIS data can also be sent to connected Wi-Fi devices. Si-Tex provides external GPS antenna and cable with AIS.
Features and Specifications
GPS and GLONASS support
NMEA-2000 connectivity for display / plotter
Long range Wi-Fi
5 Watt AIS power output
Saves voyage data for 30 days
-25 to 55 degrees Celsius operating temperature
9.6 to 31.2 Volts DC input voltage
6.8 x 5.0 x 2.0 inches
0.8 pounds
Users have expressed satisfaction with the ease of use and functioning of the Si-Tex MDA-5. However a user has expressed the following issues with the onboard Wi-Fi:
Sends AIS and location, does not sent NMEA-2000 messages as advertised
Can't be turned off
Only works in access point mode
The Si-tex MDA-1 is a Class B AIS transceiver. An external GPS antenna is not required if the AIS is mounted with a clear view of the sky. An external splitter is required to use the AIS with an existing VHF antenna.
Features and Specifications
2 Watts VHF output power
NMEA 0183 connectivity for external display / plotter
-25 to 55 degrees Celsius operating temperature
9.6 to 31.2 Volts DC input
140 x 100 x 42 millimeters
250 grams
A user who has reviewed the Si-tex MDA-1 has given favorable comments and a 5-star rating.
The RAYMARINE AIS700 is a Class B AIS transceiver with an internal VHF splitter. It needs to be configured from a PC before it is used for the first time. The AIS transceiver supports a silent mode which allows it to operate as a receiver only.
Features and Specifications
5 Watts AIS power output
NMEA 0183 for external display / plotter
USB interface for PC based configuration
12 to 24 Volts DC voltage input
-15 to 55 degrees Celsius operating temperature
171.6 x 132.55 x 57 millimeters
A user who reviewed the AIS expresses his satisfaction with the device and its interworking with other systems installed on his vessel. He also uses an optional AIS silent mode switch with the device to enable him to hide his favorite fishing spot from others. The RAYMARINE AIS700 has been given multiple 5-star reviews by users.
How to pick an AIS transceiver
Let's take a look at the different AIS transponders reviewed in this article and compare them:
Transponder Class: A or B – What does it mean?
Broadly speaking there are two types of AIS transceivers:
Class A

Transmit and receive more information compared to Class B transceivers and with higher power. Examples of messages transmitted by Class A AIS transceivers but not transmitted by Class B AIS transceivers include rate of turn and IMO number.

Required on ships in excess of 300 gross tons such as commercial vessels, cruise liners and military craft

Class B

Suited for smaller vessels such as yachts, speedboats and leisure craft
So it would make sense to pick the transceiver class depending on what type of vessel you want to use it on.
Four of the five transceivers we have reviewed are Class B. The output power from these devices is lower (5 Watt), relative to Class A (12 Watt). This means that the Class B transponders will have lower range relative to Class A. Class B transceivers also have a lower reporting rate relative to Class A.
In general, Class B transponders are lower in cost due to less stringent performance specifications.
Plotter/Display
Only the Si-Tex SAS 900 has an integrated Plotter or Display. This is a large integrated high definition color screen to maximize the benefit of the device's Electronic Chart display engine with full detailed chart AIS overlay, and other features.
External GPS Antenna
An external GPS antenna is required when the AIS is installed in a location where it does not have a clear view of the sky. It has to be purchased separately if not included with the kit as is the case for two of the five transponders.
VHF Splitter
A VHF splitter enables the use of a single antenna to be shared with a VHF radio. In other words you don't need a separate antenna for your AIS system. An integrated VHF splitter makes things more compact and takes up less space than with an external splitter.
Wi-Fi
Wi-Fi connectivity makes it easy to interface with navigation programs on a computer.
AIS receivers
Tracking ships is fun, interesting and provides useful information. You don't need an AIS transponder for this as ships can be tracked with an AIS receiver. One such device is the Quark-elec AIS receiver. This is much less expensive than the other devices we have reviewed in this post.
AIS receivers have become quite popular over the years. Here is a video that shows AIS tracking of the container ship that blocked the Suez Canal in March 2021.
The Quark-elec AIS receiver is a dual-channel device which means that it can simultaneously monitor both AIS channels (161.975 MHz &162.025 MHz) and decode them simultaneously. This mode of concurrent operation improves the accuracy and reliability of AIS signal capture.
Features and Specifications
Compact dual channel
Multiplexer: combines AIS, GPS and NMEA 0183
Can be used wireless (WiFi) or through the USB or NMEA ports
Up to 35 nautical miles receiving range
Compatible with Chart plotters, Windows, Mac OS X, Linux systems, Android and iOS
The Quark-elec AIS receiver doesn't have a built-in VHF splitter, so you would need to buy an external splitter to optimize the use of a single VHF antenna.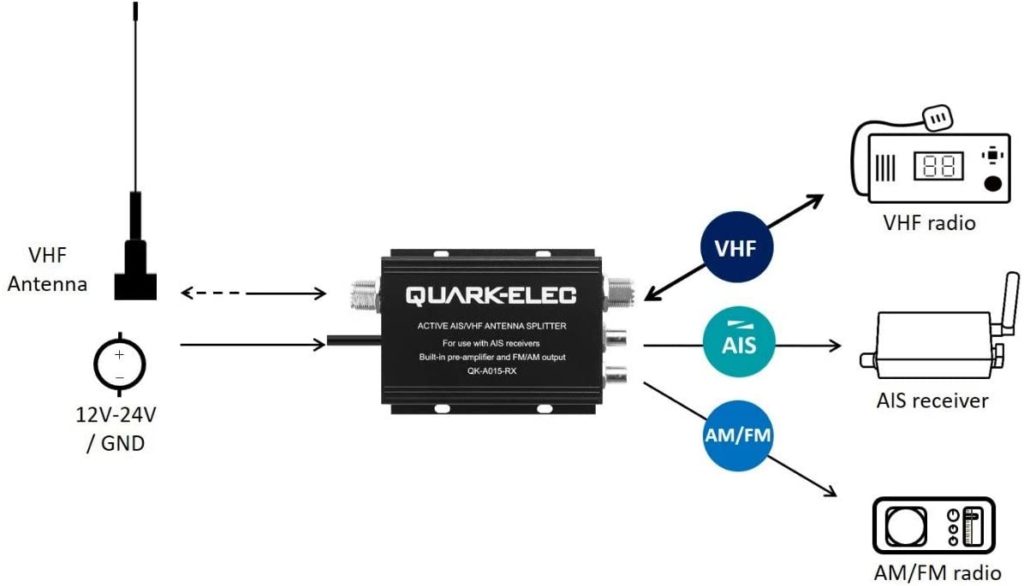 An AIS amplifier or an AIS filter can help improve the listening range performance of your AIS receiver system. Note that an amplifier cannot be used with the AIS transponders or transceivers. Here is a picture that shows an AIS receiver configuration that involves both a filter and amplifier.
How AIS works
In an AIS system each ship's transceiver broadcasts its location that it determines using GPS. It also receives the location of other ships. An AIS transceiver is typically able to receive the location of ships in the range of about 74 km or 46 miles. Signals from AIS transceivers can also be received by satellites up to the 400 km orbit of the International Space Station (ISS).
AIS transceivers use two frequencies in the VHF band – 161.975 MHz and 162.025 MHz. The amount of data used in transmissions is very low compared to most modulation schemes – 9.6 kbit/s Gaussian minimum shift keying (GMSK) modulation over 25 kHz channels.
Global AIS transceiver data that is collected from both satellite and shore-based stations equipped with AIS receivers are made available on the internet through a number of service providers.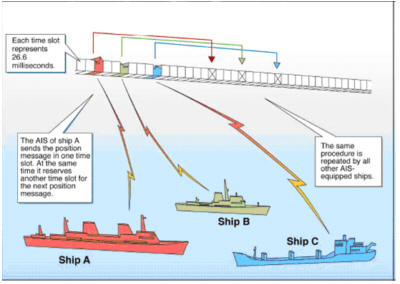 You can head over to MarineTraffic and view ships that are equipped with AIS anywhere in the world.
Summary
In this post we have introduced AIS technology and summarized the features of five different transponders and one receiver.
As a recap here is our list: