Do you live in rural or remote areas in Canada, and experience dropped calls due to weak cellular signals? It can be very annoying and frustrating to deal with mobile phone coverage issues.
Fortunately, cell phone signal boosters are designed to deal with this problem. The basic idea behind them is simple: a bigger antenna is more efficient than a smaller one. Rather than relying on the minuscule antenna on your phone, they capture cellular signals using a larger antenna that passes it through a re-broadcaster to amplify or boost it.
If you are looking for a signal booster that will solve your wireless signal woes, we have compiled a comprehensive buyer's guide that includes real-world reviews for cell phone boosters in Canada. Without further ado, let's get to it!
Want to enhance your cellular phone's signal strength and reduce and electromagnetic radiation? The Proutone signal booster does that and more with the largest coverage area. Let's take a look at some of the main features of this product.
Frequency Range
The Proutone dual-band cellular signal repeater works on bands 4 and 5. This ensures that it will work with major Canadian carriers Bell, Rogers and Telus.
Larger Indoor Signal Coverage
With 65 dB of gain the Proutone enables a wide signal coverage area of up to 3000 square feet. As a result you can conveniently use this booster in more than one room — in your basement, cottage, shop, or hotel. Moreover, the signal repeater can be used by multiple users and cellular devices simultaneously.
Longer Mobile Phone Battery Life
The Proutone signal booster can boost cellular signals up to 32X reducing the numbers of dropped calls, increasing data speeds, and extending battery life since phones use less energy when the signal is stronger.
Easy to Install
If you have no experience with installations, find solace in knowing that you can easily install and set up the kit without professional help. It comes with step-by-step instructions on what needs to be done eliminating the need to pay for a technician. The mounting screws are also included in the package.
PROS
Wide signal coverage of up to 3000 square feet
5 years of free repairs and professional technical support from the manufacturer
Works seamlessly with major Canadian carriers
Cost-effective
CONS
The outdoor antenna needs to be mounted on the roof
Limited number of frequency band options
"I live pretty far out in the country, so my cell signal would never get above one bar and often dropped off completely. Since installing this booster I consistently have two and three bars and the speed increase is noticeable." – Amazon reviewer
Looking for a versatile signal booster that supports a wide array of carriers and the largest number of bands? Well, this signal booster could be the ideal choice. It will work seamlessly with Bell, Telus, Rogers, Fido, and many others. However, before buying it, ensure that your phone supports bands 2, 4, 5, 12, 13, and 17.
Improved Cellular and Data Signal
The ANNTLENT will improve voice, data and text and maintain a consistent internet connection. With this device, you can stream videos and make calls from wherever you are. Moreover, it supports multiple devices and users simultaneously – this means that you can share it with friends and family members.
Excellent Functions
Unlike many other signal boosters, this one comes with a wide array of very useful features that make it easy to use. These include Oscillation Elimination, Automatic Gain Control, and LED indicators. When the signal is too strong on the outside it automatically reduces gain to improve performance.
Easy Setup and installation
The package includes a power adapter, indoor/outdoor antennas, the ANNTLENT booster, and a step-by-step instructional manual which makes it easy to assemble and install the kit.
PROS
Supports a wide array of carriers
Designed with Oscillation Elimination, Automatic Gain Control, and LED indicators
Supports multiple devices and users simultaneously
The two 10 foot antenna cables come with RG-174 coax with FME connectors.
CONS
Short length of included cables
Looking for a multi-room and wide range signal booster? This weBoost cellular booster is designed for that and more. It boasts a wide array of features all designed to boost and clean cell phone signals. Besides that, it has a lot to offer.
Carrier compatibility
Worried that your cellphone carrier is not supported? Well, find peace in knowing that the weBoost Home MultiRoom works with a wide array of Canadian carriers such as Rogers, Bell, and Telus. This booster operates on bands 2, 4, 5, 12, 13, 17, and 25. This product supports the largest number of distinct frequency bands.
Wide range coverage
This weBoost signal booster provides enhanced cellular reception within 5000 square feet. This implies that it can be used to serve cellphones in up to 3 rooms so that every member of your family can enjoy better voice quality, fewer dropped calls, and increased data speed.
Tool-free installation
Unlike many other cell phone boosters, you will not require drills or any other tools to install the weBoost. It comes with a flat window cable which can be easily be mounted with Command strips when connecting it to the outside antenna. The inside antenna can be mounted on the wall or placed on a shelf using special brackets that are included in the kit.
ISED approved
With its 65 max gain, this cellular booster meets all ISED regulations and will not harm or interrupt any carrier's signal to or from the cell phone tower. Moreover, it offers +12 dBm in downlink output power and +21 dBm in uplink output power to ensure that it reaches cell phone towers even if they are located far away from your location.
5G Ready
Being 5G ready means that you will not need to replace it any time soon. This comes in handy bearing the fact that cell phone technology is developing fast.
PROS
Largest number of supported bands to support a wide array of Canadian carriers
5G Ready
You will not require drills or any other tools to install the kit
CONS
Cost
Some users have complained that the external cable is not of sufficient length
"The nearest cell tower is pretty far away. We were getting one bar of reception – a barely marginal one bar – holding our phones up outside on the deck of our cottage. Now we get a solid, consistent 2-3 bars inside" – Amazon Reviewer
Looking for a small and compact cell phone signal booster that you can use in more than one room? If so, this booster could be what you need. Unlike other boosters, it is small but powerful.
The SolidRF booster operates in four different bands: 2, 5, 12 and 13.
High Gain
With 60 dB gain the SolidRF is guaranteed to pick up weak signals over long distances. can be anywhere between 3 to 5 miles. The signal is boosted up to 100X and offers wide coverage of up to 1500 square feet.
Versatile
This booster is compatible with major Canadian carriers such as Rogers, and Fido and Bell.
Reduced Electromagnetic Radiation
A stronger signal means that your phone will require less power to send and receive signals. Consequently, this reduces the Electromagnetic Radiation that phones produce hence protecting your body. A better signal will also increase the life of your phone battery since less power is required to make and receive calls.
PROS
Compatible with major Canadian carriers
Offers a wide coverage of up to 1500 square feet
CONS
Some customers have complained about poor amplification and inconsistent performance
How We Picked a Cell Phone Booster
Frequency bands
Most of the cell phone boosters are designed to support specific bands. The ones we picked are compatible with all Canadian carriers.
However another important thing to consider when picking a cell phone booster is the band on which your cell phone operates. So how do you find the band on which your phone is operating? The procedure is quite simple and shown in the picture below: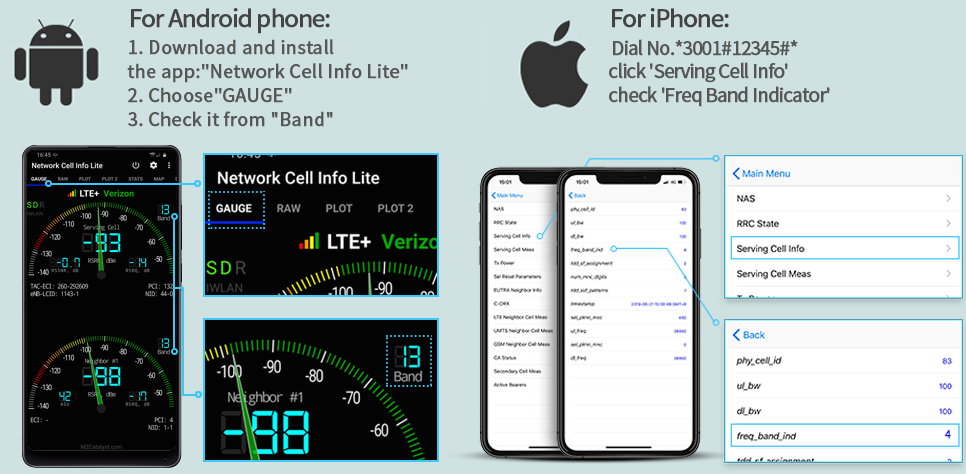 If your cellphone is operating on band 13, then all of the above signal boosters, with the exception of the Proutone will boost your signal. So while the cell phone boosters might work with all carriers, it may not work with your specific phone. Be sure to check your phone's operating band!
Other factors we considered for this review are popularity, customer feedback, ease of use, range and features.
Frequently Asked Questions
What is the best cell phone booster for Freedom Mobile?
Freedom Mobile operates on bands 4, 7, 13 and 66. This means that the following boosters will work:
However, it's important to check which frequency band your cell phone is operating on before picking any of the above devices. In Eastern Ontario for instance, Freedom Mobile uses band 66. A band 4 booster will work for band 66, so you can use any of the above boosters.
What is the best cell phone booster for Eastlink?
Eastlink operates on bands 4 and 13. The following boosters will work with Eastlink:
What is the best cell phone booster for Shaw?
Shaw operates on bands 4, 13 and 66. The following boosters will work with Shaw:
What is the best cell phone booster for Videotron?
Videotron operates on bands 4, and 17. The following boosters will work with Videotron:
What is the best cell phone booster for Tbaytel?
Tbaytel operates on bands 2, 5, 7, and 20. The following boosters will work with Tbaytel:
As you can see the above boosters only cover bands 2 and 5. If your phone operates on band 7 and 20 none of these boosters will work.
What is the best cell phone booster for Telus?
We cover the best signal boosters for Telus in detail here.
Why do cell phone boosters work better with some carriers?
If you live in a rural area with no service or reception look up a map view of nearby cell towers in your area. Certain wireless providers will work better than others, depending on your distance from the closest tower.
For example, a Bell cellphone will get reasonable performance from a booster but could still drop calls if you are far from the tower. However, a Rogers phone might get 5 bars all the time because the tower is much closer.
Summary
In conclusion, here is a list of the best cell phone boosters for a rural or remote area: