The K400 is a popular and cost-effective wireless Keyboard. There are three variants of this product:
The K400 uses a small black USB dongle that plugs into your laptop or PC. It needs this to connect.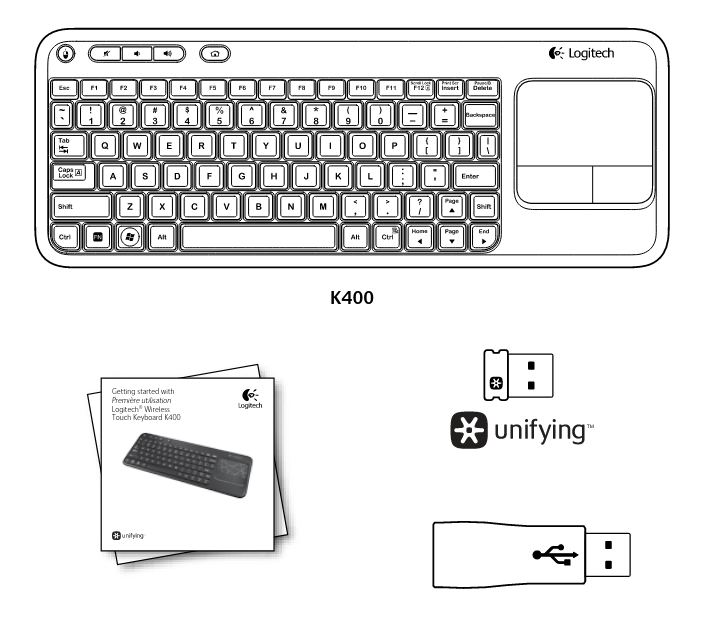 The dongle is very small and easy to lose or forget. Many users will dispose or recycle an old PC and forget that the dongle was plugged into the USB port. In this post we answer some user questions.
Can I use the K400 without the USB dongle?
No, the K400 cannot be used without it. The dongle includes a wireless receiver that communicates with the keyboard and is mandatory for operation. The dongle will need to be replaced with another.
K400 Replacement Dongle
If you turn the K400 upside down, you will see a product label. Here is a picture of my K400r product label.

Note the orange logo for the Logitech Unifying family of products. All these products use a Unifying receiver dongle. If you lose your dongle you have two options:
Every unifying product ships with its own separate dongle. If you have a mouse that is compatible with the family of products it has a dongle that can be used. You will simply need to plug it into your PC and add the keyboard to it.
Alternatively you can simply purchase another USB receiver.
Once you get your receiver, you will need to:
Your keyboard will not automatically pair with the USB receiver.
Is the K400 a Bluetooth dongle?
The K400 is not a Bluetooth dongle. Instead it uses a proprietary 2.4 GHz wireless technology designed by Logitech. It is optimized for Keyboard and Mouse devices and allows up to 6 peripherals to connect to a PC simultaneously.
Where can I get a replacement dongle?
A replacement Unifying dongle can be purchased on Amazon.
For more information on dongles please read our post on different Logitech receivers.
Summary
If you have lost or misplaced the USB dongle for your K400, K400R or K400 Plus Keyboard, it is easy to purchase a replacement Unifying dongle.