A wireless keyboard uses a USB dongle to link to your laptop. This post will help identify different solutions if you lose the USB dongle.
Quick Summary:
Now let's get into the details.
Wireless Keyboard Technologies
The first step is to find out what wireless technology does your keyboard use?
A quick google search using the part number of the keyboard will answer this question.
Wireless keyboards use two different wireless technologies for functionality:
Bluetooth
2.4 GHz radio frequency (RF)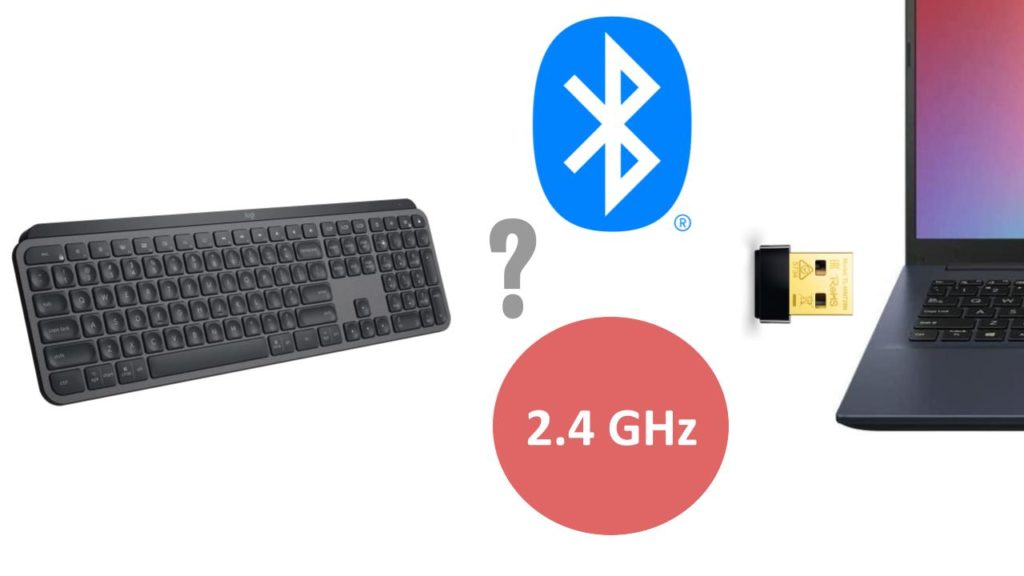 This means that your missing dongle may either be a Bluetooth or 2.4 GHz dongle. These are two distinct technologies. This Logitech keyboard for instance uses 2.4 GHz tech while this Arteck keyboard uses Bluetooth.
Some fully featured keyboards like the Royal Kludge RK61 support both technologies in the same device.
In general however, most keyboards are either 2.4 GHz or Bluetooth. You cannot mix and match technologies.
If your keyboard supports both 2.4 GHz and Bluetooth and you lost the dongle
In this case you have two options if you lose the original USB dongle:
Try connecting the keyboard directly to Bluetooth on your laptop
If your laptop does not have built-in Bluetooth support, then you can buy a Bluetooth dongle
If you have a Bluetooth-only keyboard and you lost the USB dongle
In this case your options are the same as above.
The good thing about Bluetooth keyboards is that the technology is universal and you can mix and match keyboards and dongles. Furthermore, most laptops have built-in Bluetooth support.
If your keyboard supports only 2.4 GHz tech and you lost the USB dongle
Can you use a wireless keyboard without a USB dongle?
If you have a 2.4 GHz wireless keyboard it will not work without a dongle. This is because you cannot use the keyboard for anything without the receiver. The keyboard needs the receiver dongle to communicate with the laptop.
If you have a Logitech Keyboard and you lost the USB dongle
Many Logitech Keyboards are supported by Logitech Unifying Receiver technology. If this is the case then you're in luck. In this situation the simplest solution is to purchase a Logitech Unifying Receiver Dongle. It is a tiny device that plugs into a standard USB port and uses the advanced 2.4 GHz wireless technology.
A Logitech unifying receiver lets you connect up to six compatible keyboards or mice to one laptop. This means that without having multiple USB receivers or dongles, you can enjoy your laptop with multiple external keyboards and mice. The receiver has been shown as reliable, with its versatility to function, even when the keyboard is 10 meters away from the laptop, without lags.
Which Wireless Keyboard Devices Are Compatible with Logitech Unifying Receiver?
Logitech products, with an orange star symbol, can be paired with the Unifying receiver.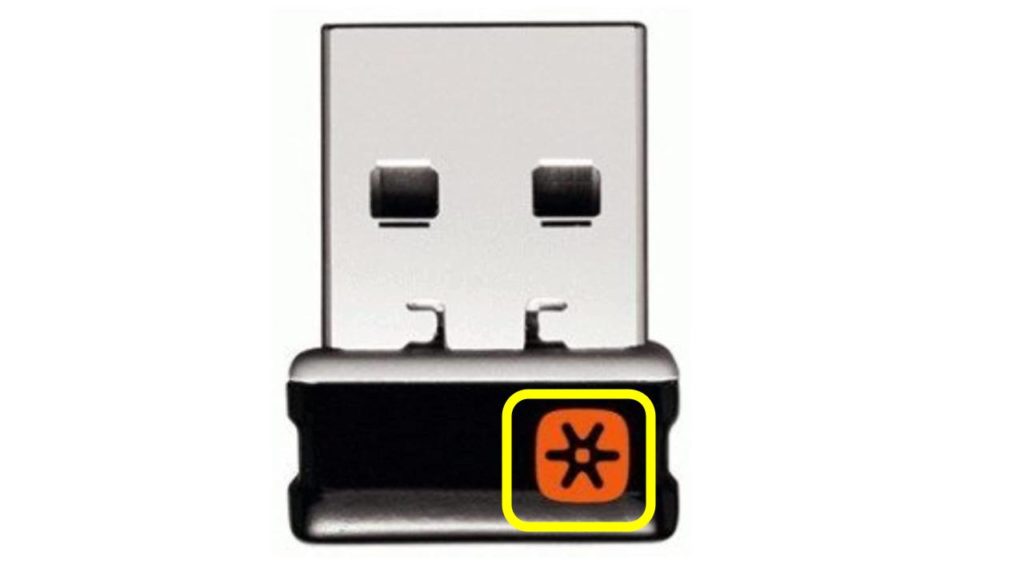 Below are some of the keyboards compatible with the Unifying Receiver:
Wireless Illuminated Keyboard K800
K780 Multi-device Wireless Keyboard
Logitech keyboard K830
K750 Wireless Solar Keyboard
Which Wireless Keyboard Devices are not Compatible with Logitech Unifying Receiver?
Keyboards without the unifying technology in them cannot be paired with the Logitech Unifying Receiver. Examples of this are keyboards that belong to the Bolt, Lightspeed or Nano family of products.
Also included in the list of incompatible keyboards are those made by any other manufacturer.
Here are some of the Logitech Keyboards not supported by the Unifying technology:
In this article we have explained how to identify the type of Logitech keyboard you have. Once identified you can select the appropriate dongle.
How Logitech Unifying Receiver Works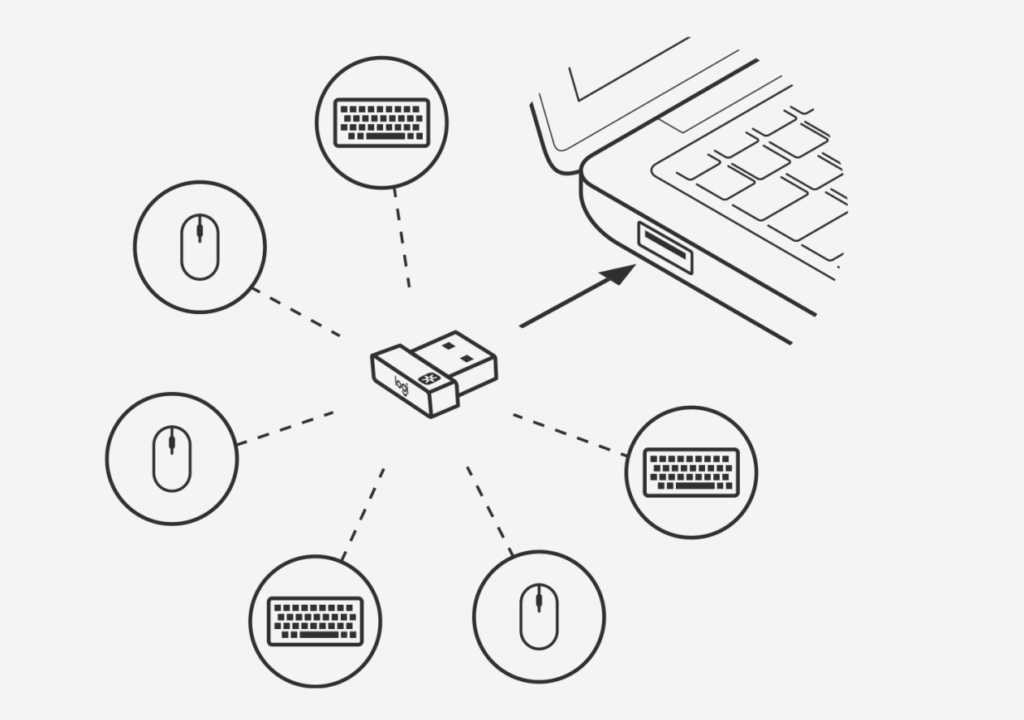 This technology is very simple to set up and easy to use. To enjoy the Logitech Unify protocol, you need to buy the Logitech Unifying Receiver. After doing so, follow these steps:
Install Logitech Unifying software. It's available on Windows, Mac, and Chrome OS.
Install it and run the program;
Insert the USB/Logitech receiver you bought and program it to the pairing mode;
To have the devices visible, turn them (the keyboard or keyboards) off and on;
The device will be visible and you can pair it for use;
After pairing, you'll see the green tick showing that the pairing is successful.
This is a general process that requires just one Logitech Unifying Receiver.
As you can see, all of Logitech's USB receivers are USB-A. Logitech doesn't have a USB-C receiver – here's why
What Else Can You Do If You Lose Your Dongle?
Thus far we've given you options if you have either one of the two or both wireless technologies below:
Logitech Keyboard
Bluetooth Keyboard
Other wireless keyboard manufacturers don't have a unifying receiver system.
If your keyboard is not part of the Logitech ecosystem and is not Bluetooth then you might have to consider the other solutions presented below.
Buy a new 2.4 GHz keyboard system
While you can buy a very cost-effective 2.4 GHz keyboard system, we recommend purchasing one from the Logitech Unifying Receiver. That way if you lose the dongle again, you can simply replace it with a unifying receiver dongle.
Buy a new Bluetooth keyboard
A Bluetooth keyboard can connect with a laptop directly if your laptop has built-in Bluetooth. No dongles needed and therefore none to lose. Plus it spares a USB port on your laptop that can be used for something else. The Logitech K380 Keyboard is one of the highest rated Bluetooth keyboards on the market. It has good build quality and reliable connectivity. If you're looking for a Bluetooth Keyboard with adjustable back lighting and long time between charges, then the seenda keyboard would be the one.
You can follow these processes to connect your Bluetooth keyboard to your laptop:
Open the Bluetooth program on your laptop. You'll find this in the Start menu or the Control Panel;
Hold the Connect button which will be at the bottom of your keyboard and when the indicator light blinks red/green, it means it is discoverable;
On your Bluetooth program menu, click the option that lets you add a new device;
You should follow the instructions that pop up and enable the passkey.
When this is done, it's paired. You can then use it without hassle.
Buy a keyboard that's compatible with the Dell Universal Pairing System
If you lose a USB dongle with other wireless keyboard brands, there is no alternative except to buy a replacement keyboard and dongle as they don't sell replacement dongles.
An exception to this is Dell Keyboards with their Universal Pairing system. It's similar in concept and practice to the Logitech system.
Which Products Are Compatible with Dell Universal Pairing System?
You can use some of its products with its proprietary pairing system. Here is a list of Keyboard products that use the Dell Universal pairing system.
Dell Premier Multi-Device Wireless Keyboard and Mouse – KM7321W
Dell Pro Wireless Keyboard and Mouse – KM5221W
Dell Multi-Device Wireless Keyboard and Mouse Combo – KM7120W
Dell Wireless Keyboard and Mouse – KM636**
Dell Premier Wireless Keyboard and Mouse – KM717**
Dell Wireless Keyboard and Mouse – KM714**
**Supports Dell Universal Pairing only. Does not support Dell Peripheral Manager
Note that the Dell Universal Pairing system is not compatible with Logitech products and vice versa. If you have its compatible products as noted above, buy the dongle and download the software.
How Dell Universal Pairing Software Works?
Download the Dell Universal Pairing System online and install the software;
Launch the program and plug the Dell Universal dongle into your laptop;
You'll see the option that lets you "Add New Device", click it;
Follow the instructions that follow;
Turn off your keyboard, and press the on button as you hold any key for three seconds until the pairing is complete;
When it's complete, you can start using your keyboard.
Are Bluetooth wireless keyboards better than Logitech keyboards?
Both devices make life easier. You can travel with either your Bluetooth keyboard or Logitech keyboard and type comfortably. You can also connect a Bluetooth keyboard on multiple devices while you can unify six Logitech products through the Unifying Receiver. The two systems are efficient.
PROS of Bluetooth Keyboards
Bluetooth tech can be paired with any device supports Bluetooth with no need for a dongle. The benefit is that you can free up a USB port. For some devices that have very few ports, this can be a pretty major plus.
CONS of Bluetooth Keyboards
Bluetooth keyboards can experience a bit of lag especially when the distance between the keyboard and laptop is large or when the power is weak.
Most Bluetooth keyboards require charging while wireless keyboards use batteries. For longer typing hours, Bluetooth keyboards can run out of power, especially when you have no access to a power source. Wireless keyboards are more durable as they work on batteries.
Finally if you are into gaming there is a difference. Keyboards with 2.4 GHz wireless technology have lower latency than Bluetooth keyboards and therefore offer better performance.
Why Another Dongle Is Not Compatible with Your Keyboard
When you bought the wireless keyboard, you were given a dongle. The dongle is a unique accessory and without it, you cannot connect your external keyboard to your laptop. When you work on your laptop with a group of friends using the same brand of wireless keyboard and dongles in the same room, your activities do not interfere. In other words, because all of you use Microsoft wireless keyboard and you're working in the same room doesn't mean your activities will interfere. This is because the frequency and encoding of your keyboards is specific to your dongles.
Can You Mix and Match Dongles and Other Keyboards?
No you cannot. Each keyboard (or family of keyboards) is programmed to a specific dongle type. It is created with a frequency and code that is incompatible with other devices. When your dongle is missing, your keyboard cannot be paired with another dongle.
Can You Buy a Replacement Dongle for a Wireless Keyboard?
If you have a Bluetooth wireless keyboard you can get a replacement dongle.
If you have a Logitech product you can get a replacement dongle as we have explained above.
If you have any other keyboard such as this one, you cannot get a replacement dongle.
It's therefore advisable to buy either a Dell, Logitech or a Bluetooth Keyboard.
Logitech vs Dell Wireless Keyboards – which one is better?
Both Logitech and Dell Keyboards utilize 2.4 GHz wireless technology. While there is no appreciable difference between the underlying technologies, Logitech Unifying Receiver Dongle is more freely available than the Dell equivalent
How Can You Connect Your Keyboard without a Dongle?
You need Bluetooth keyboard technology to connect your keyboard without a receiver dongle. Your laptop must support Bluetooth technology. Most modern laptops do.
As earlier noted, Bluetooth keyboards are also reliable and secured for wireless connections. If you want to avoid USB receivers for keyboard or mice functionality, you can purchase a Bluetooth keyboard on Amazon.
Can You Connect a Logitech Wireless Keyboard Without the Unifying Receiver?
No. The Logitech wireless keyboard comes with a receiver. Aside from wireless Bluetooth keyboards, every keyboard has a unique receiver that is incompatible with any other receiver. If you purchase a Logitech receiver and lose it, all you need to do is to buy another receiver and follow the process already explained above.
Conclusion
As a core part of your wireless keyboard, a missing dongle will affect your productivity. In many cases you will not be able to operate your laptop without one. If your Keyboard supports the Logitech Unifying receiver, then you can simply buy another dongle.
Other options are to purchase a:
_________________________________
Icons by icons8