Introduction
The Baofeng UV-5R has been around for quite a while and has seen many upgrades, one of which is the Baofeng UV-S9 Plus. The latter instantly catches your eye with its 8- or 10-watt (depending on where you purchase it) output claim.
Any entry-level ham user will want to know if the claim has any truth to it and what it means for their usage if true.
Users may also wonder if the Baofeng UV-S9+ has any legal highlights they should take note of and whether it is any better than the Baofeng UV-5R. Let's dive in and see if you should adopt the latter or stick with the former.
Key features of the UV-5R and UV-S9+
Baofeng UV-5R
Baofeng UV-S9+
Frequency Range
VHF / UHF
144-148 MHz
400-480 MHz
VHF / UHF:
136-174 MHz,
400-520 MHz,
400-480 MHz,
65-108 MHz
Transmit Output Power
4 watts
10 Watt (advertised)
5-6.5 watts (measured)
Channels
128
128
Battery
1800mAh
2200mAh
Voltage
4 volts
7.4 volts
PTT
Single and Dual
Single and Dual
License
No License to Receive Amateur Individual License FCC (Part 15b)
No License to Receive Amateur Individual License FCC (Part 15b)
Weight
340.2 grams / 12 ounces
275 grams / 9.7 ounces
Differences between the Baofeng UV-5R and the Baofeng UV-S9+
The Baofeng UV-S9+ is waterproof, unlike the UV-5R, and will give users less worry since they can head out without a second thought about the weather and potential damage to their ham radio
The difference in wattage means that the UV-S9+ covers more distance (a mile or so) than the Baofeng UV-5R (it covers 2-3 miles in the city for UHF, that works best in congested places, 5-10 miles in forest-covered/low hilly areas and 25-30 miles atop mountainous regions)
The UV-S9+ has a broader frequency range than the UV-5R, and using it means that a user can access the full 138-173MHz and 400-520MHz array, a scope through which they can effortlessly transceive
The UV-S9+ also has the FRS, GMRS, and the MURS bands that are FCC pre-locked on the UV-5R, on which bands users can listen in on. The UV-S9+ also has the VHF Marine and NOAA Weather channels as an additional bonus
The UV-S9+ has a USB cable charging provision, in addition to the charging cradle that the UV-5R has (lacks the USB charging provision)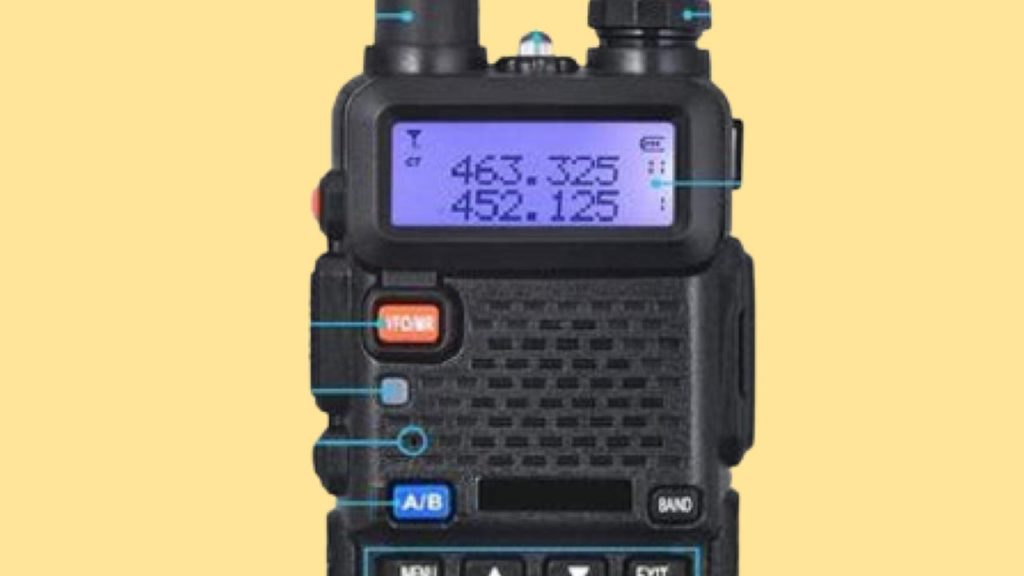 Product similarities
Both allow access to the ham bands on which users can transmit, should they possess the appropriate licenses
Easy-to-use menu that users can access through the LCD screen that can also help should they wish to do some configuration. Users can also program both the UV-5R and the UV-S9 by utilizing Chirp software and a programming cable
Dual-band and support the VHF and UHF radio frequencies
Monitor function that enables user access to the voice enrichment feature should they be in an area with weak signals. Both also have a provision for users to unscrew the existing antenna and replace it with a more robust third-party version to augment their signals even more
Both UV-5R and UV-S9 allow users to lock the keypad to prevent any accidental channel switching when in use
Both have a flashlight that provides primary light and works like an SOS tool when pressed to blink nonstop
Both have the handy Squelch function to all but eliminate pointless channel noise when the radio is not transmitting
Both have the VOX functionality, which allows for hands-free operation on car drives and errands
What users say
Most users will tell you that the Baofeng UV-5R is a handy and robust acquisition if you want to serve your amateur radio needs effectively. Its pocket-friendly price does not mean it is incapable, as it persistently and effectively broadcasts even for users spread out over a 20-mile radius and more.
Users can also accessorize it to better their signal reception via its removable antenna that they can replace with other stronger versions that are readily available on the market. Users can also do the same for the battery to guarantee more extended battery life.
Its cutting-edge features and novice friendliness render it an outstanding choice. Therefore, any user (in both the expert and beginner category) who has excelled in their tech license exam will find the UV-5R delightful.
Several users complained about the Baofeng UV-5R's inability to broadcast via the GMRS, FRS, and MURS frequencies (FCC locked), only transmitting through channel mode. However, the same groups of users did say they could receive via those same frequencies – single-way usage.
Other users also criticized the UV-5R for the spurious emissions that it usually gives off beyond the endorsed ham radio bands. As it is, these emissions render it non-FCC compliant, a fact that the users were displeased about.
More groups of users went a mile farther by recommending that only licensed hams and those hoping to become licensed should acquire it. The said license allows the users mentioned above to unlock the MURS, FRS, and GMRS frequencies and use them without a second thought.
The majority of users loved the Baofeng UV-S9+ for its quality sound and for beating their expectations even though they didn't expect so, courtesy of its low price. The extra wattage that the UV-S9+ came with, its broad 30-mile+ coverage, and clear signal reception, even on FM mode, was also very delightful. That they could listen in on the FRS, GMRS, VHF Marine, NOAA Weather, and the MURS bands while also transmitting on the ham bands was also hugely welcomed by users.
A few users commented about the UV-S9+'s incompatibility with most after-market antennas due to its chassis having a raised ring of a smaller diameter (compared to previous versions) around the antenna connector. This reality makes signal enhancement with a more robust antenna challenging if a user can't lay hands on a compatible after-market antenna.
Note that users who put the Baofeng UV-S9+ to a transmit output power test found that it does not offer the transmit output power of the 8 or 10 watts that the manufacturers claim it provides.
The 8- or 10-watt claim is just another marketing trick that unsuspecting buyers have fallen for once again, just like in the past with other similar claims.
A few other users had multiple unrelated complaints centered around the UV-S9+ build and not its functionality. The grievances mentioned the earpiece, the rare replacement piece for the charging cradle (if the original became faulty), the mic plug in space being small as the water-resistant cover for the speaker-mics blocked it, and the left belt clip screw that would simply not tighten.
Which device you should choose – Our verdict
Before deciding to go for either the Baofeng UV-5R or the Baofeng UV-S9+, contemplate what your ham radio needs are. Think about whether or not you hold a license (and if you plan to) and if you'd like to meddle in configuration.
The Baofeng UV-5R comes transmit-locked to meet the FCC regulation for GMRS, FRS, and MURS frequencies, even though users complained that it spuriously emits beyond them from time to time. You will most certainly require licensing to use it without a care in the world, whether or not you will configure it.
The Baofeng UV-S9+, on the other hand, transmits beyond the ham radio bands and is ideal for users who want to access the FRS, GMRS, VHF Marine, NOAA Weather, and the MURS bands. It will save anyone from the task of configuring the UV-5R to gain access to these bands. It is also ideal for users who want that additional distance that the extra wattage provides. Remember that transmitting over the extra wattage goes directly against the FCC directive of 2 watts and below unless you have your license at hand.