A Spectrum Analyzer is an instrument that allows you to measure, analyze and visualize RF signals. These instruments are used by hobbyists, academics and professionals alike. Applications for spectrum analyzers include manufacturing, education and amateur radio among other things.
We have done the detailed research and found that the Siglent SSA3021X-TG is the best benchtop spectrum analyzer on the market today. We found five spectrum analyzers that made it to the top of our list. Here is our list of the top Spectrum Analyzers for 2023. As well, below you will find a detailed review and a buyer's guide.
| | |
| --- | --- |
| | Built-in Tracking Generator |
| | Built-in Tracking Generator |
| | Internal Li-Ion 1800 mA/h rechargeable battery |
| | 40 MHz Analysis Bandwidth |
| | Includes Signal Generator |
This is a small lightweight benchtop spectrum analyzer with coverage from 9 kHz up to 2.1 GHz. This analyzer includes most analysis functions such as RBW, VBW, Span, Markers and basic signal demodulation. The instrument has a large, bright easy to read display and facilitates making reliable measurements.
The Siglent SSA3021X-TG is also a very sensitive instrument with a noise level of -161 dBm/Hz and excellent phase noise of -98 dBc/Hz @10 kHz Offset (1 GHz, Typ.). The specs are comparable to some very high end analyzers that cost much more. All in all this is a great deal.
Considering the frequency range, DANL and phase noise, this is the best analyzer for Ham Radio, R&D and Education applications.
PROS
Includes a tracking generator
With a firmware modification you can extend this spectrum analyzer to 3.2 GHz. This gives you coverage for most popular applications including Wi-Fi in the 2.5 GHz band
Responsive US-based support organization
CONS
The device overloads easily with strong signals
Changing RBW and VBW settings slows down the sweep speed
No physical power switch to completely remove power without disconnecting the cable
Coming in at a close second is the Rigol DSA815-TG. This instrument has a 9 kHz to 1.5 GHz frequency range and -135 dBm displayed average noise level (typical). The instrument is not nearly as sensitive as the Siglent and it covers a smaller frequency range. The 8 inch high-definition (800×480 pixels) LCD Display is bright and crisp. The instrument menus are logical and intuitive and the settings are extensive without being overly complicated.
PROS
Includes a tracking generator
Lowest Price for a bench top Instrument
CONS
Lacks Sensitivity
Unlocking features such as VSWR measurement comes at additional cost
The main use case of a handheld instrument is its portability. The RF Explorer lives up to this in spades as it fits in the palm of your hand. The frequency range of this device is 50 kHz to 6.1 GHz and it covers all the popular frequency bands in operation today. This might be a small device but it is a serious measurement tool with amplitude resolution of 0.5 dBm and dynamic range from -125 dBm to +10 dBm
As a bonus when connected to a Windows, Linux or Mac computer the analyzer can display advanced high resolution graphics, including Power Meter and Spectrum Analyzer real time charts, historical charts
PROS
Price
Internal selectable LNA with 25 dB gain
30 dB and 60 dB internal attenuation blocks
Free open source API and libraries to customize your own applications and services.
CONS
Mechanical issues with the buttons that can get stuck
Limited bandwidth and hence no demodulation capability
Most Versatile Spectrum Analyzer – TEK RSA507A
Our pick for the most versatile spectrum analyzer is the Tek RSA507A. This spectrum analyzer operates across the frequency range up to 7.5 GHz. So it covers most popular frequency bands – everything from HF to 5 GHz Wi-Fi. One of the biggest differentiators of this product is that it allows you to collect the actual RF raw data that is used to construct the RF spectrum. The RF data can be processed further for visualization and demodulated for further analysis. It can also be imported into MATLAB, LabVIEW and other software for processing. This is capability that the other analyzers do not offer. This is why we feel the Tek RSA507A is the most versatile spectrum analyzer.
Tektronix provides a powerful desktop software called SignalVu that looks and feels like a spectrum analyzer. The benefit of this approach is that you can run this software on a Laptop, on your desktop in the lab or even on a tablet.
PROS
Large frequency range up to 6 GHz and wide bandwidth of 40 MHz
Versatile once you connect this to an appropriate processor
Fully featured SignalVU processing software
CONS
Requires very specific Windows Configured Laptop or Desktop to run properly – i.e. a Windows PC with 8GB RAM running in 64-bit mode. Anything else will result in issues
Relatively high price tag
Our top budget pick is the TinySA. Not only is it the cheapest product on the market today, but it also happens to be very useful for many use cases. This is a small ultra portable spectrum analyzer that covers the frequency range of 100 kHz to 960 MHz. The tiny form factor of the TinySA means that you can easily take it into the field, use it in a lab, in your classroom, home and almost anywhere.
The device has two separate inputs, each for a different frequency range:
MF/HF/VHF input for 0.1 MHz to 350 MHz
UHF input for 240 MHz to 960 MHz
Also as a bonus the TinySA has a built-in signal generator for calibrating the instrument. It's amazing that so much functionality has been packed into a small instrument. The tinySA can also Connected to a PC via USB to become a PC controlled Spectrum Analyzer.
PROS
Dual function device – spectrum analyzer

and

signal generator
Bulit-in rechargeable battery allows a minimum of at least 2 hours of portable use
Tiny
CONS
Limited Frequency Coverage
Quality of the UHF input for 240 MHz to 960 MHz is not very good
Not very sensitive
How did we chose the Best Spectrum Analyzer
Spectrum Analyzers are invaluable tools for anyone working with Radio Frequency signals. Whether you are a repair technician, an RF engineer, a student or a hobbyist, you will at some point need to measure and possibly even analyze RF signals. This is where a spectrum analyzer comes in.
For this review we picked four different types of analyzers: Benchtop, Handheld, Modular and the Cheapest Ultra Portable Spectrum Analyzer. As a result, we present you, the reader, with a diverse set of products each with its own unique set of tradeoffs. You might not want to take the Siglent SSA3021X-TG out into the field. Instead you'd want to take the RF Explorer into the field to make outdoor measurements of various signals. Similarly, you would not want to use the TinySA for your lab R&D applications in which a high degree of measurement accuracy is desirable.
We looked at many different parameters but here is the list of the top ones we considered.
SPECIFICATIONS
We studied the key specifications of every spectrum analyzer. For instance frequency range, bandwidth, sensitivity and dynamic range. Hardware specifications are an indicator of what kind of signals can be processed by the Spectrum Analyzer. In general and as one might expect, as the specifications such as frequency range go up, so does the price tag.
DISPLAY
A Spectrum analyzer should have a clean sharp display that's as large as possible relative to the total size of the instrument. Traces and markers are typically displayed in different colors, so you should be able to differentiate between them. As well, where it makes sense, a display must be responsive to user input.
PRICE
The price point should be consistent with the functionality. In this article we have reviewed spectrum analyzers at different price points – from sub-$100 to about $12,000. The cheapest one on our list, the TinySA is a great learning tool and for limited testing. But don't use it to test the quality of RF signals or any serious parametric testing. For that you would need to either use the Siglent SSA3021X-TG or the Tek RSA507A.
CUSTOMER FEEDBACK
When you spend over $2000 on an analyzer you want to ensure that you have access to a reliable support organization and if the instrument breaks down, you can get quick service. The Siglent SSA3021X-TG for instance is repaired in Ohio, so you're not waiting weeks for it to go half way across the world for repair.
USABILITY
The usability of an instrument is a key consideration. For instance a standard, uncomplicated and intuitive interface is an important attribute. All the analyzers we picked were highly usable with nothing overly complicated to hinder ease of use.
POPULARITY
We picked spectrum analyzers that are popular among many users. This way, we could check out reviews left by previous users with verified purchase history.
Frequently Asked Questions
What is the difference between an Oscilloscope and a Spectrum Analyzer?
An oscilloscope is used to display the variation of the input signal with time. If more than one signal is present at the input to the oscilloscope, it will add all these signals and show the variation of the sum with time.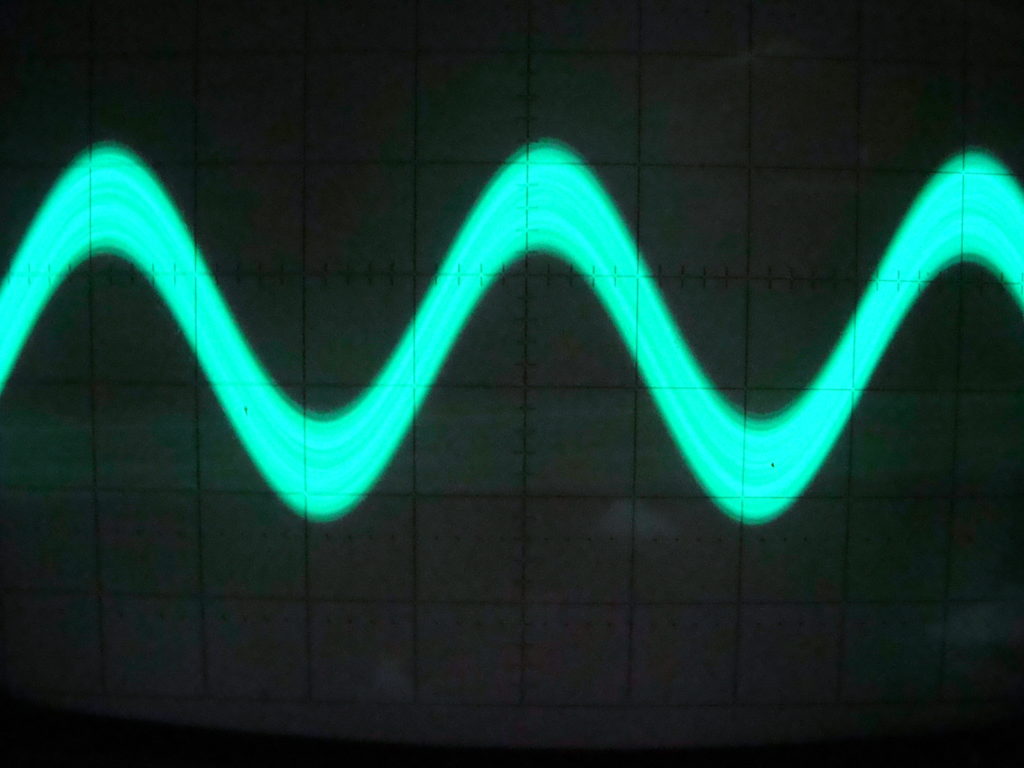 A spectrum analyzer displays all the signals that are input to the instrument as a function of their frequency and amplitude.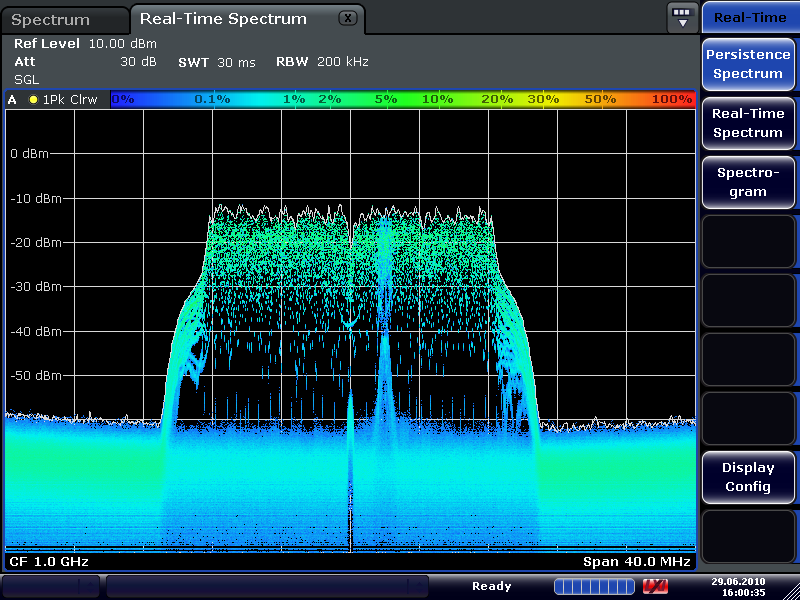 An RF lab typically has both instruments.
Can an Oscilloscope be used as a Spectrum Analyzer?
Some oscilloscopes especially the newer digital oscilloscopes have a built-in Fast Fourier Transform (FFT) function calculator. This can be used to calculate and display the spectrum of the input signals just like a spectrum analyzer. The only caveat is that the dynamic range of an oscilloscope is typically smaller than that of a spectrum analyzer. Therefore an oscilloscope will not be able to provide as much fidelity.
What is the difference between a Spectrum Analyzer and a Signal Analyzer?
A spectrum analyzer typically is used to view the frequency and strength of RF input signals. It will also allow the user to make different measurements using marker functions and level indicators. A signal analyzer on the other hand allows the user to demodulate signals and extract various parameters. It enables more detailed analysis of the RF signal.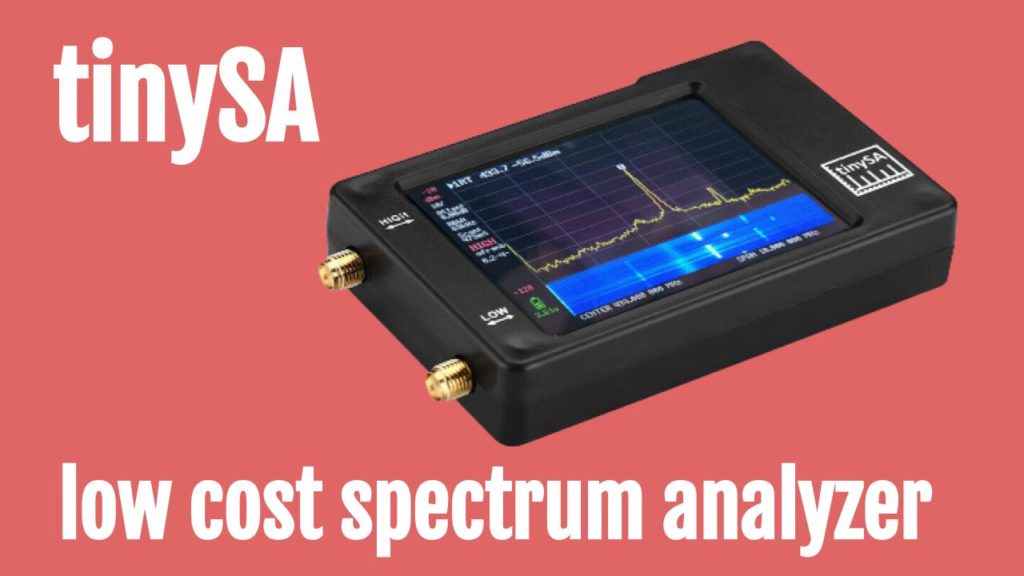 The Future of Spectrum Analyzers
Spectrum Analyzers are an invaluable tool for studying RF signals. Today we have so many more options than we did even 10 years ago. Different form factors – from the TinySA to the larger benchtop spectrum analyzers like the Siglent SSA3021X-TG. As well, prices for spectrum analyzers are decreasing rapidly. It used to be that a spectrum analyzer used to cost upwards of $10,000. Now the cheapest spectrum analyzer costs less than one-hundredth of that! This means that you can carry a spectrum analyzer anywhere. With RF signals everywhere this becomes invaluable. We look forward to even cheaper, smaller and faster analyzers in the not-too-distant future.
Summary
Spectrum Analyzers are invaluable tools for working with Radio Frequency Technology. We have reviewed the best spectrum analyzers on the market today, and based upon our research have selected the following: