Somebody was trying to tell me that CDs are better than vinyl because they don't have any surface noise. I said, "Listen, Mate, life has surface noise." – John Peel
Do you want to go back in time and listen to your records? How about mixing in some new technology to make the experience more enjoyable and convenient? Well, step into the world of Retro Bluetooth turntables with us.
We've done the research and concluded that Victrola 50's Bluetooth turntable is the best bluetooth turntable on the market today. The most popular vintage turntable is the Victrola vintage while the product with best audio quality is the Crosley Cruiser.
Read on for further details on our picks and our buyer's guide.
| | |
| --- | --- |
| | Includes radio and CD player |
| | 28 different style and color options |
| | Beautiful design with fun colors |
| | |
The Detailed Review
The Victrola 50's Bluetooth turntable is not just taking you back to the '80s or '70s but is throwing it way back to the '50s as it comes in a stylish looking retro design. This turntable also includes many desirable features. One of these is the ability to convert your vinyl to MP3 format. It comes with a USB cable and software compatible with both MAC and Windows to carry out the conversion.
Another feature that makes the Victrola 50's so great is its high-quality built-in stereo system that is proof that you do not need to connect external speakers to enjoy songs. The Victrola is a three-speed belt-driven turntable for 33-1/3, 45, and 78 RPM.
This retro-looking turntable packs other modern features including a CD player, an AM/FM radio, and all the controls you need to keep you going. Since it is a Bluetooth retro turntable, you will be able to connect your Bluetooth device to this turntable from as far as 33 feet away.
PROS
Design
Convert LPs to MP3
Includes CD Player
LED display
Built-in AM/FM Radio
CONS
Bass and audio quality is not top notch
User Reviews
With a rating of 4.6 out of 5 stars, many customers say that for the price, the Victrola 50's retro Bluetooth turntable is the best in its category as it an all-in-one music player and that the sound is clear but there is not much bass. For some the red color brings back the memory of an old 50s Corvette.
From a distance of 33 feet, you can connect the Victrola vintage turntable to your device via the Bluetooth connection. You get to enjoy the perfect combination of retro and contemporary with the unique briefcase design that is good for on the go.
Victrola vintage comes with the ability to play your music wherever you are when you want, so whether you are on to move or in your home, you can play songs using the turntables Bluetooth connectivity, or use the Aux-in port. There are also built-in speakers that give you the music clarity you desire.
Additionally, you will like the 3-speed belt drive in the Victrola turntable as you can play at paces of 33-1/3, 45, and 78 rpm. Although it doesn't support playing through external speakers, if you do not want to use the inbuilt speakers, you can quickly hook up this turntable to external speakers using the RCA output. There is also a headphone jack for the private listening experience, or there is also the option of using the line input. They all work well for non-Bluetooth devices.
PROS
Excellent features for the price
Auto stop feature
28 different style and color options
CONS
Low sound volume
The cover is a bit too close to the vinyl
User Reviews
The Victrola Vintage is by far the most popular retro Bluetooth turntable on the market today. Although it has 28 different color options, many of them are sold out. In general users love the look and feel of this unit and an added bonus is the fact that it's very lightweight relative to others.
When it comes to sound, the Crosley cruiser is the best retro Bluetooth turntable. It comes with two built-in full-range speakers that can give you premium sound quality, making them suitable for outdoor experiences like grilling and a cookout. There is also support for external speakers if you need a louder music experience. Just locate the RCA ports situated at the rear of the Crosley cruiser.
Additionally, we would also like to mention that the Crosley cruiser is available in various colors, about 24 colors in total. This turntable is also able to play at different speeds, and there are also controls to adjust the pitch. Select the speed of your choice, and enjoy your music.
The Bluetooth connectivity grade of the Crosley cruiser is also top notch as it can connect with every Bluetooth compatible Bluetooth device.
PROS
Sound quality is awesome for a small room
Comes in beautiful and fun colors
Pitch control
Very portable
Excellent customer support
CON
Plastic construction that feels cheap
User Reviews
Users say the Crosley cruiser is perfect for small apartments and is the best quality for its price. Many reviewers are comparing this product to other Crosley or more expensive turntables when they say that the audio quality is poor. However many users seem to like the audio quality.
When you talk about Bluetooth turntable with the best features, the SeeYing record player should be the first on your list. Having the most relevant features got the SeeYing Bluetooth turntable this position.
With this Bluetooth turntable, recording and converting your vinyl is no longer a problem. It also gives you the option of storing the songs in a variety of folders. There is also a remote control that makes controlling the SeeYing turntable very easy. With the infrared remote control you can switch between the Bluetooth, Radio, and Aux modes from the comfort of your bed. You can also turn off the device, record songs, forward and skip and reverse songs.
Additionally, with the SeeYing turntable, you will be able to play three record sizes, so if you have a 7", 10", or 12" inches record you have always wanted to play, this turntable is for you. Next on the list of features that make the SeeYing the best is its ability to store up to 20 different radio stations; this way, you don't have to start searching all over again when you need to listen to FM/AM radio.
PROS
Easy to setup and use
LED display
Vinyl to MP3 encoding feature
Includes a remote control
CON
Built using cheap plastic
User Reviews
Many verified Amazon users love the SeeYing Record Player turntable for its sound quality and the fantastic range of features they are getting for the price. People with old records were glad that they could once again enjoy their favorite tunes.
The Wockoder is the best value retro Bluetooth turntable, making it the perfect gift no matter the season. This turntable is a perfect combination of of quality, cost and uniqueness in design. This turntable comes in a retro-looking deep black or blue suitcase, depending on your color preference. It plays about three different vinyl records sizes; this means you can play a 7", 10, or 12"inch record on it,and it can play at three different speeds – 33 1/3, 45 and 78 rpm.
With the Wockoder turntable, you are not limited by the limitations of a wired connection, as you can also enjoy all the benefits of Bluetooth connectivity with the Bluetooth connection. You can also listen to music with the turntables inbuilt SD card slot or use a USB cord.
The quality of the music you listen to is also not going to be tampered with as this retro Bluetooth turntable comes with two dynamic speakers, an AUX-in port, and an RCA out port. All these, together with the portability and ease of carrying of the Wockoder make it the best value retro Bluetooth turntable.
PROS
Good audio quality
Nice compact design and very cool colors
CONS
No instructions in the box on how to setup
The auto stop feature doesn't function properly
User Reviews
Many users appreciate the Wockoder for its incredible combination of colors and vintage look. They also say it comes with a spare needle, it's also light weight and easy to use. However some users complained about the sound quality of the speakers when on Bluetooth mode, as it starts to crackle at half the volume.
How to choose a Bluetooth Vinyl Player
Usability
The Retro Bluetooth Turntables that made it to our list are very easy and straightforward to use. There is no complicated learning curve involved before you know how to use these products.
Reliability
The reliability of the Retro Bluetooth turntables we picked is unarguable as they performed as expected, and all the listed features were present. There were no false promises from the manufacturers. As well manufacturers were responsive to customer issues.
Build quality
The quality of the materials used in the manufacturing of these turntables was the best. We made sure that the turntables we picked were manufactured using the best materials for each turntable's different components and parts. We also ensured that the materials were suited for that purpose.
Audio quality
Depending on whether you were speaking to an audiophile or someone just getting into Vinyl, the audio quality was between awful and excellent. Keeping the price point of these systems in mind, the Audio quality on the Retro Bluetooth turntables we selected was top-notch.
Turntable Speed and Pitch Control
All the selected turntables could play speeds of 33-1/3, 45, and 78 rpm. These three speeds affect the quality of the sound. The higher the rpm, the more information is transferred from the stylus to the speaker per second and hence the better the sound quality.
Pitch control on a turntable audio device allows the user to deviate from the three standard speeds. This is an important feature for some users and is available on the Crosley cruiser.
Features
Each of these turntables came in a retro style and supported Bluetooth connectivity to play songs. Many others also have additional features like the ability to play music via SD card and USB. Some even went as far as being able to convert the vinyl record into MP3 so that you will be able to play your favorite vinyl records from your phones and PCs.
Documentation
The specifications of most of the retro Bluetooth turntables we selected were well documented. The weight of each product, the dimension, and colors were accurate.
Popularity
We selected turntables that have been used and tested by multiple users. These turntables had many positive reviews and were among the best with a rating of 4.3 or more out of 5 stars on Amazon.
Frequently Asked Questions
What is the benefit of Bluetooth connectivity for a vinyl player?
These days music lovers collect their music in a variety of different formats: Vinyl, CD, MP3 collections and online streaming services. A vinyl player with Bluetooth provides the flexibility of streaming music wirelessly from your smartphone or tablet and playing this over the turntable's built-in speakers. So you could be listening to an LP and then when this is done you can quickly connect via bluetooth and stream a different song.
How can I stream music from my vinyl player to external Bluetooth speakers?
These retro Vinyl players only allow Bluetooth devices to connect to them and stream music to their built-in speakers. Unfortunately you cannot stream music to an external bluetooth speaker with the product as it is sold. There is however a way to do this with an accessory.
To connect to a Bluetooth speaker and stream music to it we recommend using the TaoTronics Bluetooth 5.0 Transmitter and Receiver. This small box can be connected to your turntable using the RCA cables. It streams the music over a Bluetooth connection to your speakers. You can also stream the music to Bluetooth headphones.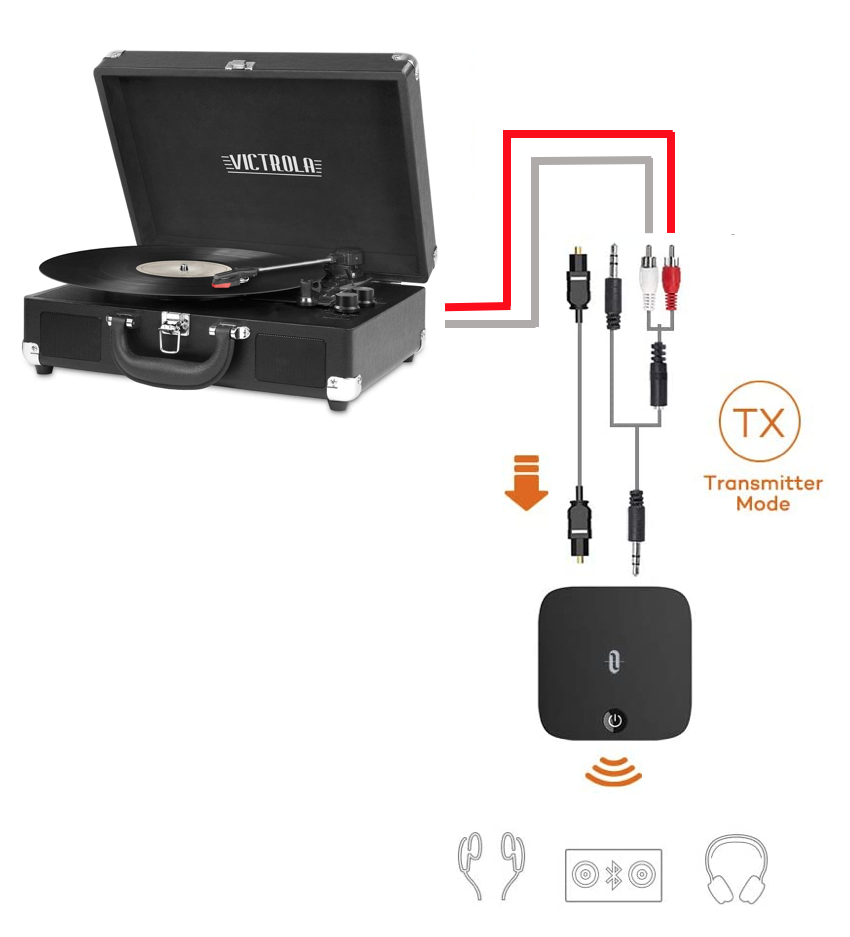 How can I connect my vinyl player to external speakers?
Connect the two outputs labeled "Line Out" to the external speakers using an RCA cable.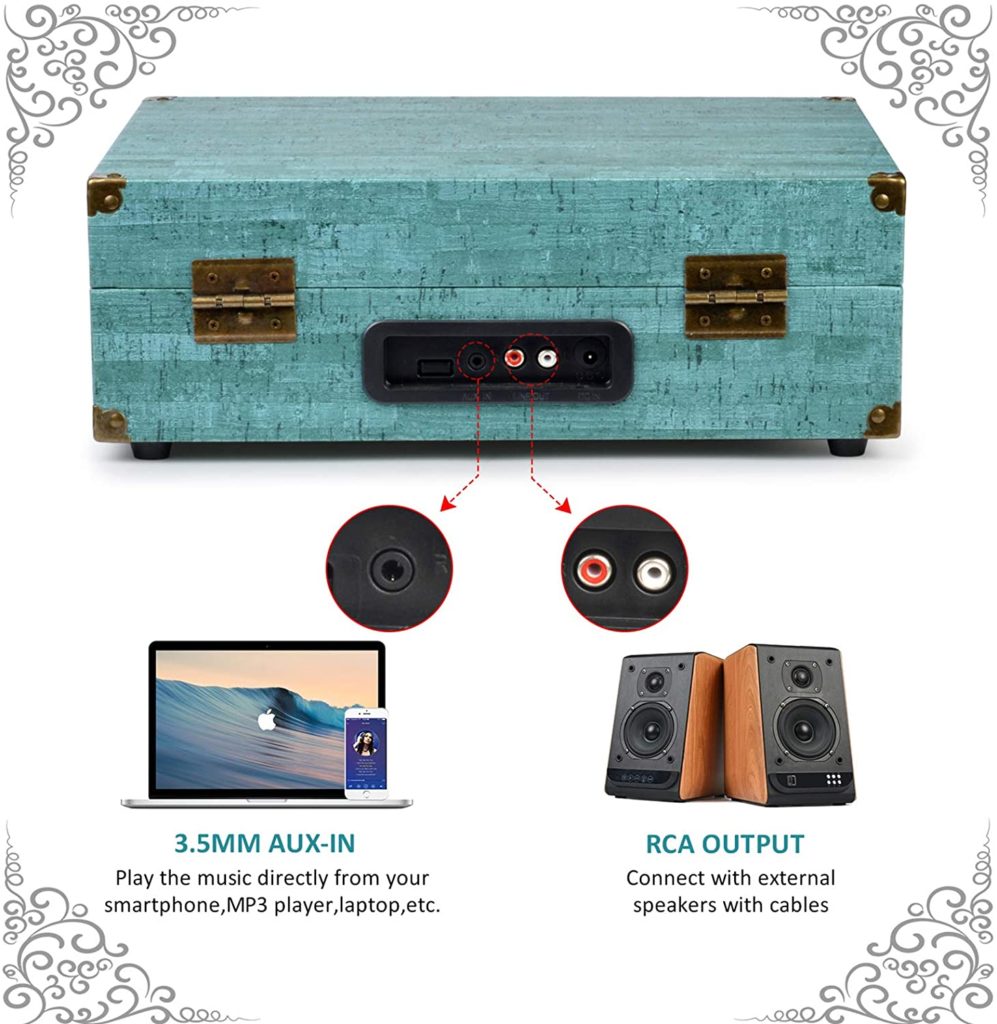 Do not connect Line Out to the Phono input on your receiver as it will overload the pre-amp and distort the output.
Summary
Turntables have been seeing a resurgence lately. Add in Bluetooth connectivity and now you have a versatile music machine that is a real crowd-pleaser.

________________________________________________
Icons made by Freepik from www.flaticon.com