This guide will explain how to connect your phone or tablet to the Infinity Boat Radio. Once this is done you will be able to enjoy your music!
Part Numbers
INFPRV250
How to Pair Infinity Boat Radio?
Your phone, tablet or media device must incorporate the Bluetooth option in order to stream music. The following steps will help you to connect your phone to the Radio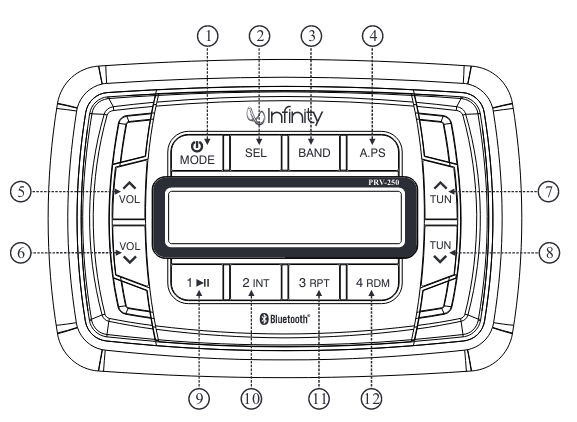 To pair your Bluetooth device, press the Mode button on the stereo until BT MUSIC appears.
Go to settings on your phone or tablet and turn On Bluetooth
Pick the INFINITY option on your Bluetooth enabled device (please note that if you are prompted for a password, the code is "1234".
If your stereo does not immediately pair, press preset 3. This will allow the pairing process to finalize.
A higher pitch frequency noise will alert you when the connection is successful
The display will also read CONN OK
To disconnect your device, press preset 4 button.
DISCONN will appear letting you know you have successfully disconnected.
What is Infinity Boat Radio Bluetooth Pairing Code?
The Bluetooth Code is 1234
Can I use a Bluetooth Speaker with my Infinity Boat Radio?
No, the Infinity Boat Radio is a Bluetooth Receiver. It will not transmit Bluetooth signals to a speaker.