Logitech M510 is a popular wireless mouse from Logitech.
It works quite well – connects instantly and reliably. The mouse connects over wireless to a laptop or PC using a small USB dongle or receiver.
What happens if you lose the USB dongle ?
This is a common problem faced by many and the question is whether we can find a replacement for the lost USB receiver dongle.
Here is a comprehensive post on what to do If you have lost the USB receiver for any Logitech mouse
Let's delve a little deeper to understand what kind of USB dongle you need.
The M510 uses a Unifying Receiver. This is indicated in writing in the battery compartment under the mouse.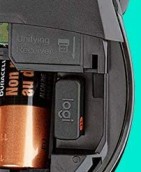 The USB receiver has an orange logo on it that looks like an asterisk.
If you have a unifying receiver dongle (associated with another keyboard for instance) the mouse can be connected to it. In fact Unifying receivers can connect to 6 compatible peripherals at the same time.
If not, you can simply purchase a Unifying Receiver.
Next download the software from the Logitech website and you should be up and running in no time.
Frequently Asked Questions
Is Logitech M510 Bluetooth?
No, the M510 does not use Bluetooth technology. It's a wireless mouse that needs a Logitech dongle to connect to a PC.
Can Logitech M510 connect with a Nano receiver?
No, it cannot.
Summary
If you lose the receiver for your M510 mouse it's possible to either:
Find another unifying receiver