One of the most exciting developments in the world of Helium miners is the new MNTD. miner duo from RAKwireless. RAK has done a couple of drops of these miners that have all sold out in minutes.
The new MNTD. miners come in two color variants – Gold and Black. In this post we'll go through some of the key differentiators of this product and the company's approach toward the community. This is what we believe sets them apart from other miners and companies and why the MNTD. miner represents a significant development and step forward for the community.
What differentiates MNTD. from other miners?
Delivery and Customer Support
One of the most frustrating aspects of Helium mining has been the lack of miner availability and transparency to the community when it comes to delivery dates. Miner vendors have revised delivery schedules multiple times, often without notifying customers. Some have taken pre-orders with backlogs up to a year or more. Miner sales have largely been plagued by poor communication after taking orders and subpar after sales service and support.
MNTD. plans to change all that. With this company, it's back to basics with a focus on People in what is actually #ThePeoplesNetwork.
RAK's miners have traditionally been sold through distributors. Often, distributors sell primarily to businesses and lack the focus on crypto-hardware. While they sell to anyone who buys, RAK feels that miners for #ThePeoplesNetwork should have a people-first approach.
Toward this goal, RAK offers great customer support, no pre-orders and no broken promises. This is in fact the main differentiator in an area that matters more than any feature or specification. With over 150,000 miners sold, RAKwireless has deep expertise in building, shipping miners and making sure that they stay operational in the field. When you buy from RAK, you're buying from the people who have been at the core of Helium's network from the start. Unlike when dealing with a distributor, you're actually working with the original equipment manufacturer who knows and gets their own system inside and out.
From a standpoint of support and delivery, RAK ships directly to customers. They do unit drops to ensure that the customer receives the product within a week of ordering. The first MNTD. hotspot was onboarded 26 hours from the sale. The company is working to do away with the drops and have a continuous flow of inventory.
Furthermore, the MNTD Goldspot miner has premium customer service that provides expedited replacement of faulty units, and premium after sales service via remote hardware and software support and tools.
It took me over a couple of weeks to get an issue resolved with one of my miners and as I have said before Time is $HNT. The longer it takes your miners to get up and running, the fewer Helium tokens in your wallet. MNTD. promises a service designed to give the customer peace of mind and stable mining experience resulting in less hassle and more $HNT mined.
Technology advantages
Newer Chipsets
The MNTD. miners use the SX1302 chip from Semtech. This is currently the newest LoRa baseband chip that is not in the development stages and has its full functionality at the client's disposal.
Key features are reduced current consumption and ability to handle a higher amount of traffic than preceding devices. It is also a more interference resistant front-end chip, compared to the SX1301/1308, that some manufacturers still use.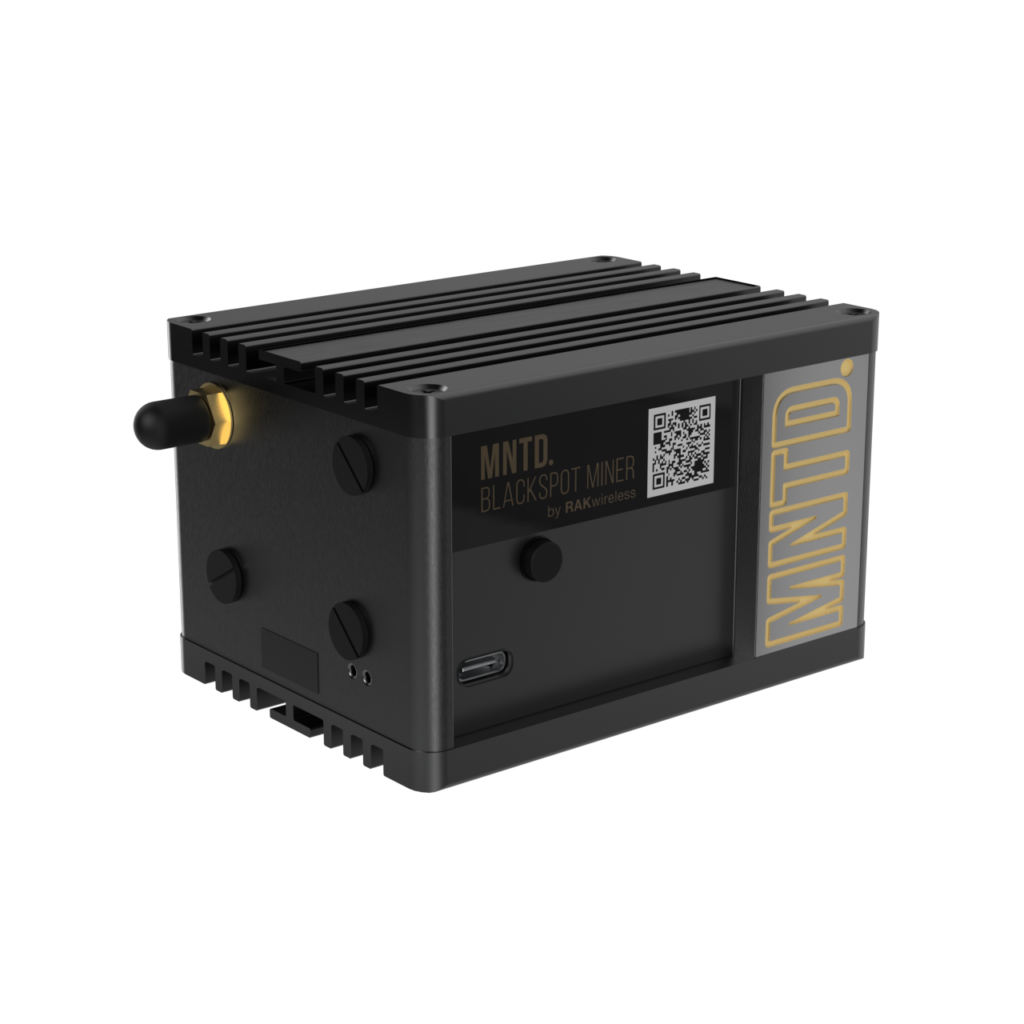 Interference resistance is very important for reliable RF performance. For instance, if you decide to mount your antenna on a roof for line-of-sight (LoS) reception and transmission of beacons, then this also makes your miner more susceptible to strong signals from other wireless systems. Examples of this are 4G cellular base stations and wireless backhaul systems. Interference from these systems can overwhelm your miner's radio and result in lower HNT earnings. The bottom line – expect better performance with the SX1302!
Last, but not least the RAK design is upgradable, making it future proof. It is prepared to take in the new SX1303 with its LBT and precise time stamping when it becomes widely available.
Ease of Use
The MNTD. miners can be set up in minutes using the Helium Hotspot mobile app. Once you have picked an appropriate location and connected to your Wi-Fi network, you're all set and ready to earn $HNT.
The RAK Hotspot runs firmware provisioned by Helium itself, emphasizing on security and on time automatic updates. This makes it more robust and less prone to unexpected outages. RAK is also working on a remote dashboard that is expected to come by the end of the year.
Compatible with RAK Antennas
The MNTD. ships with a great stock antenna that has 2.8dBi (EU) / 2.3dBi (US) gain. While it is a solid performer e recommend experimenting with higher gain outdoor antennas from RAK that for example the 5dBi one. Using an outdoor antenna allows for mounting on a much higher location, which can drastically improve range and earnings.
The antennas come with a number of accessories to mount them. If you're planning an indoor installation – in your attic or by the window in your apartment for instance, we recommend also getting an antenna magnetic base or s clip. This makes it very easy to keep the antenna vertical which is important to keep signals radiating in the intended outward direction. For outdoor installation poles and brackets are available.
How to buy this miner
To be notified of MNTD. miner availability you will need to sign up for their newsletter from the MNTD. website. Join the community on Discord or Reddit where there's an active community and discussion.
The company RAKwireless
In 2014, founder Ken Yu and his friend Terry Yan, both working on Wi-Fi at Qualcomm, were inspired by the possibilities of IoT technology. While promising, IoT was complex and fragmented. This in turn was hampering its wide-scale adoption. They set out to solve this problem and RAKwireless was born. Today RAK is a leading IoT brand, synonymous with Helium and the underlying Low-power Wide Area technology that has fueled its growth. RAK has taken a customer-centric view to software design, hardware systems, support and documentation. They take a holistic view and make what was traditionally complex technology, user friendly, accessible and easy to deploy. This approach and philosophy are evidenced in their approach to every generation of miners. MNTD. is no exception.