At onesdr we love unique electronics products – especially those that involve radio. The MODEL 100 caught our attention via a post on reddit. This is a customizable portable computer kit designed for makers, tinkerers and radio enthusiasts. This product is designed to accommodate external USB devices such as Software-defined Radios (SDRs) so that they can become internal devices, and features 12 universal panel mount cutouts on the back to fit any kind of data or audio/video ports like RS-232, XLR, RCA, HDMI, etc. Also included some quality 1.5″ neodymium speakers so the amateur can hear aloud,
What excites us about this product?
The fact that you can turn the MODEL 100 into a powerful SDR machine with RTL-SDRs, HackRF or the SDRPlay. Connect it to an internal SBC and you have a complete SDR kit. With an integrated touch screen monitor you don't need to connect to an external laptop.
The kit is truly user friendly – No Soldering Required so you can put it together and take it apart on your kitchen table.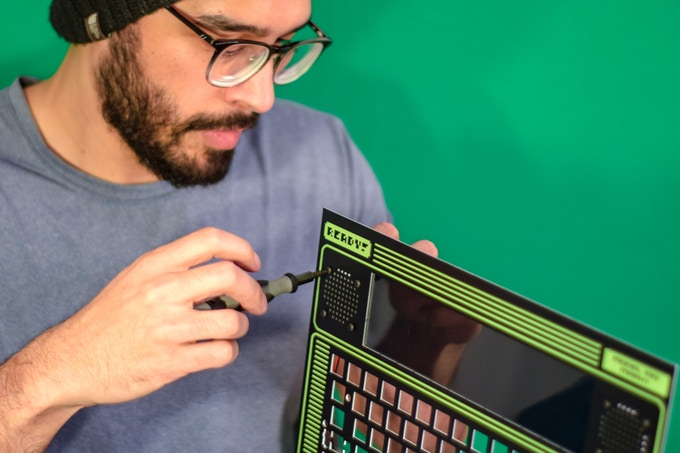 The bonus element here is that you can upgrade your processor or any aspect of this kit over time. For instance, upgrade your RTL-SDR to a HackRF and then your processor from a Raspberry Pi to something a little more powerful. The unit can accommodate any SBC such as an Intel NUC, Micro-ITX, etc.
This kit is perfect for Technicians, Hackers, Systems admin, Heavy Typers, Music makers, and Radio operators.
The Model 100 for Radio Applications
Let's take a closer look at what this product offers to Radio Amateurs, Wireless Enthusiasts and Makers
With the four SMA (or RP-SMA) antenna ports on the back, you can connect all your necessary antennas to your SDRs with ease. For instance, you could use one for external Wi-Fi, two for Cellular, and one for an RTL-SDR. You can also interface with external radios either via an audio connection or via RS-232 DB9 serial connection – the Ryzen board currently offered with the product features on board serial for superior data transfers as opposed to budget USB serial dongles.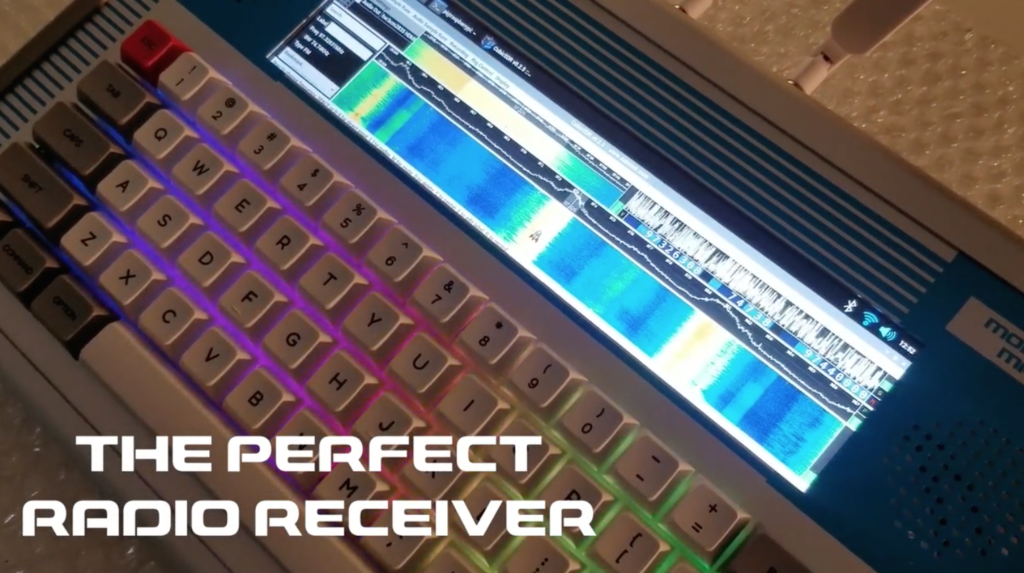 The included guitar strap compatible side locks allow you to wear the device for mobile operations. Thanks to the aluminum shell it's very easy to create a rugged mobile field radio. The designers also want to offer multiple material options and prefer sustainable or recyclable materials where possible.
The enclosure also has a lot of space to allow for further customization and ruggedization such as roll bars that can be installed by the end user. The designers purposefully left a little bit of space to allow installation of things like that or additional panel mount switches or cutouts for GPIO headers and the like. This enclosure is extremely DIY friendly for those with more advanced skills but the kit itself is solder-free and easy for a beginner to assemble – just a screwdriver is needed and the best part – it's included!
In the video, CubicSDR is running on a Raspberry Pi 4B. This setup works really well and looks great on the 1920×480 IPS multi-touch LCD as an interactive waterfall display. The Ryzen Quad Core X86 4×4 SBC that's included is actually quite powerful with increased power consumption relative to the Pi. Cubic SDR is available on that architecture as well.
USB battery packs are incredibly electronically noisy, and clip on ferrite beads are included to help minimize noise.
Power management is very important for the system. Users may discover they require multiple power sources such as dual output batteries or even dual batteries in order to provide sufficient current for the entire system, it's so modular that end users have every option available to them so long as they can fit it in or connect it externally. The designer himself has a solar panel backpack that helps trickle charge when outdoors.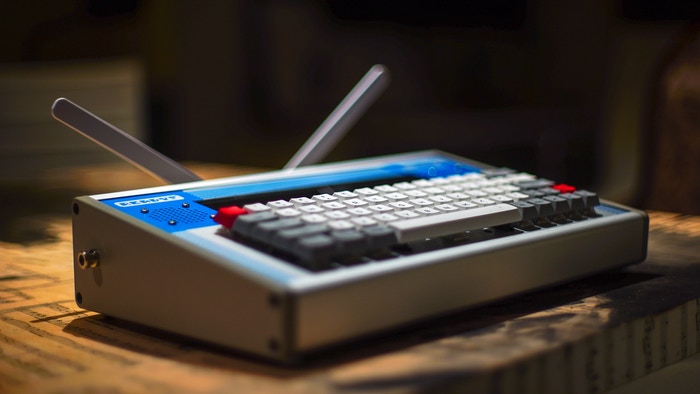 The device has been built by an amateur radio operator taking into consideration extensive input-outputs. This is a real electronic multi-tool for people, a quality device that has a lot of attention to detail like thumb screws for easy access, rubber spacers to dampen speaker vibration, D-type to keystone adapters to allow people to use affordable keystone port couplers, the side panel strap locks as opposed to just strap lugs for extra security. The mechanical keyboard features hot swappable keys so you can use the switches and caps you like – you can of course also turn off the backlighting to further minimize electronic noise. When fully loaded, the end user has a literal electronic tool kit in their hands that they can disassemble for parts and reassemble later by hand – not even the screwdriver is needed after you build. The designers are also including a universal mounting plate to help people keep things secure. The designer has chosen quality parts because he is offering something built-to-last.
A series of updates accompany the project so you can follow along by checking them out.
Summary
Radio is only one application of the MODEL 100. It truly is a Swiss army knife limited by your imagination. Audio and video production, media center, gaming and desktop computing are other applications. The MODEL 100 is an amazing product so go get one for yourself today!