Listening to good music isn't only about Taylor Swift lyrics or a Timbaland production. When you're listening to music, you want to hear the sounds clearly without any noise or distortion. You want to feel the quality of the sound like silk on your skin. You also want to be able to adjust the treble or bass. Want to experience all these? Then you, our friend, are in need a vacuum tube preamplifier with Bluetooth.
A vacuum tube preamplifier produces sounds that are warmer and cleaner, and with Bluetooth? You have a lot more audio sources you can connect to seamlessly! You don't have to be an audiophile to have one and they are straightforward to operate. If you don't know where to start looking, not to worry, we've got you covered.
Based on our research, the P1 Vacuum Tube is the best Bluetooth vacuum tube preamplifier and the T20 Bluetooth Preamp is a close second.
Read on for a detailed review of our picks and our buyer's guide.
Bluetooth, USB and RCA audio input options

Operates as a headphone amp

Works with passive speakers and headphones

Bluetooth and AUX audio input options

Independent bass and treble control

RCA and Bluetooth audio input

Can act as a headphone amplifier

Multiple audio input including U-disk and TF card

Doubles as a headphone amplifier
The Detailed Review
It should come as no surprise that the P1 Vacuum Tube Preamplifier with Bluetooth is our top pick product. A brief look at all the features packed in this product is enough to tell you why. The volume, treble, and bass knobs of this unit are located on top. They give you the flexibility to tune your sound according to your preference. When it comes to audio input options, it supports Bluetooth, USB, and RCA input. These provide a range of options for audio sources.
You can make your tube emit blue or orange light when in use. This adds to the ambiance of your space. Oh, you can also turn them off if you're not into that. With this preamplifier, you can listen to a sound that is rich and clean. It does precisely what the manufacturer promised. The unit comes with a manual to guide you on how to operate the device. You also get a power supply cable and a USB cable.
PROS
Great sound quality
It can be used as a headphone amplifier
Bluetooth, USB, and RCA audio input options
Treble and bass control
Light options for the tube
CONS
The two tubes heat up during use
Only works with low amp headphones
User Reviews
This unit is popular among users and they have commented that it offers great value for its price. They have reviewed that the control knobs work very well and the quality of sound it produces is top-notch. A user commented that the manufacturer provided great customer support in the case of a faulty unit and a few others complained that the Bluetooth of their device disconnects sometimes and no solution has been provided yet.
Coming in at second place and a close contender for the top spot is the T20. While the range of input options is limited relative to the top pick, the T20 Bluetooth Preamp has some distinct benefits such as the ability to drive passive speakers.
The Fosi T20 Tube Amplifier has excellent sound with audiophiles raving about the quality. The amplifier has impressive specifications with 50W x 2 max power output, harmonic distortion < 0.04% and SNR >= 90 dB. All in all a very versatile product with multiple input and output options.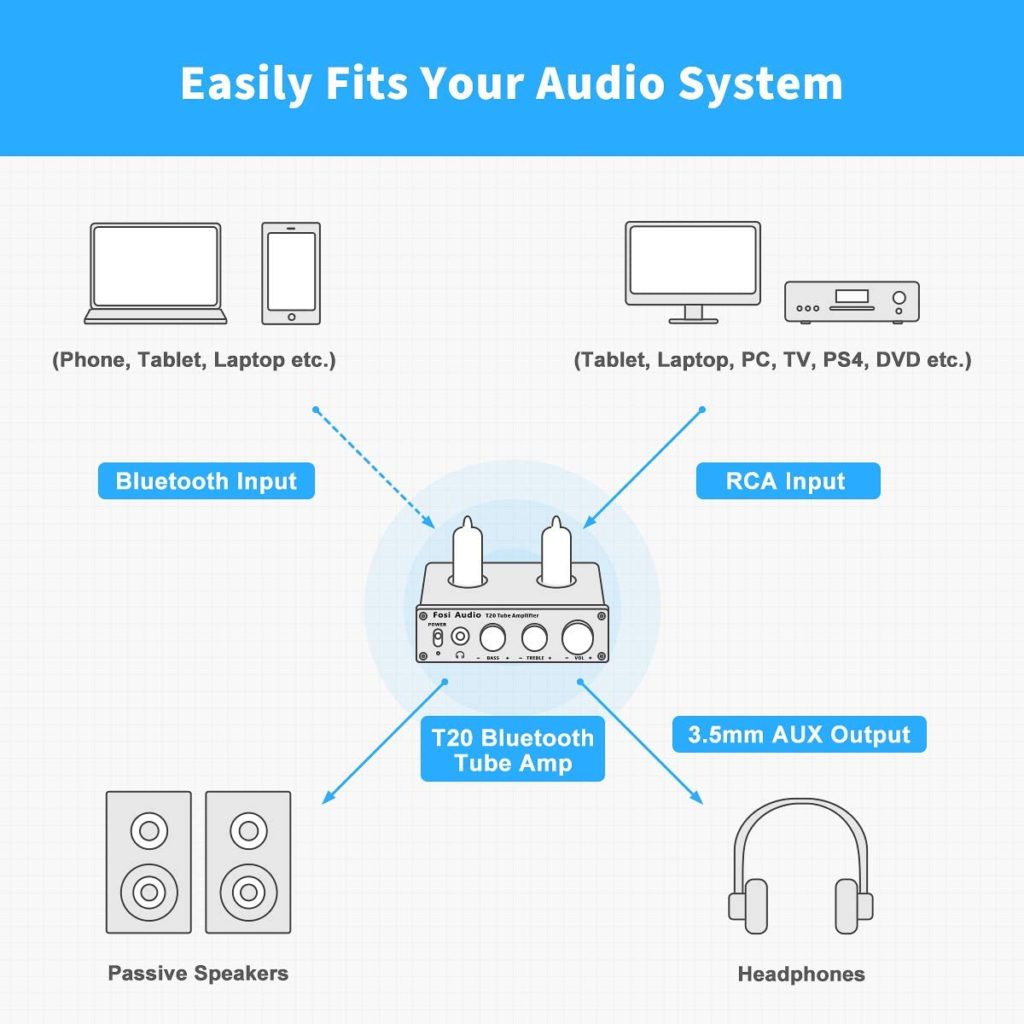 PROS
Excellent sound quality
It can be used as a headphone amplifier
Output to passive speakers
Excellent customer service
CONS
User Reviews
The Fosi T20 Bluetooth Tube Amplifier is one of the most popular units on the market today. Popular with audiophiles, this unit has received many positive customer reviews with an average rating of 4.6 out of 5. An audiophile customer reports that swapping the tubes for GE Jan 5654W gives it a warmer sound and it plays at high volumes with no distortion. Sound quality is reported to be better than the more expensive Sonos amp.
You don't have to break the bank to get a good Bluetooth vacuum tube preamplifier, and that's what AIYIMA Audio 6J1 Tube Preamplifier with Bluetooth is all about. The preamp has two audio input options – AUX and Bluetooth. Although, you have to attach the Bluetooth antenna to the device before attempting to use the Bluetooth function. It has an indicator light located below the power switch that indicates which audio option is in use. This may be a cost-effective product but the specifications are not too shabby with SNR of 98 dB and Treble and Bass adjustment ranges of 12 dB and 20 dB, respectively.
It is compatible with over six other vacuum tube models. Since tubes have their different characters, you might have your preference, and this preamplifier allows for that. It is both lightweight and compact.
PROS
Treble and bass control
Indicator lights
Loud
Produces rich and warm sounds
Available in two different colors
CON
It cannot be used with headphones
Limited audio input options
User Reviews
Users of the Aiyima love the build and compactness. Based on customer feedback, the sound quality over Bluetooth is good but is even better over the AUX connection. Users complained that the instruction that came with the package was not helpful and one user complained about the volume knob not being exact.
Everyone loves a product that fulfills the manufacturer's promise. This FX-AUDIO Vacuum Tube Preamplifier with Bluetooth is one of such. It has all the features a good tube preamplifier needs and they all work.
It has the best volume, treble, and bass control which gives you absolute control over your sound. Its input options are RCA and Bluetooth – and the Bluetooth input option is compatible with different devices. It can also be used as a headphone amplifier.
It has an MCU intelligent control and soft power off/on design that helps to reduce switching loss and noise and comes with the GE5654 tube but can be replaced with a different model.
It is available in three different colors so you can choose the one that blends in with your gadget setting. You can make use of it anywhere and it's compact and easy to carry around.
PROS
It has volume control knob
Independent treble and bass control
It can be used as headphone amplifier
MCU intelligent control and soft power off/on design
Available in 3 different colors
CON
Limited audio input options
User Reviews
Users have praised the efficiency of the volume, treble, and control knob. They have also attested to the fact that it's worth its price. However, a user reported that the tubes did not seem to make a difference in the sound quality.
This tube preamplifier provides the best value for its price and available features. It can be used as a preamplifier, headphone amplifier, and digital media player. You're not wrong to call it a multi-functional device.
With multiple audio input options including U-disk and TF slot, the Douk Preamp provides flexibility. It also has a Bluetooth input option that is compatible with many devices. When it is used between your audio source and amplifier, be sure to expect improved sound quality. It is a great way to enjoy music without any unwanted or distracting noise.
The remote control allows for easy access to your preamplifier. The default tubes can be replaced with other specific models to enjoy a range of different sound styles. It is portable with a black finish and will blend in with your other equipment. While it is easy to use, it comes with a manual for more guidance. The audio quality specifications are impressive with THD: 0.05% and SNR: ≥ 98dB.
PROS
Can be used as an headphone amplifier
Can be used as a digital media player
Multiple audio input options
Comes with a remote control
CONS
Does not have a master volume knob
User Reviews
Users have commented on the sound quality and have said it gives value for their money. A couple of users complained about the volume control push buttons saying they would have preferred a volume knob.
How to choose the best Bluetooth Tube Preamp
A Vacuum Tube Preamp with Bluetooth is a receiver that amplifies music from your phone, tablet or other bluetooth device. These amplified sounds can be output to your headphones or speakers. The benefit of the tube preamp is the exceptionally rich sound quality.
When it comes to choosing the best Bluetooth Vacuum tube Preamplifier, it is necessary to consider a number of aspects including features, specifications, user experience and support. These are the factors we considered while choosing the final picks for our list.
Sound Quality
The idea behind getting a preamplifier is to improve your listening experience so we made sure all the products on our list produce clean sounds without distortion.
Ease of Operation
Not everyone is tech-savvy but we agree that it should not stop you from having a good time. The vacuum tube preamplifiers on our list are easy to operate and some of them come along with user manuals.
Durability
Preamplifiers are not devices you want to constantly change so durability was top on our list of factors to consider. The products on our list last long and in the case of a malfunction, there is excellent customer support.
Features
We picked preamplifiers that not only have the basic features that make for a great preamplifier but also other unique features. Some of the amplifiers on this list support only RCA outputs that are sent to either an amplifier or active speakers. Others also support headphones.
As well some of the preamps support multiple input options in addition to Bluetooth.
User Experience
We made sure to consider the reviews of verified users before choosing any product. This was done to ensure that the manufacturers did not make false claims.
Summary
Whatever is worth doing at all is worth doing well and that includes listening to music. A Bluetooth vacuum tube preamplifier will give you a great listening experience. We have reviewed different products and have come to the conclusion that the P1 Vacuum Tube Preamplifier with Bluetooth is the best Bluetooth vacuum tube preamplifier available in the market today.