Updated Feb 6, 2022
Like humans have a brain which helps them to process information, machines have a CPU or processor which provides the same functionality. A CPU is a general purpose machine brain which is used by different applications depending on requirements. Some applications require dedicated hardware brains which are optimized for that particular application.
This is where Field-Programmable Gate Arrays (FPGAs) come in. FPGAs allow economical development of application-specific machine "brains" which perform several times faster compared to a CPU used for the same purpose. FPGA kits allow users to learn the basics of development. But they are not only a learning tool as they can also be used to develop actual solutions. For instance, FPGAs are a vital component of software-defined radios and used to implement digital signal processing routines.
Based on our research we have determined that the Digilent Nexys A7-100T is the best overall FPGA kit available on the market today. It is based on the Xilink Artix-FPGA part XC7A100T-1CSG324C. This FPGA kit supports 15,850 logic slices, 240 DSP slices, clock speeds in excess of 450 MHz and 4,860 KB of RAM. Other features available on the kit include accelerometer, analog to digital converter, 10/100 Ethernet, microphone, two 4-digit 7 segment displays and 12-bit VGA output.
Users have reports that the Digilent Nexys A7-100T is a very capable kit which performs as per manufacturer specifications. Some users have recommended that board should have a 16-bit color output instead of the 12-bit VGA output available on the board.
PROS
High capacity FPGA
USB powered
Supports free version of Vivado
Integrated Ethernet and USB ports
Integrated peripherals include temperature sensor, accelerometer, microphone and speaker amplifier
CONS
According to our research the best kit for beginners is the Digilent Basys 3 Artix-7 FPGA Trainer Board. It is based on Artix-7 FPGA from Xilink and is designed for beginners who want to learn the basics of FPGA development. This kit includes VGA, USB and other interfaces and can be used to develop solutions that require controllers and embedded processors. Features of the Artix-7 include 33,280 logic cells, 1800 KB RAM, 90 DSP slides and clock speeds exceeding 450 MHz.
In general users have been very satisfied with this FPGA kit. Some have been so impressed with it that they ordered several more. The only complaint reported by users is that the board did not come with a USB cable.
PROS
Powerful FPGA
USB powered
Supports free version of Vivado
Integrated USB and VGA port
CONS
Micro USB cable not included
The runner up FPGA kit, according to our research, is the ALINX AX7020: Zynq-7000 SoC XC7Z020 which features the Xilink ZynQ-7000 AXC7Z010-1CLG400C FPGA chip. The kit features 28,000 logic cells, 256 KB RAM and 80 DSP slices. This kit includes integrated Ethernet, HDMI and USB interfaces. This is a full featured board but, as can be seen by comparing the specifications listed here, is less powerful than our top pick.
Users have expressed their satisfaction with this kit and the range of features available on it. Most of the users have expressed their delight with the amount of documentation that is available with the kit.
PROS
Power FPGA
JTAG port programming
Mini USB cable is included
Supports Vivado
Integrated Ethernet, HDMI and USB ports
CONS
Code syntax in downloadable tutorials may need debugging
Our top budget pick is the Digilent Arty S7: Spartan-7 FPGA Board. It is based on the Xilinx XC7S25-CSGA324 FPGA which features 23,360 logic cells, 1,620 KB RAM and 80 DSP slices. The FPGA is programmable over JTAG and includes two types of expansion connectors which are four Pmod connectors and Arduino/chipKIT shield connectors. Other features include on chip analog to digital converter, USB-UART bridge, 4 switches and 4 buttons.
Users have expressed their satisfaction with the Digilent Arty S7: Spartan-7 FPGA Board and its features.
Pros
Budget friendly
Wide variety of I/O expansion options
USB powered
Xilinx WebPack compatible
Cons
Notable Mentions
A few FPGA kits that deserve mention are listed below.
The DE10-Nano Kit is very popular with those interested in classic gaming. The kit is based on the Intel Cyclone V SE 5SCEBA6U2317 FPGA with 1 GB RAM. Other features include USB-Blaster II and JTAG for programming, Gigabit Ethernet port, USB port, accelerometer and UART to USB. This kit can be used with the MISTer gaming platform to develop several classic computer games, games consoles and classic arcade machines.
The Digilent NetFPGA-SUME Virtex-7 is designed for high-density and high-performance network design. It is based on the Xilinx Virtex-7 690T s FPGA and has been specifically developed for cutting edge research and development of networking systems.
The kit features thirty 1 GHz GTH transceivers, four 10 Gbps ports and an 8-lane third generation PCIe. The kit is quite expensive but the cost is justified by its features and ability to handle simultaneous wire-speed processing on the 10 Gbps Ethernet ports.
How we picked the best FPGA kit

The following is the list of criteria which we have used to differentiate between the available FPGA kits.
Programmable resources
The most important part of any FPGA kit are the available programmable resources including logic slices and DSP slices. Additionally, support for higher clock speeds and the amount of RAM determines the performance of the system.

Programming
Needing to buy expensive licenses for FPGA programming software adds to the overall development cost. It is therefore desirable to use FPGA kits which are supported by free programming tools.
Peripherals
Integrated peripherals signify that the additional cost of external peripherals will not need to be incurred to develop or test a particular solution. That is why many boards come with integrated analog-to-digital converters, accelerometers, microphones and other peripherals.
Power
USB is the interface of choice in this day and age, especially since it also provides power in addition to the ability to transmit and receive data. FPGA boards that support USB power greatly add to their ease of use.
Documentation
Documentation that is detailed and easy to use greatly adds to the ease of use of a FPGA. Specially from the perspective of a beginner or intermediate level user, any kit that comes with good documentation will be used to develop solutions, and any kit that lacks documentation will mostly likely not be used at all.
FPGAs and Software-defined Radios
As we have explained in our introduction to software-defined radios, an FPGA is a critical part of most SDRs. So if you would like to experiment with an FPGA in the context of a radio system, the best way to do so is to get yourself an ADALM Pluto SDR. This SDR is among the top three SDRs on the market today, has inside it a very capable Xilinx Zynq Z-7010 FPGA.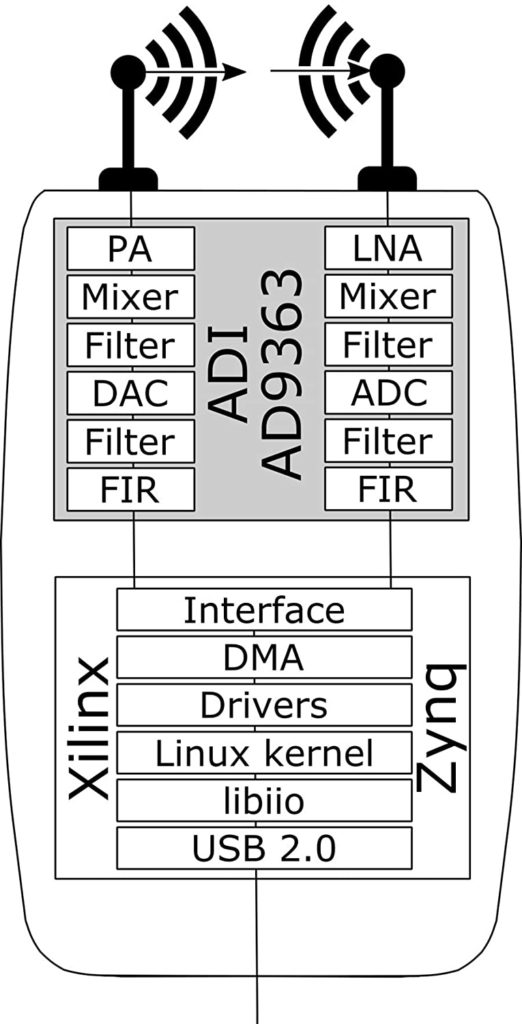 The FPGA has built into it a number of processing blocks to deal with data transfer from the Analog Devices AD9363 radio chipset to the USB 2.0 interface. The nice thing about this SDR is that they show you how to access the FPGA itself over JTAG.

Summary
FPGA kits provide a reliable and economical route towards the development of powerful hardware-based processing solutions. A very large number of options are available on the market for those who are starting to learn about FPGAs and for those who are working to develop solutions for deployment in the field.
Here are our picks for the Best FPGA Development Board Kits