FM transmitters are increasing in popularity for outdoor broadcast applications. They can be used for Drive-in movies, Church parking lot services, Christmas lights display with music and any Outdoor event. The fact that FM receivers are everywhere and the technology is so easy to use makes it a no brainer to select an FM transmitter for all your audio broadcasting needs.
The breakout of the Coronavirus Pandemic has made these devices necessary as many governments ban gatherings and physical contact.
Fortunately, FM transmitters still make it possible to communicate with many people without contact. All that is required to listen is a working FM receiver. In this post we review one of the most popular FM transmitters: The Basewish FM transmitter. This product is also sold under the Signstek brand. Essentially they are the same device.
Key Features
The BaseWish FM transmitter is very compact, cost-effective and delivers powerful performance.
It has dual power modes of 1 Watt and 7 Watt so you can use this to adjust the range of the transmission. With the 1W setting, users have reported being able to reach transmission ranges between 0.25 to 1 mile. With the 7 Watt setting, users have reported being able to reach between 2 and 15 miles. That's a lot of range!
The transmitter also has a Built-in Memory feature – saves frequency channel and configuration information when powered off.
What's Inside the Product
The FM chip used in this transmitter is the BH1415F by Rohm which is a sophisticated, feature-rich part.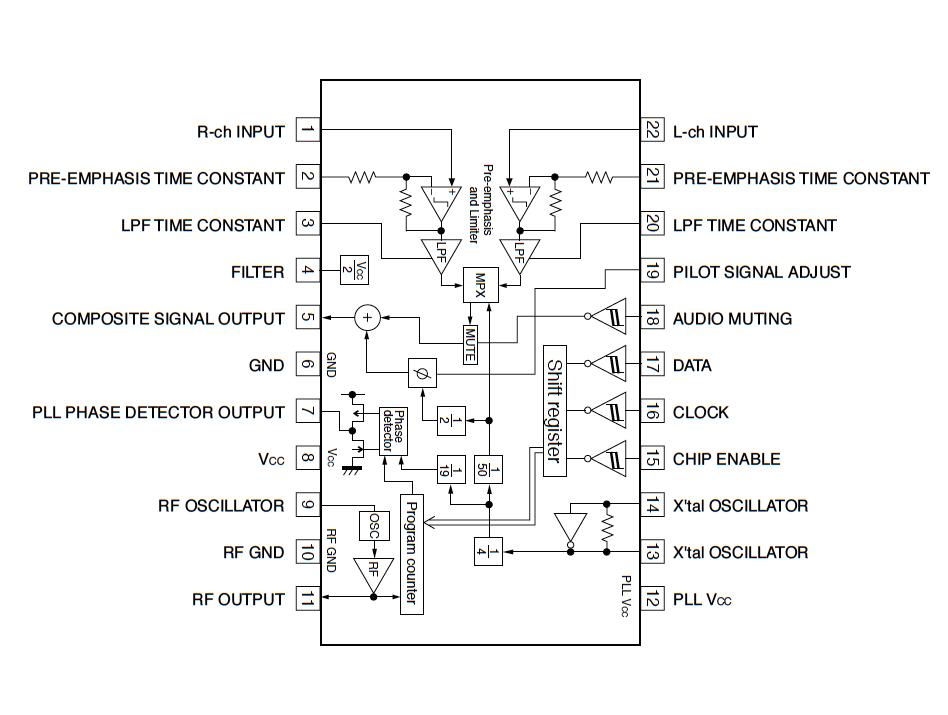 The BH1415F has a pre-emphasis circuit, limiter circuit, and low-pass filter. As well, the BH1415F has a built-in pilot-tone system and FM stereo modulator circuit. The PLL system built into the chipset enables a stable transmission frequency. The transmitter also includes three power amplifiers to achieve the maximum 7 Watt output. All in all, this is a well-designed electronic product.
PROS
Cost-effective
Easy to use
CONS
Some users have reported a humming noise when using this transmitter.
Many users dislike the noise of the built-in fan
Some users have reported issues with reliability
Common Problems and Solutions
Users have reported a couple of common issues with the FM Transmitter. Fortunately there are solutions to both.
Humming Noise Problem
Users have complained about a Humming noise during operation. This could be for a couple of reasons. Here are potential solutions for each:
The supplied power supply is a two prong supply without a ground. This produces a hum associated with the 60 Hz frequency. To eliminate the hum, replace the supply with a 3 prong 12 VDC power supply.
The hum could also be used to the audio and input level settings. The audio volume knob should be adjusted carefully. If there is noise, static or over driven audio, then turn down the input level. However, if the input level is too low then you might hear a hum. So you will need to play with the level to get it right. This unit sounds very good when it is set up properly with optimal settings.
Noisy Fan Problem
This unit has three power amplifiers to generate up to 7 Watt of transmit power. The associated analog circuits are going to generate heat during operation – there is no way around that. A fan has been included in the product to dissipate some of this heat. However, fans are finicky mechanical devices. They can be noisy if not designed and/or installed properly. And that happens to be the case with this transmitter. To limit the possibility of the fan turning on, it is recommended to operate the transmitter in low power mode.
Precautions
Here is a list of precautions that should be taken into account when working with the FM transmitter.
Frequency of Operation – Don't transmit signals at frequencies that are already in use for FM broadcasts in your area. If you do, then this will cause RF interference and soon you will have the FCC knocking on your door.
Antenna – Use the BaseWish FM transmitter with the antenna provided. Don't use any other antenna and don't power the transmitter on without connecting the antenna. You could damage the transmitter.
Audio Source – Don't run your audio source into the MIC jack.
Fan – The fan might be noisy. However, it should never be removed from the device.
Product Use Video
Here is a video that shows how to use the BaseWish FM transmitter
Summary
The BaseWish FM transmitter is one of the most popular FM transmitters on the market today. Its popularity has surged with the increase in outdoor activities due to the Pandemic. Customers have been delighted by its performance relative to the low price point. The FM transmitter makes it easy to conduct Church Parking Lot Services, Drive-in Movies, Factory Broadcasts and other similar applications.