Nothing says festivities more than bright and colorful lights – the strings of beautiful lights illuminating your Christmas trees, your roof, and even your bushes. Not just any kind but smart Christmas lights that provide you with great features like customization options, voice, and app control.
We have reviewed the best smart Christmas lights available and recommend the Twinkly as our Top Pick for the Best Smart Christmas Light. Twinkly comes with a free smartphone app that controls the lights either through Bluetooth or Wi-Fi.
Read on for detailed reviews of all our picks.
If you're looking to add a bit more dazzle to your celebration, the Twinkly is the right pick for you. It's our overall best because it comes with all the features you'll need at a great price.
An app is an important aspect of a smart device. Twinkly comes with a free app supported by both IOS and Android devices. The app connects with the lights either through Bluetooth or Wi-Fi. You can control Twinkly with your voice using Google Assistant, Alexa with an Echo, and it also supports Razer Chroma which is an amazing feature you're going to love. When everyone comes around for Christmas celebration, you can all have an awesome gaming experience with Razer Chroma. When connected, your Twinkly lights will respond to events in the game. How much better can it get?
Get ready to create beautiful patterns with your lights easily – all you have to do is map your light through your phone camera and then pick a pattern from the options. You also get to pick preset color configurations available. There's a lot of customization you can do with the colors, speed, and pattern of your lights. You can even decide to buy more than one device as up to 10 Twinkly devices can be synchronized at the same time. Each one is 105 feet long and consists of 400 bright and colorful LEDs.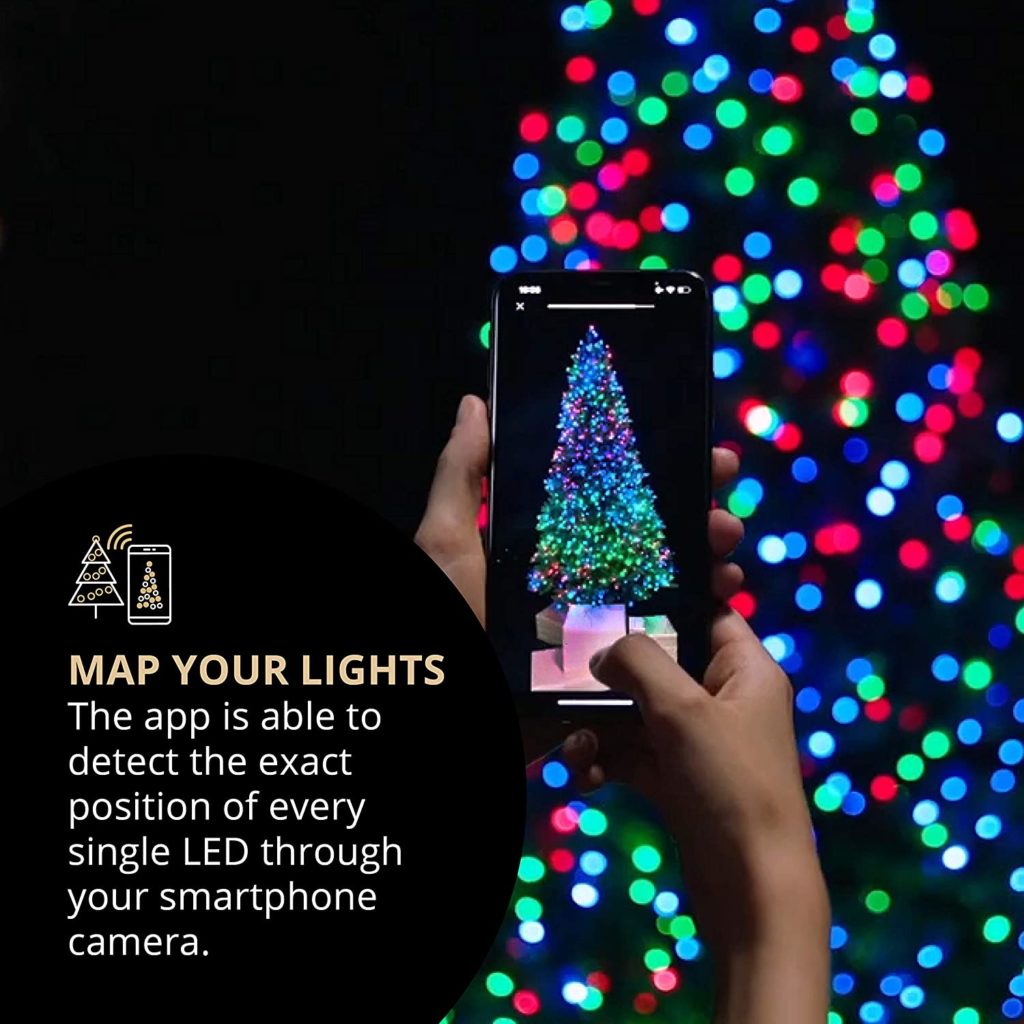 Some users have said it was easy to set up but they found mapping the light with an Android device difficult at first. They recommend using an iPhone instead. For customizing your lights, users have said that it requires a bit of patience and that some of the preset effects have limited features that can be edited. In all, it's a great device.
PROS
Easy to set up
Allows for personalization
Supports multiple Twinkly device synchronization
CONS
Plug divides lights into two lengths which means the full length cannot run in one direction
It's not waterproof so it's unsuitable for outdoor use
Our runner up is the ELlight LED Strip Lights with App. With a length of 32.8 feet, it will cover a large area and because it has a flexible design, you can put it across corners or even along your staircase with ease. The biggest advantage is that these lights can be used outdoors. It has an app that supports both Android and IOS devices but can be connected via Bluetooth only.
The app gives you control over several features like color, hue, brightness, and speed. This gives room for a lot of personalization. It has 99 different effects including the multi-color chasing effect. When it comes to installing ELlight LED Strip Lights, it's as easy as it gets. You'll receive an all-in-one kit and will need no extra accessories. The adhesive is strong so you'll have no problem with it falling off after a while. The strip lights can be trimmed to your desired length but must be cut at specific points. It can also be connected with another set of strip lights to extend the length.
Users have reviewed that the app and find that is easy to use and in the case of any problem, customer support is great.
PROS
Waterproof silicone coating makes it suitable for outdoor use.
Easy to install
Multiple set of strip lights can be connected end to end
CONS
No voice control
No music synchronization
Adding RGB LED strip lights to your space is a great way to control the ambiance. With a lot of color choices and control over brightness or dimness, you're in charge.
Govee smart strip lights give you hands-off control by allowing you to use your voice with either Google Assistant or Alexa. With three control interfaces; the app, remote control, and control box, you have the option of choosing the one more convenient for you. The app can use either Wi-Fi or Bluetooth connectivity and you can automatically turn on/off your lights using the timer setting.
A great feature of Govee is that the lights can sync with music as it comes with an built-in mic. This device requires no technical expertise to install, simply pull off and stick to any dry flat surface. You don't have to worry about sharp corners as its strip is flexible enough. It's 16.4 feet long but can be trimmed to your desired length without affecting its functionality.
People who have used Govee smart strip lights have said that the adhesive is great and the lights work exactly as described giving them great value for their money.
PROS
Easy to set up
Allows customized colors
Enhanced music mode – the inbuilt mic is highly sensitive which aids music synchronization
CONS
Does not support connecting a different set of strip lights to extend the length
It is a non-waterproof version and cannot be used outdoors
Imagine a house beaming with various colors. Now, stop imagining because that could be your house with this LE Smart LED Strip Light. It's 16.4 feet long and has 8 preset scenes you can choose from. You can control the lights with your voice using Google Assistant or Alexa. This can be done through the app which takes only a couple of minutes to set up.
With the app, you can also control the brightness of your LE Smart LED Strip Lights. If you're a lover of music, you'll enjoy the music sync feature which is perfect for celebrations especially Christmas. One feature you'd like is the timer which allows you set on and off schedules for your lights. If you're thinking of connecting multiple strips, be aware that you'll need an external connector.
Users have advised that if you care to use the remote often, it must be pointed directly at the adapter but the voice control works great. Many have also said that it's easy to use with Alexa and also easy to install
PROS
Synchronizes with music
App control
Voice control
CON
This is another great choice of smart lights. The Nexlux LED Strip Lights are compatible with both Alexa and Google Assistant. It has an app you can use to control your lights from anywhere and you can use the timer on the app to schedule when your lights come on.
You can control many sets of light strips by making use of the group function on the app. With the music sync feature, you can use your lights for different occasions like Christmas, Birthday parties, Halloween, or for decorating your house all year long. All you need to set up your device comes with the kit.
People who have bought Nexlux LED Strip Lights have been generally happy with their purchase. They have reviewed that it has strong adhesives and excellent Alexa integration. They have also compared it with other devices saying it packs the same great features at a lesser price.
PROS
It is waterproof and can be used outdoors
Strong adhesives
Synchronizes with music
CON
Does not have preset scenes
How We Picked
With the number of smart lights in the market and their many varying features, it can be quite the task to know the features to look out for. We reviewed a lot of products based on some factors that helped us narrow down the list. Here, we'll let you know what they are and why they are important.
Usability This is an important factor to consider. It's what determines whether you'll have to put many calls through to customer support or get it done in minutes. All the smart lights we have listed in this review can be set up in minutes without any technical knowledge. They are also easy and straightforward to use.
Connectivity App control is one distinct feature of smart lights. This is because they make the use of the lights easy and convenient. To use, the app has to be connected to the lights either through Bluetooth or Wi-Fi. With the Bluetooth option, you never have to worry about connection problems although it has a shorter connection range. On the other hand, the Wi-Fi connection option allows you to control your light even from a farther distance.
The Twinkly lights and Govee Smart Strip Lights are the two smart lights on the list that come with both connection options.
Control While remote control and app control are great, voice control is an important feature to note. This provides you with a hands-off way to control your device. It is especially important when you have a smart home as it allows for easy integration. A good number of smart lights support both Alexa and Google Assistant.
Brightness The brightness of your lights together with the color temperature and color, works to create your desired look. The products listed in our review have been tested to be bright. With some, you can control the brightness or dimness of your lights.
Ease of Customization Smart lights come with different levels of flexibility when it comes to customization. There's no point having so much flexibility if they are hard to implement. The products on our list have varying ranges when it comes to customization but one thing they all have in common is that they are easy to do. You don't have to be a DIY expert to operate. Some come with preset effects that you can choose from. You can also control the brightness, color, speed, and movement of your lights.
Summary
Smart lights are a great addition to your Christmas celebration. With the benefits of Christmas lights in general, these smart lights add other features that make things a lot easier – the combination of bright colorful lights and a wide range of easy and convenient control options. We have done a careful review of the products listed and we're sure that any choice from the list is one you'll enjoy. Here is a summary of the best Christmas Holiday Smart Lights: