Bluetooth is amazing technology that has greatly simplified wireless connectivity. However, there is one major drawback with Bluetooth and that is its short range. Fortunately, there is a solution for this problem and it can increase the range of Bluetooth by a factor of ten! Now imagine listening to music from your home stereo over your wireless Bluetooth headphones as you work in your garden.
So what is this magical technology?
It's a Long Range Bluetooth Transmitter. We've done the research to recommend the Avantree Oasis as the best Bluetooth transmitter. This transmitter will provide coverage across your home, garden or office.
The Avantree Oasis Bluetooth transmitter tops our list for its unrivaled transmission range and other stunning features. Attributes such as range, ease of use, sound quality, low latency, multiple device support, Bluetooth 5.0 and many others can be found in this one device.
The runner up is the 1Mii Long Range Bluetooth 5.0 Transmitter Receiver.
The 1Mii transmits high-quality audio signals with amazing fidelity. With this device, you can transmit your signals up to a range of 265 ft (80 m) over an open space or 80-110 ft (25-35 m) indoors. Additionally it has an excellent feature set.
Here is a comparison table that shows you how our product picks compare:
| | | | | |
| --- | --- | --- | --- | --- |
| | | | | |
| | | | | |
| | | | | |
| | | | | |
With a long transmission range of up to 328 ft, you can connect all your audio devices, including TV and PC, with the Avantree Oasis. Other stunning features and attributes include ease of use, sound quality, low latency, multiple device support, and more. It also uses the latest Bluetooth technology, BT 5.0.
PROS
Long transmission range of up to 328 ft in an open space
High audio quality even on a long-range transmission
Compatible with many devices, provided that the device runs digital optical codecs
Easy to set up and use
Intuitive user interface with a touch screen
On-board volume control for volume adjustments
Multiple audio inputs: digital optical, aux, and RCA
CONS
More expensive than many Bluetooth transmitters on the market
Transmission range depends on how clear the line-of-sight actually is
USER REVIEWS
Avantree Bluetooth transmitter has been praised by many users with an average rating of 4.3 out of about 3,000 reviews on Amazon. The device is lauded for its high audio quality in addition to its ease of use and connection as it has voice prompts. Another great feature identified by users is the multiple audio input interface that makes it easy to connect with TV, PC, iPods, and many other audio devices.
This Bluetooth transmitter boasts both high-quality and fidelity of audio signals that it transmits. As the 1Mii is both a Bluetooth transmitter and receiver, it is a comprehensive wireless solution for home or office. With this device, you can transmit your signals up to a range of 265 ft (80m) over an open space or 80-110 ft (25-35m) indoors.
1Mii Bluetooth transmitter-receiver allows you to connect two separate Bluetooth speakers at the same time and still maintains quality audio streaming. It also has some other features that make it second on our list such as simultaneous streaming of audio to wired TV soundbar and wireless headphones. If there is a need for different volumes, as may be the case when one family member is has hearing problems, then this unique feature solves the problem.
PROS
Multiple audio input interface: Aux, RCA, and digital optical
Relatively long transmission range of up to 265 ft
Low-latency technology that removes the audio delay
Easy volume control
Voice controllable
3D high-quality sound
CONS
Does not support pass through
Not suitable for live music, karaoke, or musical instruments
USER REVIEWS
With a rating of 4.1 out of over 800 reviews on Amazon, the 1Mii Bluetooth device meets user expectations. Users are happy with its ease of pairing and support for many audio devices, including TVs, PCs, Bluetooth headphones, stereo systems, etc. Its inability to pair with two speakers or lack of pass through features made some users unhappy with this unit. However, it is well praised for its near-zero latency and signal quality even over long ranges.
If you need to listen to crystal clear audio sound wirelessly from your TV, gaming console, stereo systems, iPod, or any other audio source, then the Miccus Bluetooth Transmitter is the best on budget. Despite its low price, it offers stunning features, some of which are better than those already discussed here.
From transmission range to ease of set up and use, this unit is just perfect. With its sleek design, you can carry it around with you and enjoy unlimited audio streaming. It supports aux, RCA, and digital optical audio input that enables you to connect all your devices.
PROS
Long-range transmission of up to 300 ft outdoors and 160 ft indoors
Pairs easily with many Bluetooth devices
Easy to set up and use
No sound lag when live streaming or gaming
Very portable
CONS
Occasionally drops connection
Relatively poor sound quality
USER REVIEWS
Miccus Proven Bluetooth Transmitter Receiver is a popular device with over 2,700 reviews on Amazon. With a 4-star rating, it is clear that buyers are satisfied with the features of this unit. It works great for many people, with only a few complaining of low audio signal strength across rooms and over long distances. But in general, the unit is good for wireless connection of Bluetooth and its small size makes it more portable.
How does a Long Range Bluetooth Transmitter Receiver Work?
Typically Bluetooth wireless technology has a very short range. So when you're listening to music from your phone over a wireless headset and you walk about 10 meters (32 feet) away from your phone, the connection drops. You are no longer connected and it's a frustrating experience!
A Long Range Bluetooth transmitter receiver extends your wireless network across your home, yard or office. It enables you to listen to music from your stereo over your wireless headphones as you cut the grass in your lawn. The best long range transmitter on this list can extend the range of your Bluetooth network by a factor of ten. It allows you to listen to music when you're 328 feet away from the source. That's amazing!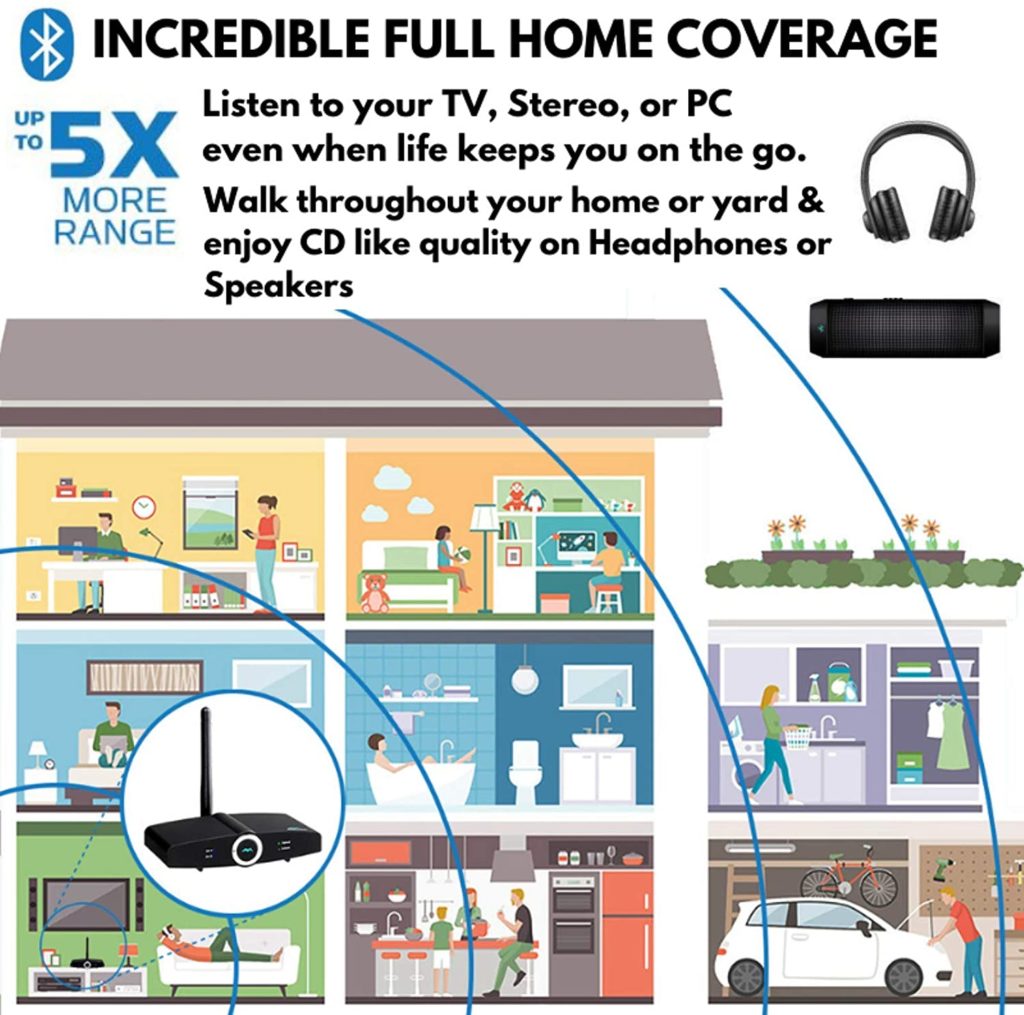 A Long Range bluetooth transmitter and receiver quite simply connects to a source like the audio output of a TV over cables. It then broadcasts the audio signal using the Bluetooth protocol. Now Bluetooth headsets can easily pick up this signal. The benefit of long range is that you can walk away from the TV set to the kitchen and beyond and remain tuned in to the action.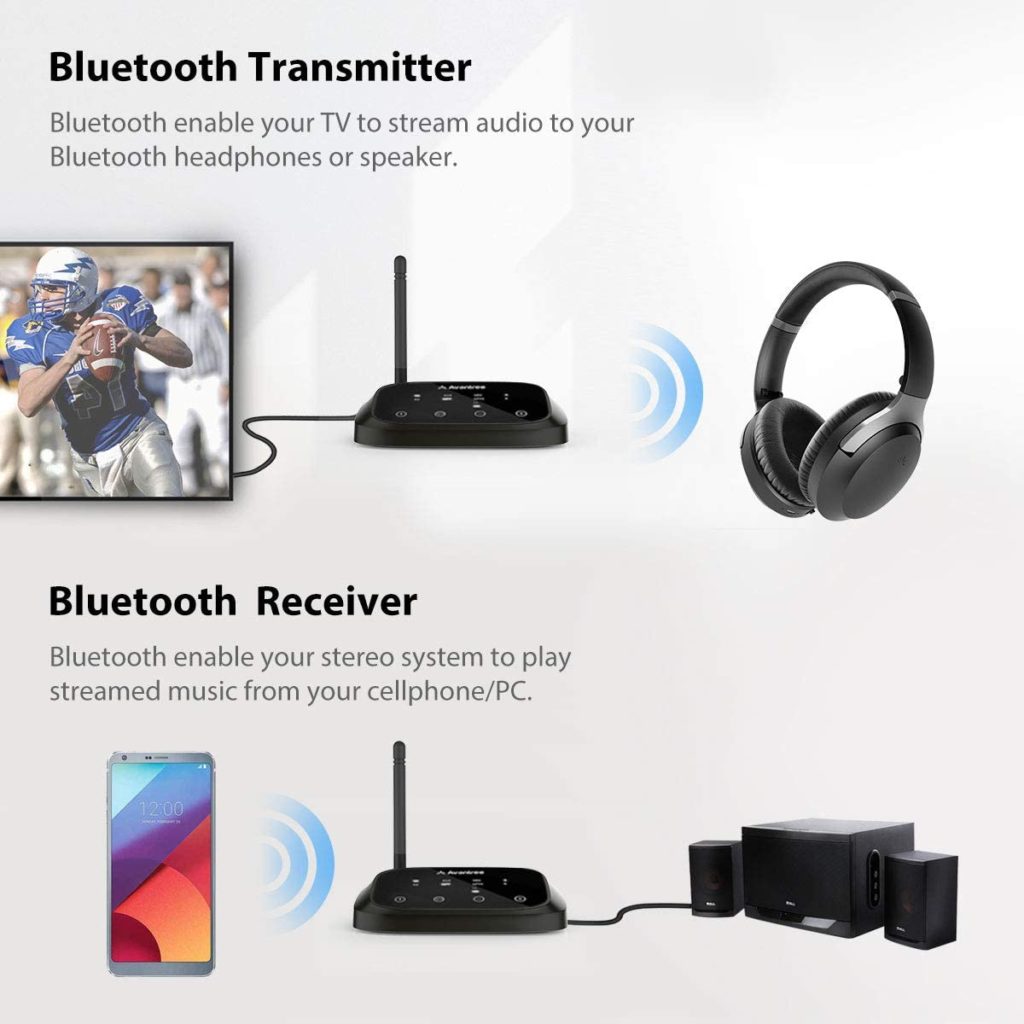 Similarly the Bluetooth transmitter receiver is able to pair with a phone wirelessly. It can then be connected to an older stereo and play music from the phone. A Bluetooth transmitter receiver like the the Avantree Oasis then acts as a bridge between a wired and wireless device.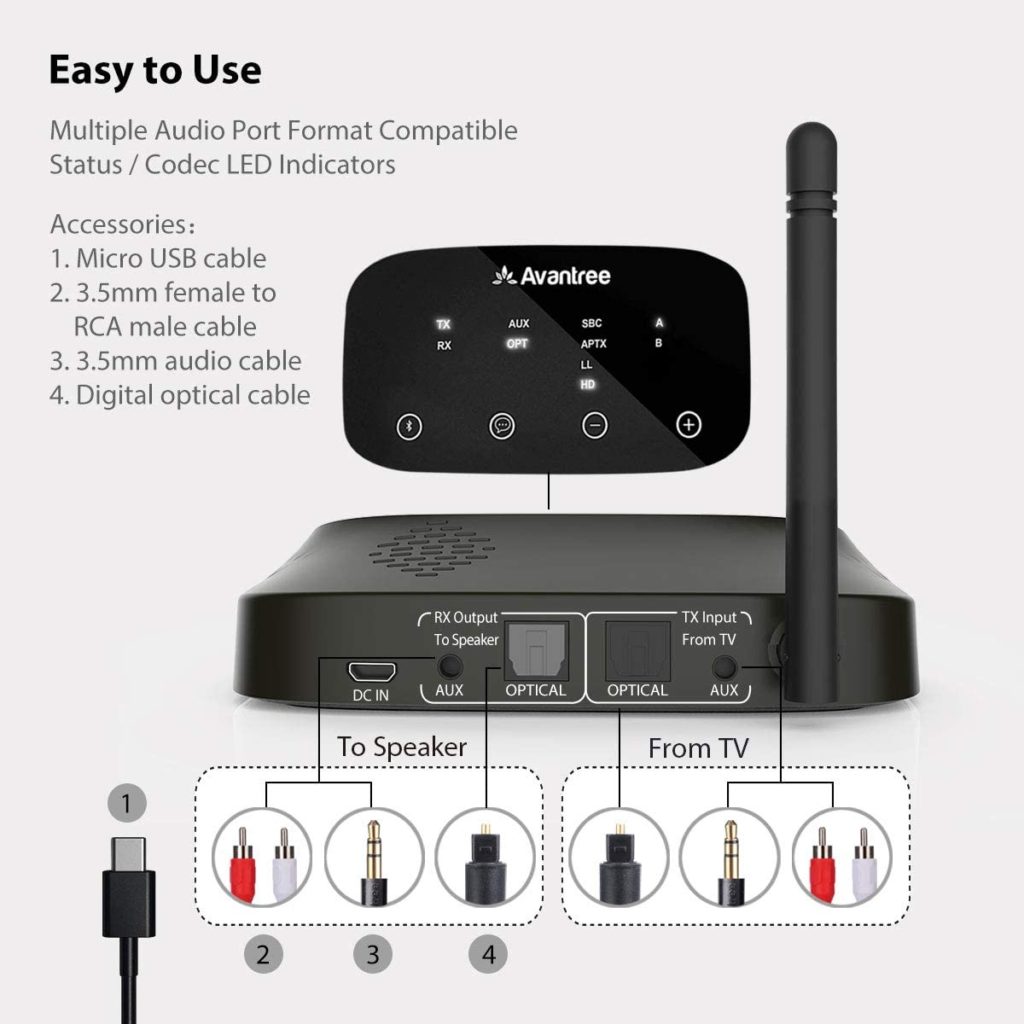 The picture above shows the back of the Avantree Oasis. You can connect the RX output to a speaker. Alternatively connect the TV audio output to the TX input. You can also use two of these as a pair to extend the range of your Bluetooth transmission. In this situation, one Avantree Oasis acts as a BT transmitter while the other one acts as a BT receiver.
How we picked the best Long Range Bluetooth Transmitter
Choosing the best Bluetooth long range transmitter for your specific needs can be confusing, and you may end up buying the wrong one. However, with our list of the best Bluetooth transmitters, you are sure of the functionality and other features. For us to come up with the list, we considered the following important factors:
Bluetooth Technology – All the products on the list use the latest Bluetooth technology, BT 5.0. This version of Bluetooth has many advantages over the previous versions: higher data transfer rate, long-distance transmission, faster pairing, and a solid, reliable connection. Devices using BT 5.0 technologies are also more energy-efficient.
Transmission Range – This depends on personal needs, and we have included Bluetooth transmitters with the longest transmission ranges on the list.
2-in-1 Bluetooth Transmitters – All the devices on the list can act as either a Bluetooth transmitter or receiver. This feature makes them versatile and possible to cascade them to extend and achieve the needed transmission range.
Multiple Devices Support – Without knowing what you are intending to use a Bluetooth transmitter for, we have included devices that can be paired with most of the electronic appliances available at home or in the office. Whether you have a TV, PC, CD, iPod, Mp3 player, or any other audio source, you will still transmit that signal through Bluetooth with these transmitters.
Low-latency – Audio-visual delay is a characteristic of other Bluetooth transmitters, but not with the ones included on our list. You will be able to enjoy gaming and live streaming without the annoying signal lag as they all use aptX technology. aptX technology allows the Bluetooth devices to compress and decompress audio signals to allows for better transmissions without distortion. All Bluetooth-enabled devices that use this technology produce high-quality audio signals.
Listening Volume – The units come with volume controls to help you in setting the most suitable listening volume.
Ease of Pairing and Ease of Use – The procedure for first time pairing for Bluetooth transmitters on our list is straightforward. Once paired, the devices will connect automatically next time when within the range.
Pass Through – This useful feature allows you to listen via a wired or Bluetooth connection as the signal can pass from the source to the AV receiver.
Summary
We have studied a number of products to bring you the Best Long Range Bluetooth Transmitter. Bluetooth devices have exploded in popularity and there is a desire to extend their connectivity to older devices or to simply bridge and extend the range of Bluetooth systems. The advantage of the transmitters we have selected is that you can cover your entire house efficiently. No more messy cables and interconnect boxes!
In summary, if you're looking to extend the range of your Bluetooth system, we recommend the Avantree Oasis Bluetooth transmitter as it is the best device on the market today.