Did you ever play with walkie-talkies as a kid? If you did, you would remember that walkie talkies are fun. As a parent, you can use walkie talkies to connect with your kids, ensure their safety during hiking and camping trips or when they play around the neighborhood. So walkie talkies are both fun and useful.
We have done the research and found that the Floureon is the top walkie talkie while the Fayogoo is the best rechargeable walkie talkie for kids. Here is a table with the top products.
The Detailed Review
Fluoureon is our overall best walkie talkie because it ticked all the boxes for some essential features every walkie talkie for kids should have.
These four-in-a-pack walkie talkies are suitable for communicating with family or during a camping trip. It's fun and straightforward to use. With 22 supported channels and 121 privacy codes, these walkie talkies can also transmit over a range of about 2 miles, with 3 miles in an open field as the maximum distance coverage.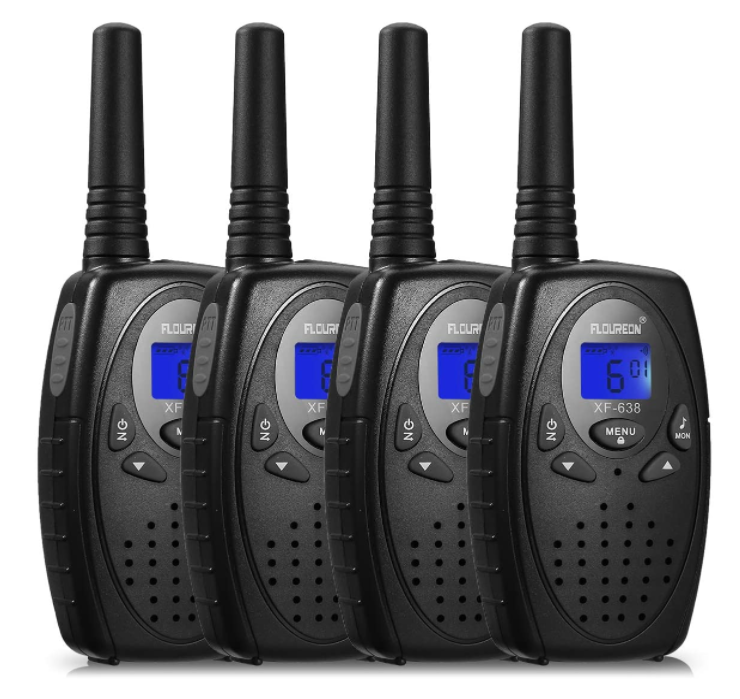 Floureon says that you can take and use these talkies anywhere; whether you intend on going on a cruise or family outings, the walkie talkie operates over FRS and GMRS bands while providing 22 channels with clear signal and excellent sound quality. The communication range depends on several factors like the terrain of the area, prevailing weather condition, and electromagnetic interference.
The sound quality of this walkie talkie is excellent, and it features a great LCD. Kids should be able to get about 4 hours of use and 9 hours of standby.
PROS
Four talkies for the price of two
Battery life is a plus
CONS
Does not support headsets
The loudest volume is relatively low.
USER FEEDBACK
Many users confirm that the Floureon is an excellent walkie talkie for the price, but the volume is a bit low.
The GOCOM walkie talkie was made for kids and to bring back fun childhood memories when adults use it.
In the mountains, this device boasts of receiving signals within a distance of 15 miles. You can also communicate within a distance of 6.5 miles on the open sea. It is safe for kids since the battery compartment is safely locked with a screw that cannot be opened unless with a screwdriver. It packs an anti-interference feature to block out external noise while transmitting. The Gocom is also small, lightweight, and comes with a 5 ft anti-fall for kids, so it is durable.
The GOCOM walkie talkie has a smart shutdown feature that automatically shuts down the walkie talkie when not in use and also has superb sound quality.
PROS:
Casing is strong
The lid comes with a safety lock screw to keep the batteries intact so you don't have to worry about little kids losing the batteries
CONS:
It comes with only nine channels to choose from which is much less than other walkie talkies in this category
USER REVIEWS
Users were displeased that the Gocom walkie talkie does not have a built-in chargeable battery.
The FAYOGOO kids walkie talkie sports a green camo appearance; which means it was designed for boys. These walkies can transmit from half a mile range to one whole mile in an open field. With the Fayogoo, you don't have to worry about losing track of your kids when engaging in outdoor activities like hiking a trail, camping, or even outings to the mall.
With 28 FRS/GMRs channels, 38 privacy codes, and auto squelch to cut out clear communications from other channels. You can be sure that your conversations are private. The FAYOGOO walkie-talkie for kids also features ten different ringtones. There is a backlit LCD, an auto channel scan feature, hands-free, and a power-saving function that works.
The Fayogoo is the only walkie talkie that can be charged without removing the batteries. To recharge the batteries you need to use a Micro-USB cable, then plug into any USB charger with max charging current lass than 1 A for less than 12 hours. It's important not to use any type of quick charger as it will destroy the walkie talkies.
PROS
Sound is great
It is made from sturdy materials
Portable and ergonomic design
CONS
Keeps picking interference if too many people in your neighborhood use it at the same time
Battery life is short
USER REVIEWS
Some users were displeased that the Fayogoo walkie talkie does not have a built-in chargeable battery.
The Retevis RT628 is light weight at just 90 grams. This makes it very easy for kids to carry about. Kids also get to enjoy crisp and clear sound while talking. The Retevis RT628 offers one-to-one and one-to-many communication features. This means many people can be on the same channel; this way, no outsider is eavesdropping on their convos.
Included with the Retevis RT628 is a belt clip to ensure that your kids never lose their talkies while playing. An LCD backlight feature is also included that allows them to see the screen both in the dark and under bright lighting; Like our mobile devices, seeing a walkie talkie's screen under a very bright light source can get tricky.
Information like the battery status, the channel number, volume status, voice activation, and CTCSS scanning function will be displayed on the screen. CTCSS, which stands for Continuous Tone Coded Squelch System, will prevent you from being disturbed whenever other users communicate on the same channel. It will also prevent strangers from using the same frequency to listen to your kids Another notable feature of the Retevis RT628 is the keypad lock function; this ensures that kids do not mistakenly change the signal channel while playing. There is also the volume button that adjusts the volume to your kids' preferred level, the volume levels can be increased from 01-08.
PROS
Very durable
Even though you have to take the 3 X AA out of the holder before they can be recharged, the batteries still last long
Customer service is very reliable
CONS
The instruction manual is a bit unclear
Channel configuration might be complicated for most kids.
USER REVIEWS
Many customers who have used the Retevis RT628 vouch for its durability as they claim it has fallen on countless occasions without developing faults. Some customers complain about how hard it is for their kids to change the channels since the channel and power button are the same.
Kids age 3-12 can use the Obuby Walkie Talkie to communicate with their friends in the neighborhood and during outings. The device is also simple to use; you only need to push the talk button to talk. Obuby made this device light so that it will be easy to carry around by kids no matter where they are or where they are going.
The sound quality on the Obuby Walkie Talkie is outstanding. It also comes with anti-interference technology. This means you do not have to worry about radio frequency interference from other devices. If your kid's hands are busy, that doesn't stop them from talking to you since there is a VOX function that allows you to talk without pressing the talk button.
The Obuby enables three miles of clear communication. A high number of 22 available channels backed up with 99 CTCSS sub-codes prevents people from listening or communicating with your kids on the same frequency with you. These are more combinations than you will get on many other walkie talkies. The Obuby walkie talkie also comes with an LCD backlit display and a earpiece port, but the earpiece is not included. With a earpiece, kids can talk without taking the walkie talkie off the belt.
PROS
Nice color combinations
Sound quality is worth the price
CONS
The volume of the ringtone and button tones cannot be controlled
The lid for the battery is very fragile and it gets damaged easily
USER REVIEWS
Many users complained of the inability to control the volume of the Obuby walkie talkie's dial pad and ringtones. As well, users feel that the battery lid needs to be improved.
How we Picked the Best Walkie Talkies for Kids
Choosing the best Walkie Talkie for Kids can be confusing, and you may end up buying the wrong one. However, with our list of the best Walkie Talkies, you can sure it meets your requirements. For us to come up with the list, we considered the following important factors:
The number of walkie talkies you need
Many walkie-talkie brands come in pairs, threes, and fours. We decided to pick walkie talkies that came in twos, threes and fours.. This way, a family of two, three and four can use them, or a group of friends who live around the same neighborhood could use them. This is one of the reasons the Floureon walkie talkie for kids was our best overall walkie talkie.
Reliability
We tried to ensure that the walkie talkies picked delivered on their promises and were not advertising false promises. Some of the compulsory features for reliability included the distance covered and the walkie talkie's battery capacity.
Features
We picked the best walkie talkie for kids that had the best features that kids will love. We considered features like the talkie's ergonomics, portability, color, and how easy it will be to use.
Usability
The walkie talkie for kids we picked was very user friendly and not super technical. We are talking about kids here, so we selected talkies that will not require complicated settings.
Battery recharge-ability
The Walkie talkies we picked used either AA or AAA rechargeable batteries. While many of these batteries had to be charged through a battery charger, others had a direct charging port built into the walkies for recharging the batteries.
Range
The walkie talkies we picked could transmit over long distances. This way, you don't have to worry about not being in the same building as your kids before you can communicate with them. However, the distance ranges of these walkie talkies were affected by weather conditions, the terrain of the area, and electromagnetic signals.
Popularity
We picked walkie talkies that were popular among many users; this way, we could check out reviews left by previous users with verified purchase history.
Channels
Except for the GOCOM walkie talkie, every other walkie talkie we picked offers 22 available channels. They also featured lots of private codes to ensure that interference from other radio signals is not a problem.
Technology
It made no sense picking walkie talkies made in the '90s since the technology used in making those walkie talkies for kids would be obsolete. So we selected products that were made using the most up to date technology. One of these modern technologies is the squelch system. While some walkie talkies used Digital Squelch Signals (Digital technology), others used the continuous tone coded squelch system (Analog technology) to prevent strangers from listening to your conversations. Another modern feature is the VOX feature, which makes hands-free quality possible.
Water Resistance
We factored in the water-resistance of the walkie talkies. However, we discovered that many manufacturers only made water-resistant walkie talkies for adults. We found the water-resistant walkie talkies were also relatively high priced and seemed overly complicated for kids to use.
Summary
We conclude by saying that the best walkie talkie for kids should be lightweight, portable, durable, and not complicated to use. It should transmit over long distances so that kids can enjoy every time they spend communicating over the walkie talkies. Based on our research, we recommend the Floureon as our Top Walkie Talkie for Kids.