What is PlanetWatch?
Planetwatch is a company that is working to improve worldwide environmental monitoring. Their goal is to protect public health through a worldwide network of sensors or miners that provide real-time information about air quality.
Outdoor air quality sensors can be installed by anyone. Planetwatch is also working with global partners from the telecommunications and transport industries for sensor deployment – needless to say there's huge potential here.
Indoor air quality monitoring is equally important for human health. That is why Planetwatch is also focusing on monitoring indoor air quality. Before we delve into the details let's take a look at the different sensors
Type 1 sensors make the most tokens while Type 4 make the least but are more affordable. We've broken down the details of the Planetwatch system and more in this post.
What are sensors?
As the name suggests, a sensor is a device that is used to sense or measure something. In this case a Planetwatch sensor or miner is used to sense Air Quality. People around the world are becoming increasingly concerned with the quality of air they breathe. This has a direct impact on the quality of life and also lifespan.
With an increase in industrial output and poor regulation, the air quality in some major cities of the world has deteriorated to a point where it's impacting daily life. As well, the air can be significantly impacted in areas where there is no industrial activity by events such as wildfires.
Different types of Sensors
Let's take a closer look at the different types of sensors, what they sense and other attributes.
The Sensedge Mini is a new generation of smart air quality monitor developed by Kaiterra. This miner provides accurate and reliable air monitoring solutions for both commercial and residential spaces.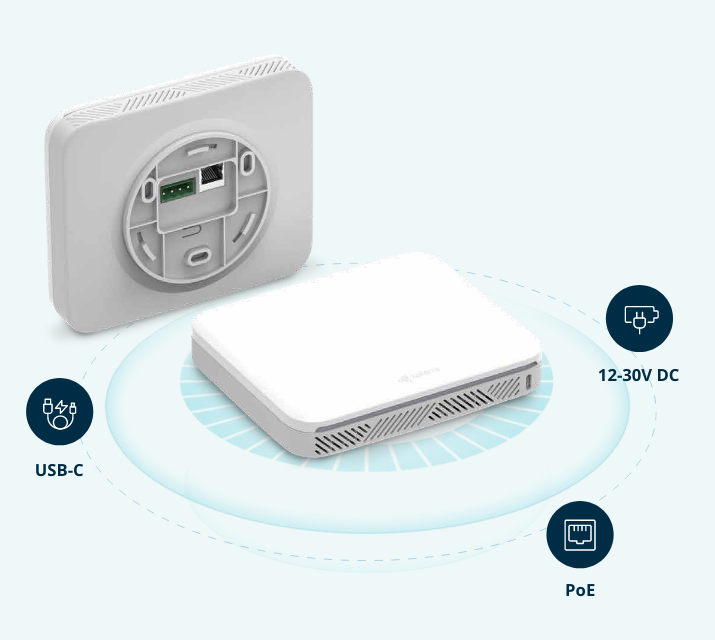 It can sense the following:
Particulate Matter 2.5 (PM2.5)
Total Volatile Organic Compounds (TVOCs)
Carbon Dioxide (CO2)
Temperature
Relative Humidity
The miner is screenless and is engineered with With a minimal, neutral, and unobtrusive design. The Sensedge Mini truly blends into any environment and can be installed on any wall or ceiling to provide full coverage of an indoor environment.
It has multiple connectivity options:
Wi-Fi 2.4 GHz 802.11 b/g/n
Ethernet
Modbus (RS – 485)
BACnet/IP
Secondary MQTT
You can buy these miners from eBay. Where possible we have linked to sellers that have sold many of these devices.
Planetwatch Licenses
All Planetwatch miners require a valid license to connect to the network and earn rewards. Licenses are available for 1, 2 or 3 years.
How to purchase a Planetwatch License?
These licenses can be purchased from Planetwatch. However they do require you to pay using cryptocurrency which can be complicated for many people.
An easy alternative to this is to purchase your license from eBay.
The seller we have linked to above has sold multiple licenses. As well, they have a 14 day return policy so buyers are protected.
When you purchase a license you are also automatically added to the wait list for a sensor. So you do not have to buy a miner separately. In other words, purchasing a Type 1 license gets you on the wait list for an Awair Miner while a Type 3 license gets you on a wait list for the Sensedge Miner.
Current State of the Network
According to the Planetwatch website, nearly 60,000 sensors are currently deployed worldwide. The website also provides details about the types of sensors that are deployed and other relevant information.

Who is a PlanetWatcher?
A PlanetWatcher is a person who voluntarily deploys air-quality monitoring sensors and joins the PlanetWatch network.
Why Become a PlanetWatcher
People who care about the environment and want to reduce air pollution will be naturally motivated to become PlanetWatchers. Other benefits of joining the PlanetWatch network are:
Protect yourself and loved ones: with real-time data you can avoid highly polluted areas.
Earn rewards: you can earn Planet tokens that can be redeemed for products and services.
Learning: learn about air pollution and other things that harm the planet, and how to protect our planet.
Meet like-minded people: join a community of like-minded people with common interests and goals.
How to Become PlanetWatcher
Becoming a PlanetWatcher is easy and simple and requires you to
Activate the license and connect the sensor
What are Planets?
PlanetWatch has issued a utility token on the Algorand blockchain in the form of an Algorand Standard Asset (ASA). The name of the token is Planet.
Token Model
PlanetWatch has defined a model for distribution of tokens.
Token Model Summary
Release schedule: caps the tokens given out each year
Four types of sensors: more tokens allocated to Type 1 (premium outdoor) sensor
Earth divided into pixels: more tokens allocated to sensors in Tier 1 (high-density) areas
Sensor reputation system: more points for sensors that deliver more data

Local Reputation Score: performance-based sensor score

Lead Sensor: earns higher rewards.
Backup Sensors: earn less rewards.

Maximum daily reward: defined and depends on sensor type, location and sensor reputation score.
All earned rewards are split: the sensor gets 80%, and PlanetWatch gets 20%
Token Model Detail
All the Planet tokens were minted at the start of the project. The maximum token supply was chosen to be 4.5 Billion as this figure corresponds to the approximate age of the Earth. Tokens equaling 5% of the total supply were allocated to PlanetWatch. Tokens can be earned and then converted to Earth Credits at the prevailing Planet / Euro market rate. Earth Credits can be redeemed against products (such as air purifiers) and services.
How are Tokens Earned?
Release Schedule
The PlanetWatch project was launched after a test phase. PlanetWatch allocated 2 million tokens to reward data streams during the test phase. PlanetWatch has set up a release schedule that caps the number of tokens that will be given as rewards for each year.
PlanetWatch Sensors
PlanetWatch sensors are divided into the following four categories:
Type 1: Premium outdoor devices
Type 2: Consumer-grade outdoor devices
Type 3: Indoor devices
Type 4: Wearable and special devices
The token reward pool is split into sub-pools for each sensor type: 40% of the pool is allocated for Type 1 sensors and the remaining reward pool is split equally between the other three types of sensors.
Pixels
PlanetWatch has also divided the Earth into rectangular pixels. The size of each pixel is 0.72 km2. These pixels are further classified into two types of locations:
Tier 1: high density, greater than or equal to ~2000 inhabitants / km2.
Tier 2: rest of the world.
The reward pool for outdoor sensors is split across pixel tiers: 70% for Tier 1 and 30% for Tier 2. There is a greater incentive to placing your sensor in a high density area. An example of this would be New Delhi, India.
Sensor Reputation System
Every new sensor that connects to the PlanetWatch network is awarded a 100-point setup bonus. The performance of Sensors is monitored on daily basis. The sensor score increases or decreases daily depending upon whether it is deemed qualifying or not:
A qualifying sensor is one that delivers more than 50% of the expected data streams and it earns one point.
A not qualifying sensor is one that does not deliver more than 50% of the expected data streams and it loses one point.
Lead and Backup Sensors
Sensors are also divided into lead and backup sensors
Lead sensor: a Type 1 sensor in a pixel with the highest Local Reputation Score and gets 90% of the rewards.
Backup sensors: are sensors other than the lead sensor and get 10% of the rewards.
Maximum Daily Rewards
The following table shows maximum daily rewards that can be earned by sensors sending data to PlanetWatch. These rewards depend on the rules that were defined for sensor type, pixel category and sensor reputation score.
| | | | | | |
| --- | --- | --- | --- | --- | --- |
| | | Type 1 | Type 2 | Type 3 | Type 4 |
| Tier 1 Pixel | Lead Sensor | 166.65 | 19.23 | 38.46 | 28.84 |
| Tier 1 Pixel | Backup Sensor | 16.66 | 1.92 | 38.46 | 28.84 |
| Tier 2 Pixel | Lead Sensor | 83.82 | 12.82 | 38.46 | 28.84 |
| Tier 2 Pixel | Backup Sensor | 8.33 | 1.28 | 38.46 | 28.84 |
Based on the table above the Type 1 sensors earn the most when used as a Lead Sensor in a Tier 1 pixel. Also the Type 2 sensors earn the least when used as backup sensor in a Tier 2 pixel.
How to buy Planetwatch Tokens
Tokens can't be bought. However you can directly buy Earth Credits from the PlanetWatch website. The price of a single Earth Credit is Euro 0.10.
Planetwatch vs Helium
There are a number of similarities between the two networks. Both require people around the world to purchase and host hardware in order to earn tokens. The difference is in the data they collect and communicate.
Helium miners earn tokens by proving that they exist at a specific location – also called Proof of Coverage. They also earn a small number of tokens by transferring data from IoT sensors.
Planetwatch miners on the other hand earn tokens by transferring Air Quality data at a particular location.
Summary
In this post, we have presented the Planetwatch system. This is a very simple way to earn tokens while providing useful data to the world. As a summary, Here are the top Planetwatch miners: