A police scanner is a receiver that allows you to listen to two-way radio calls. Two-way radios are used by police, emergency services, fire departments, air traffic control and other agencies. Scanners are very useful in times of emergency when you have unreliable access to internet or phone services.
Buying a scanner can be a very confusing experience with all the options available. We have done the research and recommend the Uniden BCD325P2 as the best police scanner on the market. This is a robust, feature-rich device that delivers.
Read on for further details on our picks and a detailed buyer's guide including frequently asked questions.
AM/FM clock radio with snooze

Large clear LCD backlit display
The Detailed Review
Uniden BCD325P2 scanner is the best analog and digital scanner that can receive all modern signals. It has the ability to scan and search for 25,000 dynamically allocated channels that can easily cover all the signals that you are likely to encounter in your area. The BCD325P2 is equipped with all the other exclusive features like:
Dynamic Memory System
Close call RF capture Technology
GPS compatibility
Supports APCO Project 25 Phase II systems
Close Call RF capture technology automatically tunes the scanner to signals closest to you. The Quick-Key System Access feature allows the user to quickly access the system that one uses the most. On top of that, the GPS Location-based Scanning feature connects the scanner to a GPS receiver and selects programmed systems based on your location. The scanner further supports S.A.M.E weather Alerts, DCS/CTCSS Rapid Decode, and Channel Numbering Tagging.
This rich functionality of the Uniden BCD325P2 scanner has a downside. It makes this scanner quite hard to learn for someone new to scanning. For instance hand typing all the frequencies into the scanner is not the best way to program the scanner. It is recommended to use a computer to load the scanner which requires a bit of technical background. As well, this scanner is not cheap but it is a very worthwhile investment considering the benefits.
The battery life on this device is also not very exceptional. So it is recommended to buy an extra set of NiMH batteries that will help you get a better runtime on the device.
PROS
GPS Compatibility
Supports both Analog and Digital Signals
A variety of advanced features relative to the competition
CONS
Price tag
Hard to program
Short battery life
The HomePatrol-2 is a close contender for the first place. This scanner is quite easy to set up, you just need enter your ZIP code and the scanner does the rest for you. No programming is required for setup. HomePatrol-2 supports both digital and analog signals, it receives all the unencrypted, non-proprietary radio systems.
This scanner has a 3.5'' color touchscreen that makes it easy to navigate through the menu. HomePatrol-2 includes radio channel information for US and Canada. HomePatrol also has a feature that alerts you to NOAA All-Hazards Alert broadcast which is automatically recorded on the 2GB SD Card included with the device. Other than that, you have the option to save your favorite channels to a list for rapid selection.
For charging you can use a smartphone adapter and a USB cable that comes along with the package. The downside of the product is the quality of the touchscreen. Many users have faced issues with reduced screen responsiveness over time. The sound quality on this scanner is also not great and it also lacks some exclusive features that are available at this price point as in the BCD325P2. Here is a summary of the pros and cons of the device
PROS
Easy to set up and navigate
Supports both digital and analog signals
Has record feature
Good battery life
CONS
Price
Touchscreen becomes less responsive
Poor sound quality
Lacks premium features
Best Budget Handheld Police Scanner – Uniden SR30C
For a basic hand-held scanner, SR30C is quite good and gets the job done. This is an analog scanner that supports 500 channels and is pretty decent for entry-level operations. The SR30C is at the lower end of the price point so it supports only the analog format.
SR30C has three power options i.e. through USB cable, 2 AA alkaline batteries, or 2 rechargeable AA Ni-MH batteries. The scanner can be programmed using a PC but it also comes with a preset that allows you to listen to the most popular searches. There is also a memory backup designed within the system that stores the tuned frequencies for a longer time in case of power loss. Along with all these features, the SR30C has a delay function which prevents any miss replies during a two-way conversation.
Let us have a look at the pros and cons of SR30C.
PROS
Price
Easy to operate once programmed
Multiple power options
Has delay function
CONS
Hard to program
Supports only Analog
No batteries are included in the package
Bearcat BC125AT is another entry-level handheld scanner that supports only analog signals. This is something that you should consider buying if you're new to scanning and have a tight budget. The scanner supports up to 500 channels and has close call capture technology integrated into it.
With the BC125AT, users can listen to over 40,000 frequencies. This scanner comes with an Alpha Tagging feature that allows the user to organize the channels by their respective categories. It lets you assign names to the channel so that you can keep track of them by their names. BC125AT also has a Do Not Disturb mode that blocks any close call checks during the transmission.
The BC125AT includes the 225-380 MHz band and also has a better display than the SR30C. Let's look at the pros and cons of this product:
PROS
Price
Supports NOAA weather reports
Good Sound
Alpha tagging is excellent
Display is durable
CONS
Supports only analog signals
Only charges when the unit is turned off
Requires extensive setup
Poor stock battery life
Best Police Scanner for Home Use – BC365CRS
If you're looking for a bedside scanner that can keep you up to date with all the local events then the BC365CRS is the way to go. The scanner supports up to 500 channels with NOAA weather. broadcast, FM/AM radio, and a clock with snooze.
Now let's have a look at the pros and cons of the BC365CRS scanner.
PROS
Price
Great built quality
Easy to program
Good LCD
Great battery life
CONS
Supports only analog signals
Less portable
Speakers are a bit low on volume
How we Picked the Best Police Scanner
These scanners are selected depending upon the following features.
COMPATIBILITY
To avoid any kind of compatibility issues, make sure to buy a radio type that is used by your local law enforcement agencies. Many of these agencies have switched to using digital format so this is always a better option to go for. If you're not sure about what kind of radio type is used by the agency, that you want to monitor, then getting a scanner that supports both Analog and Digital is the way to go.
RELIABILITY AND RANGE
Reliability is also a key feature to consider when buying a scanner. The scanner must be of a good build quality so that it can last long. Other than that, the battery of the scanner also plays a vital role in maximizing the performance of the scanner. The ease of charging and the battery life of the scanner are the things that you must consider while buying a handheld scanner. For better battery life, it is always recommended to use a scanner that uses AA batteries.
The range is another key aspect of the scanner. However we found that most scanners have roughly the same range and coverage. Your environment and the terrain around you are major factors that affect the range of the scanner. In mountainous areas, you won't be able to receive or send a transmission that effectively. The same is the case when you're surrounded by buildings. This is the reason why some of the scanners fail even in urban areas.
COMMUNITY SUPPORT AND POPULARITY
For a new user, community support is a huge plus. It helps a lot when you run into some issues and for understanding the documentation. The bigger the community, the better the documentation, and more people will be there to help you out of any kind of problem.
LATEST FEATURES
The latest features like Close Capture Technology enhances a user's experience. These kinds of features make scanners fun to use and improve the efficiency of the scanner. GPS compatibility is another feature that improves the flexibility of the scanner in range and real-time frequency updating. When buying a scanner at a higher price point, it's best to opt for the best and latest features.
Frequently Asked Questions
Here are some frequently asked questions about police scanners. If you have one that is not answered here, please get in touch and our team will do our best to get you a response.
Is it legal to use police scanners?
Owning and operating a police scanner is legal. Radio scanners provide access to weather conditions, emergency and other useful information.
Do scanners pick up smart phone conversations?
No. Smart phones use 3G to 5G signals and all of these are encrypted. Scanners cannot decrypt these signals. Therefore they cannot pick up smart phone conversations.
What frequencies do scanners cover or receive?
Scanners operate across the frequency range of 25 MHz to 960 MHz. However not all frequencies in this range are used by two-way radios. Here is a table of frequency coverage:
| | |
| --- | --- |
| VHF Low 1 | 25 – 54 MHz |
| VHF Low 2 | 54 – 108 MHz |
| Airband | 108 – 137 MHz |
| VHF High 1 | 137 – 225 MHz |
| VHF High 2 | 225 – 320 MHz |
| UHF | 320 – 512 MHz |
| 800 MHz+ | 758 – 960 MHz |
Frequencies used by police scanners and two-way radios
Where can I find frequencies or channels in use in my area?
The best place to look this up is The Radio Reference Database.
Do two-way radio frequencies change?
Yes. Although they don't change often.
What's the main difference between the the BC125AT and the SR30C?
The BC125AT includes the 225 – 380 MHz band and also has a better display than the SR30C
My scanner is silent and doesn't appear to be working – how do I fix it?
The first and easiest check is to tune to the NOAA Weather radio stations as they are present almost everywhere. Here are the frequencies in MHz:
162.4000
162.4250
162.4500
162.4750
162.5000
162.5250
162.5500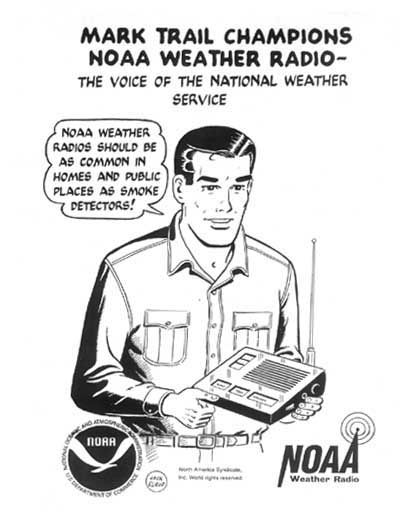 If you are able to receive any of these stations then it's likely an issue with one of the following: station programming, SD card, antenna (check the connection) or faulty hardware.
How do I improve reception on my police scanner?
The best way to improve reception is with a good antenna. We recommend using the Tram 1411 Broad Band Discone/Scanner Base Antenna.
Will an amplifier help improve my police scanner's reception?
It is difficult to say if it will. When you use an amplifier you amplify everything – this includes FM signals which, depending on where you're located, can actually do more harm than good. A better approach would be to use a bandpass filter with your LNA such that you are only amplifying signals of interest. Note however that when you add a filter, you reduce the operating range of your scanner to the passband of the filter.
What is the expected range of my police scanner?
This depends on many different factors: antenna, location and height of the antenna, receiver sensitivity, location of the two-way radios that you are listening to and other variables. In general however you can expect to be able to listen to signals up to 10 miles away. In some situations however the range can be as far as 50 miles, particularly for lower frequencies.
Summary
Police Scanners are an invaluable tool in times of emergency when you have unreliable access to internet or phone services. In this post we have highlighted some of the main considerations when picking a scanner and done the detailed research to bring you a list of the best scanners on the market today.