Yes, many wireless keyboards use Bluetooth.
Wireless keyboards can also use different non-Bluetooth technologies and protocols to connect to a PC.
In this post we look at examples of both Bluetooth and non-Bluetooth wireless keyboards. We also explain the advantages of different wireless technologies.
Wireless Keyboard Manufacturers
Three of the top manufacturers of Wireless Keyboards are
All these manufacturers use Bluetooth in their products. All three also make wireless keyboards that don't use Bluetooth. They have developed proprietary methods of wireless access that are better suited for the target application.
Why Bluetooth?
Bluetooth presents many advantages.
Convenience
As a wireless technology it is very convenient relative to wired. No cable mess and easy connectivity.
Universal Standard
A manufacturer can build a Bluetooth keyboard and it will interface with any PC or laptop that has Bluetooth inside. In the event that a PC does not have Bluetooth, dongles are easy to get.
Technology Advantages
Bluetooth has many technology advantages. It is designed to be secure, robust to interference and power efficient. These attributes are very important for a wireless keyboard technology.
Logitech Wireless Keyboards
In addition to Bluetooth, Logitech has four other wireless technologies. Each of these support a specific type or family of keyboards.
In the table below we have provided the primary target market for each family and the main feature. A detailed breakdown of each receiver type is provided in this article.
| | | |
| --- | --- | --- |
| Wireless Technology | Primary Application | Main Feature |
| Nano (Non-Unifying) Receiver | General purpose | Simplicity |
| Unifying Receiver | General purpose | Simple Multiple device connectivity |
| Lightspeed | Gaming | Low Latency and High polling rates |
| Bolt | Office Productivity | Security |
Let's take the Lightspeed wireless keyboard for example. The technology is intended for gaming applications and it's been designed with very low latency.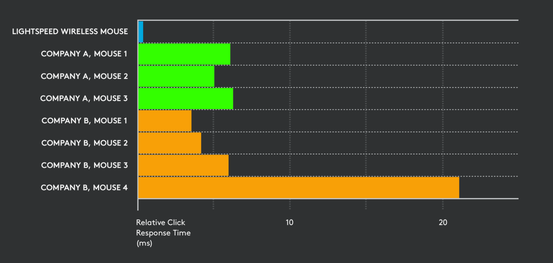 In fact at around 1 ms it's significantly lower than the latency of Bluetooth in general.
Razer Wireless Keyboards
Razer uses a wireless protocol called Hyperspeed which is about 20 times faster than Bluetooth. The Hyperspeed keyboards have two other modes of operation – Wired and Bluetooth. So they are indeed quite versatile relative to the Logitech Keyboard that mostly only supports one wireless technology.
In order to use Hyperspeed a dongle is required.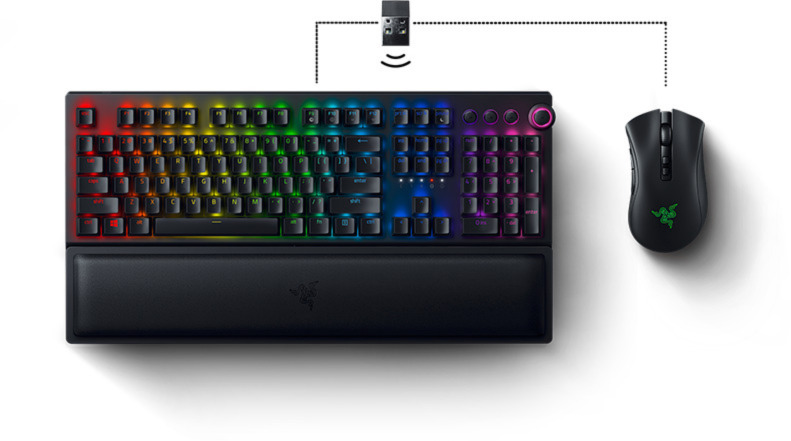 For Bluetooth mode however, no dongle is required. It's fairly easy to misplace a dongle and in the case of Razer the lost dongle doesn't have to be replaced. You can always switch over to Bluetooth.
The faster polling rate is supported by a proprietary access scheme that Razer has patented.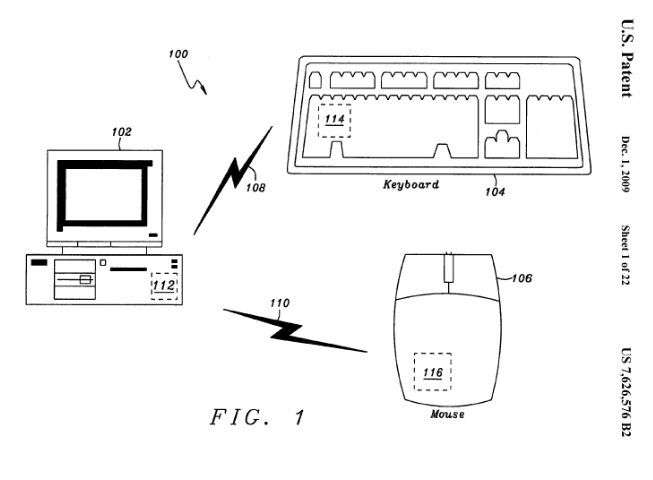 Corsair Wireless Keyboards
Corsair is a relative new entrant to the world of non-Bluetooth keyboards. In 2019 they introduced Slipstream. The wireless technology was designed to reduce latency of wireless keyboards. It includes a proprietary protocol layer that transfers twice the number of packets per millisecond, thereby reducing latency.
Corsair's wireless keyboards support both Bluetooth and Slipstream. As with Logitech and Razer, to use non-Bluetooth wireless requires a USB dongle.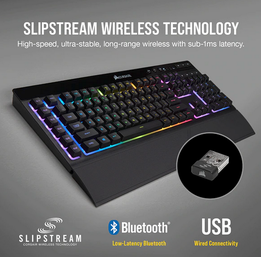 Summary
In this article we have provided an overview of wireless keyboards that use Bluetooth.
Today there are many wireless keyboards that support both Bluetooth as well as a proprietary wireless protocol with an enhanced feature set to support applications in gaming, office and productivity.