Introduction
Baofeng Radio is a China-based radio manufacturing company established in 2001. Their radio equipment gets supplied globally to many countries. According to Baofeng, their two-way radios have certifications from European Telecommunications Standards Committee and FCC in the USA.
The two popular models by the brand are UV-9R and UV-5R. Both these models are FCC passed for sale in the USA and are being sold by Amazon US. We will try to analyze and compare both these models based on power, the distance of operation, and features.
Specification Comparison Table
Let's first take a look at the specifications of the two devices and see how they compare with each other
Specifications
UV-9R
UV-5R
Weight
1.2 lb
1.04 lb
Flashlight
LED
N/A
VOX Function
Yes
Yes
Battery
1800 mAh
1800 mAh
Waterproof
Yes
No
Frequency Range
144-148 MHz
144-148 MHz
420-450 MHz
Transmit Power
5W
4W / 1W
Summary of differences
UV-9R walkie-talkie is a two-way communication device that works in the frequency range 144 MHz to 148 MHz. A small LCD helps in tuning and operating. The UV-5R walkie talkie works in the same frequency range as UV-9R but supports a larger frequency range to include UHF as well.
Baofeng UV-9R is slightly heavier than UV-5R. It's not much of a difference in terms of number, but the models are lightweight when compared to other ham radios.
Many features make the UV-9R a clear choice for outdoor activity. One such attribute is the flashlight. UV-5R lacks this feature.
Both the models have VOX function inbuilt that allows the users to operate the radio hands-free. The levels are from a range of 0 to 9.
1800 mAh battery gives both models long operational time and more than 20 hours of standby time.
UV-9R is waterproof while UV-5R is not. According to customers however, the waterproof feature is not effective in the UV-9R model.
The model UV-9R has a wider Transmit signal range than its counterpart.
UV-5R has led light for battery life and charging indication. This feature is missing in the 9R model.
Common features
Both the models have dual LCDs.
Fluorescent keypad buttons for night operation.
Size is almost the same
Both the models are compatible with external mic and speaker
Operation
From an operational standpoint, UV-9R has a clear advantage of range. The Transmit power for UV-9R is 5 Watt, whereas UV-5R only transmits 4 Watt of maximum power.

Baofeng UV-9R Variants & Alternatives
UV_9R variants either provide upgraded power backup or increased transmission range with increased Tx power. Some of the variants and alternates for UV_9R are:
Waterproof
Maximum Tx power 8 W
Distributed by Radtel in the USA
2200 mAh battery
Weight 1.4 lbs
Freq. Range: 136 to 176 MHz/ 450 to 520 MHz
Alternative brands
SAMCOM is another brand selling 5 W two-way walkie-talkies in the USA. The battery backup is lower than UV_9R, but the output power is the same.
Features:
Frequency range: 400 to 470 MHz
Tx power: 5 watts
Battery backup 1500 mAh.
Motorola RDV5100 falls in the same category as UV-9R with 5 watts of output power and water resistance. This model is lightweight; only 0.5 lbs and comes with the option of a high-capacity battery.
Features:
Frequency range: 146 to 174 MHz
Tx power: 5 watts
Battery backup 15 hours
Baofeng UV-5R Variants & Alternatives

There is plenty of variation available in the market when it comes to the UV-5R model.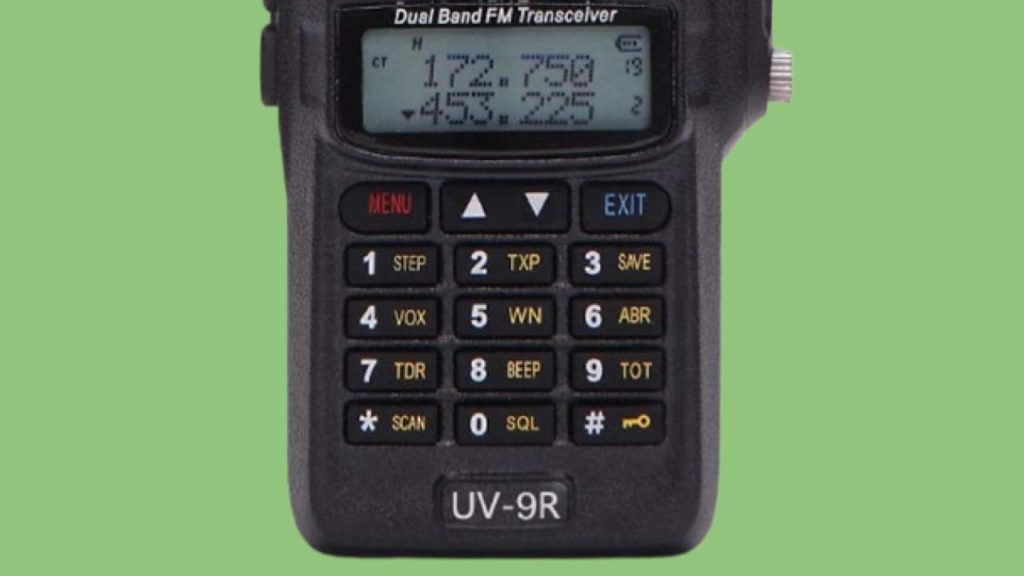 Features
Frequency range: 144 to 148 MHz
Tx power: 4/1 watts
Battery: 1800mAh
Features
Frequency range: UHF, VHF
Tx power: 4/1 watts
Battery: 1800mAh
Due to its added battery power, this device looks bigger than the basic UV-5R.
Features
Frequency range: 144 to 148MHz / 420 to 450MHz
Tx power: 4/1 watts
Battery: 3800mAh
This variant comes with a 3800mAh battery that makes it 2.01 lb heavy.
Features
Frequency range: 136 to 174MHz / 400 to 480MHz
Max. Tx power: 8 watts
Battery: 2100 mAh
Features
Frequency range: 150 to 174 MHz
Tx power: 5 watts
Battery: 1800mAh
Baofeng BF-F8HP is sold as a UV-5R third-generation model. With two options of 8 W and 5 W, the battery capacity gets a bump too.
Features
Frequency range: 136 to 174MHz/ 450 to 520MHz
Tx power: 8 or 5 watts
Battery: 2000mAh
Features
Frequency range: 144 to 148MHz / 420 to 450MHz
Tx power: 5 watts
Battery Standby time: 36 hours
Try our Baofeng Range Calculator to see how far you can transmit with a UV-5R
Alternative brands
In the 4 watts UHF category, only Motorola Mag One BPR40 comes close to UV_5R. A lightweight and compact model best suited for business purposes. But unlike UV_5R, Mag One is water-resistant.
Features:
Frequency range: 450 to 470 MHz
Tx power: 4 watts
Battery backup: 10 hours
What customers think about the UV-5R & UV-9R
Online comments from UV-9R users repeated one thing again and again that this two way radio is not waterproof in practical use. Although it's just an added feature, some people buy ham radios for outdoor use as they are compact and mobile now.
Both the radios get positive comments on their distance of operation and battery backup. Some users claim to have used them up to 20 miles.
One major complaint that users posted was GMRS or FRS compatibility issues. Some users mentioned that these radios are not FCC complaint in regards to GMRS or FRS.
In terms of features, most of the users found the VOX to be very handy. Customers viewed UV-5R more positively than the UV-9R.
Advantages of both the models
VOX: Both the models support Voice Operated Transmit, meaning the operator can have hands free experience while using the device.
Battery: 1800 mAh battery gives a backup of up to 20 hours. This feature is handy for continuous work in large events and functions.
Accessories: Additional accessories like a bigger battery pack, earpiece, USB programming cable, and car charger make these models user-friendly and adaptable.
Warranty: 1-year manufacturer's warranty is applicable on the models sold in the USA, through US dealers only.
Disadvantages of both UV-5R and UV-9R
Charging – It takes between 5 to 9 hours to fully charge these radios. This can be an issue if working in remote locations. In that case, two sets of radios would be required for continuous operation. Charging is required after every 24-hour stint.
Repairing – Spare parts like batteries and antennas are easily replaceable. But for other parts, special orders are required directly from China.
Quality – Both the radios are loaded with features and accessories, but many online customers did not find a few of them as claimed by the company.
Other brands
The Baofeng UV-5R is very popular in the radio community both on account of its cost and performance. In the field however we have seen alternate competing products. So we decided to look at how the UV-5R compares with equivalent products from other brands. We compared the UV-5R with the Retevis RT-5R and you might be surprised with what we found. We also compared the UV-5R with a more expensive Yaesu FT-65R as it gives us an idea of various price-performance trade-offs.
Conclusion
Both the models prove value for money in terms of Ham radio application. Battery power and backup are the same. Usage range is somewhat the same with the difference of a few miles. The cost is a big factor if compared with other brands. In conclusion UV-5R with its variants and accessories has upper hand on the UV-9R and is recommended.
If you liked this article, you might also like some other UV-5R product comparisons: