Cars come with unique stereo systems. However, some of these systems do not come with Bluetooth capabilities. Cars with Bluetooth might also have outdated versions that are slower, lack nice, new features and will often be a considerable inconvenience.
This scenario is nagging, especially for people who like to play music while driving or pick calls through the car system.
A simple solution to this problem is to use a Bluetooth receiver. This is a small device that connects to your phone using Bluetooth. It also plugs into the AUX port on your car's dashboard and allows you to play music and take calls using your car's audio system.
We've done the detailed research and found the best Bluetooth receiver for your car's AUX adapter is the COMSOON with the Anker Soundsync coming in as runner up. Let's get into the detailed review.
Detailed Reviews
Editor's Pick – COMSOON
Top Features
Compact design
Good battery life
Intelligent Noise Reduction Tech
The Comsoon is made in a compact design using durable materials that are also lightweight. With dimensions 2.36 inches in length, 1.54 inches in width, and 0.39 inches in height. The device is barely palm-size, and this makes it easy to carry around.
This Bluetooth receiver also has the latest CVC8.0 Noise Cancellation and Digital Signal Processor (DSP) technologies. These can eliminate echo and block out intrusive background noises to provide the user with crystal-clear calling sounds.
Its car Bluetooth adapter supports universal connections to non-Bluetooth car audio systems such as home stereos, speakers, wired headphones via the 3.5mm AUX home stereos. It also has a Bluetooth 5.0 chip for fast transmission, stable connection, and a broad signal range. Its battery can work for 16 hours after charging for 2 hours
PROS
It has built-in noise Reduction Technology that makes it an excellent add-in for answering calls via the receiver while driving
Long-Lasting Battery. Charge for two hours and use the device for about 16 hours
It can pair up to two devices
It is small and lightweight, making it easy to carry around
CONS
The device is not very durable and may serve a user for a very short time
USER REVIEWS
Many users have credited the Comsoon as 'a great product' that is easy to set up, putting aside its build and stylish outlook. Users also noted how it eliminated noise and was, therefore, very suited to calling while driving.
Other users were torn between calling it a great choice and complaining about various shortfalls from which a pattern could not be identified. There was a significant number of users who complained about the device not operating beyond the two-month mark.
Aside from that group of users, a few seemed to have had an awful experience. Yet each had a unique reason, and based on those uncorrelated complaints, it is hard to fault the device.
Top Features:
Strong Connection
Space-saving design
Portability
Universal connectivity
The Anker Soundsync Bluetooth receiver is the ideal device for cars when on the move and for home use. It assures you of a robust unbothered connection that hardly disconnects without prompt, even from 30 feet away.
With its Bluetooth 5.0 driven universal connectivity, the Anker Soundsync also easily connects to a wide range of Bluetooth devices. Its small size of dimensions 1.96 x 1.14 x 0.4 inches makes the device portable.
PROS
It is compact and lightweight. The receiver works well with other devices because of how small it is. It's also easy for you to carry around
It is easy to set up. Connect the device to the aux port and the USB Charging port and start playing away
The device is also simple to use as it has a visible volume button for your convenience.
Dual connection. The device can support up to 2 different Bluetooth devices. Pausing audio on one device automatically starts play from the other device
The device allows for 12 hours of use when fully charged
CONS
Hissing Sound: An irritating hissing sound plays in the background when the device is idle
Faulty Microphone. The quality of calls is a bit subpar as the microphone doesn't work as well as advertised
The receiver can make hands-free calls, but their quality decreases over time
USER REVIEWS
Many users gave the Anker Soundsync a thumbs up for being easy to set up and having excellent sound quality. Its portability and ability to connect to devices other than the system in cars made it "a great purchase," as some users said.
Some users called it good or okay, but not that great. In contrast, others complained of a hissing sound when the device was idle, among other unrelated reasons.
Top Features
Two speakers
Voice command
Longest-serving battery in the range
Built-in motion sensor for Auto Power On
The Besign BK06 is driven by Bluetooth 5.0 connection technology and is an updated version of the Besign BK01. Besign products are known for decreasing buzzing noises to improve the quality of phone calls as well as that of the music. The Besign BK06 has two loudspeakers that produce robust sound.
It comes with voice command options for Android and Siri for iOS that can be used while in standby mode by pressing and holding the phone's Green Button for two seconds. One single full charge for two hours will enable you to use the Besign BK06 for up to 20 hours of hands-free calling or music. It takes after the low power consumption ways of its predecessor, the Besign BK01.
The Built-in motion sensor for Auto Power On also enables the device to switch on automatically and connect with your phone when you open the car door.
PROS
Compact, small and slender design which makes it easy to carry around
The device is made with durable materials that help it to last long
Produces robust sound courtesy of the two 2-watts speakers
It has good noise compression, just like its predecessor, the Besign BK01
Syncs to already paired devices automatically
CONS
Its loud sound can be irritating for those who prefer quieter devices
USER REVIEWS
Many users loved the Besign BK06 because it is an excellent product for its price, with the bonus being that it comes with its own speakers. Other users reported that while making calls, the sound quality was poor. Others seemed to have had an awful experience, but their varying reasons could not pinpoint a specific problem.
Top Features:
Simplicity
No Charging needed
Ground loop isolator
The Tunai Firefly can transform your car audio and home stereo sound systems into wireless and Bluetooth-compatible speakers with just one easy-to-use plug. You do not need to charge it as it automatically switches on when you start your engine or turn on your speaker.
The Tunai Firefly comes with a ground loop isolator that eliminates typical ground loop noise issues such as hissing and humming noises that plague most receivers. This function can be switched on via the TUNAI Connect App. Its Bluetooth 5.0 version ensures you do not miss out on a taste of the evolving connection technology.
PROS
It has a compact design that makes it easy to carry around.
Universal compatibility. The device can turn any car or home audio system, headphones, and speakers into hands-free Bluetooth-enabled devices.
Glowing LED light on the USB. The light helps to identify whether the connection is working correctly or not.
It has an inbuilt memory of up to 8 devices. It also allows its users to pair and share two devices at the same time without any trouble. The device will automatically connect to the last device it was connected to.
The Bluetooth car adapter's Sound Revitalization Technology allows the device to stream ultra-clear quality audio.
CONS
The device has issues with USB ports since it requires little power. These issues arise because several USB ports and chargers commonly shut off when the current draw decreases/increases. (They have a maximum/minimum power output limit and automatically switch off at each point to protect the circuit board). Users complained about it automatically switching off when the voltage increases/is slightly disrupted when they accidentally touch the device.
USER REVIEWS
Many users loved the simplicity of using the Tunai Firefly, finding it easy to plug in and start using. Notably, some users who otherwise loved the device on a typical day complained that it doesn't work well in cold weather. Other users could not genuinely get over the fact that it was awful in cold weather. Where are you, my winter people?
Other users reported difficulties connecting to the app, while other varied complaints were not conclusive.
Two quick-charging USB ports
Bluetooth 5.1
Magnetic charging
The Esky Bluetooth receiver comes with two quick-charging USB ports. These can help the user recharge their phone or other USB cable-charged devices while using the device's other features.
It is also built on the Bluetooth 5.1 version to grant users an upgraded connection experience that the other devices do not match. The Esky Bluetooth can be charged using either the car's magnetic socket or a micro USB cable that comes with it as a package.
PROS
It has a crystal clear sound output with both music and hands-free phone calls leading to a good user experience
It has a duo charging system that is highly convenient for users
It provides high-fidelity stereo transmission and noise reduction technology
CONS
USER REVIEWS
Users commended the Esky Bluetooth for its convenience, great outlook, and sound output. Many others named it one of the cheapest ways to add Bluetooth 5.0 to their cars. However, three users reported a less than ideal experience; it stopped working after a few months, wasn't suitable for music, and 'made noise.'
How does a Bluetooth AUX adapter work?
Many older cars don't have Bluetooth built into them. And if they do, sometimes they might have older versions of Bluetooth that don't have all the advanced features and capabilities that the latest version has.
In situations like this when you want to add the latest greatest version of Bluetooth to your vehicle for hands-free calling or listening to your favorite streaming service, a Bluetooth receiver is what's required.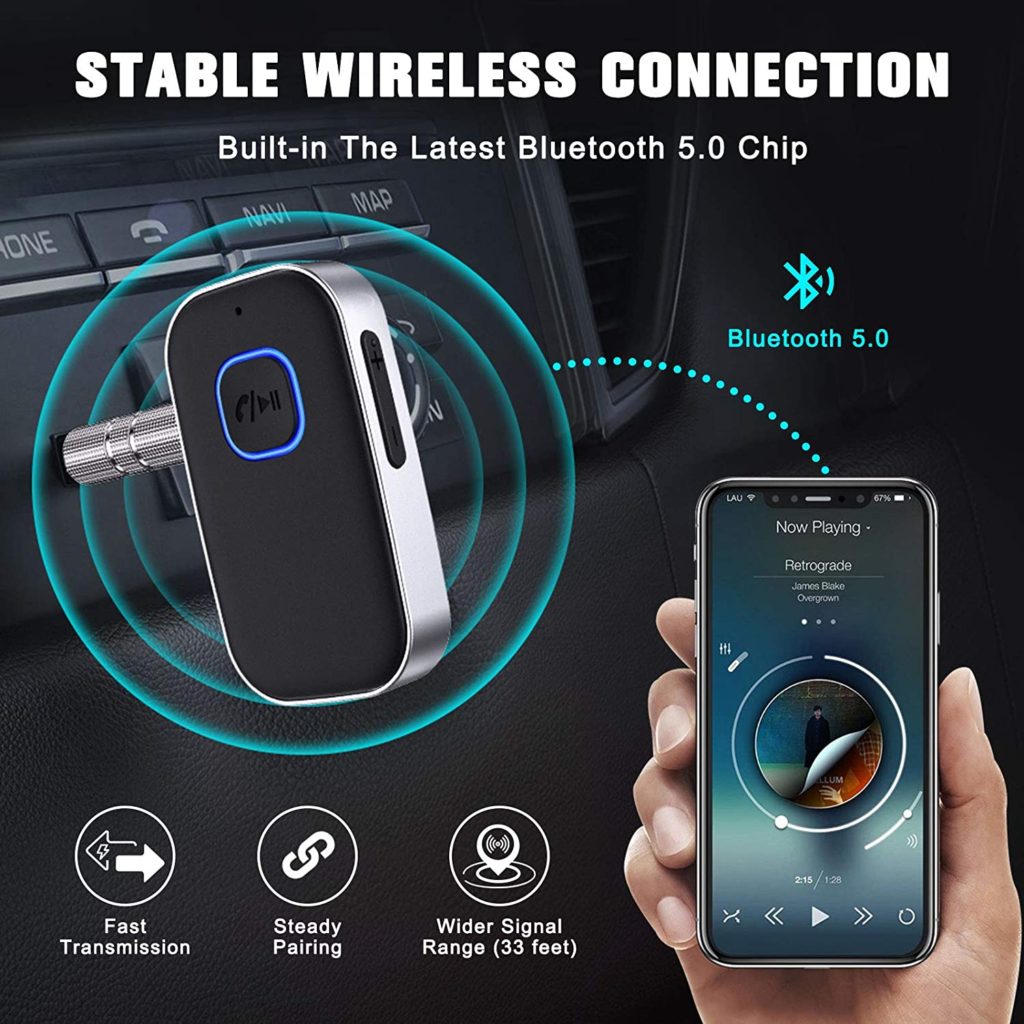 This device plugs into the AUX port on your car's dashboard. It functions like a receiver which means that it will pair with your phone and receive calls or play music from it on your car's stereo. Making your car Bluetooth capable is as easy as that!
What if my car doesn't have an AUX adapter?
If your car doesn't have an AUX adapter and you want to use Bluetooth then another option would be to use a Bluetooth FM transmitter. This device connects to your phone over Bluetooth and transmits audio using FM to your car stereo.
How we picked the best products for this article
We have taken you through the best Bluetooth receivers on the market. Now, let's share a few hints on how and what to consider when picking out the ideal Bluetooth receiver for your car. They are the same features we based on to bring your our list.
RANGE
A Bluetooth receiver does not need to have a wide range because you will be near it most of the time. However, in preparation for when you go out for a picnic and need your car to play some music, you will need a Bluetooth receiver with a good range of about 30 feet.
COMPATIBILITY
After you confirm that the device you are looking at has the correct range for you, you also want to look at compatibility. The Bluetooth receiver you choose should be compatible with your car's inbuilt stereo system. Working with a good Bluetooth receiver should be a matter of plugging and playing.
AUDIO QUALITY
Since you are using the Bluetooth receiver to listen to music or pick calls, you need the audio quality to be good at the very least. The device's technology will largely determine how well the sounds play out.
The most common codecs today are aptX, aptX HD, and aptX Low Latency or aptX LL. Amongst them, the aptX LL is the best. Look for devices with low latency because there will be a minimal delay or lag with the sound.
Check for which Bluetooth version the device has. The most up-to-date Bluetooth version is Bluetooth 5.0. Its technology is the most advanced, which translates into a quicker response time, connectivity, and very minimal lag.
BATTERY LIFE
The last factor you should consider is the battery life. This consideration is because most devices can operate for about 10 to 15 hours continuously. Although some may not come with built-in batteries, most will come with the option of charging while playing. These are the best because they will not have any delays when the battery is low or not fully charged.
Summary
Many cars are manufactured without Bluetooth connectivity in their stereos, while vehicles with a Bluetooth provision usually have outdated Bluetooth technology. Both scenarios can be very inconvenient. Therefore, one may need a car Bluetooth receiver to help them get the best sound to enjoy music from their phone and phone calls when out on drives or picnics.