Finding yourself in situations where your network signal is low can be very frustrating. While we may be patient and wait for the network to pick up, it can be a waste of valuable time. Fortunately there is a simple way to increase the throughput of your wireless system – whether it's 4G, 5G or Wi-Fi.
Upgrading your antenna to MIMO technology is one way to improve network speeds.
MIMO stands for Multiple Input Multiple Output. These antennas are used to capture more signal relative to a conventional antenna and increase both upload and download speeds. In this post we have reviewed the top MIMO Antennas with the best features and incredible performance. Let's take a quick look at our top picks before getting into the detailed reviews
Top Features
Compatible with most cellular devices
Hardy and lasts longer
Its cross performance covered
The Bolton MIMO Antenna comes with great features that ensure you are highly connected. It's configured to work best both for outdoor and indoor ambiance. If you need a faster downloading speed, then this is your ideal Antenna. With its high frequency, it has a high speed of up to 300 percent. It can connect directly to hotspots.
Bolton technical crossbow also has improved reception and works perfectly in any network area. If you live in an area where the reception is poor, this Antenna offers great reception since it receives signals that come through long-distance network towers. The device comes with 2 SMA Male connectors on 10ft coax leads which are designed using vandal resistance materials. It is perfect for use in commercial and industrial sites. Besides, it can be linked to applications such as kiosks, vending, machine-to-machine, video surveillance, digital signage, telemetry, and vehicles.
The Antenna is compatible with most routers and comes configured to work in both indoor and outdoor environments. With its great design, the Antenna adds style to your outdoor setting. Installation is easy; you can mount it on walls. Lastly, its ability to withstand extreme weather conditions makes it perfect for use in different places.
PROS
Boosts network speed of up to 300%
Enables a quality network connection
Easy to mount
The Antenna can adapt to any weather
One-year Warranty
CONS
User Reviews
According to user reviews, it's evident that most users are happy with this antenna. The high download speed in remote areas is the main draw. Users also loved the improved signal quality that boosts their connectivity.
Top features
Extremely rugged and heavy duty
It has enhanced data speeds.
The Proxicast pro-gain MIMO 4G/LTE Antenna is a high-performance signal booster. It has Omni-directional elements with up to 6 dBi peak gain for your cellular networks. If you are in a remote place, mountain climbing, or any other off-road place, this device will boost your data speeds for faster downloads and uploads. Proxicast is one of the best MIMO Antenna for motor homes and RVs.
Installation is easy since the antenna comes with dual female N connectors which only require extension cables. You can mount it on the roof for the best signal. Storms or heavy rainfall shouldn't freak you out. This device is extremely rugged and weatherproof since its made from corrosion-resistant materials. Additionally, the heavy-duty pole mounting bracket and hardware are included in the purchase. For the best signal with no interruptions, ensure the cables are 25ft and thick. What's more, you can mount it on a 2 diameter PVC.
Pros
It's compatible with 4G/LTE cellular networks.
The antenna is easy to mount
It's weatherproof
Has up to 7dBi gain
Cons
User reviews
Many happy customers consider it the best MIMO Antenna for jetpack since it's ideal for outdoor activities. They have nothing but praises for the enhanced signal strength. With this device, the network signal improved greatly. Download speeds are also high with improved poor connectivity. Those in rural areas were particularly happy with the good network reception. Another great selling point for this antenna is how it can be mounted permanently at home. Most users are happy that it's not adversely affected by extreme weather conditions. The downside of the antenna according to some users is that it's heavy and large.
Top Features
Ideal for long trips and camping
Portable and compatible with cellular devices.
It can be used in both indoor and outdoor spaces.
The Netgear MIMO Antenna comes with a built-in signal amplifier that enhances the network connectivity for quality and speedy downloads. It is specifically designed to amplify the LTE network signal if your signal is poor
If you enjoy picnics and out-of-town adventures but still need to be connected, this is the best MIMO Antenna for the Nighthawk M1 Router. It is easy to connect and you get quick connectivity both indoors and outdoors. It's portable for camping trips, mountain climbing, and all the outdoor activities you can think of. It covers a wide band spectrum of 700 MHZ to 2600 MHZ which keeps the internet speed high and reliable.
In addition, it is affordable and compatible with cellular routers. This device needs to be positioned in the right direction for efficient reception.
PROS
The antenna is portable and affordable
It's ideal for camping and long trips
It offers a great signal.
Installation is simple.
CONS
The cables can be tedious to install.
User Reviews
Most of the users are happy with the affordable price tag and also internet speed. One user was happy that before using the antenna, his internet speed was so low, but once he installed the Netgear 6000450, it turned out to be the best MIMO Antenna for RV and travel. It enhanced his internet speed and HD downloads for movies and pictures. The signal strength went up to 20db. In rural areas where there are forests and boosters are far away, the antenna has been proven reliable. Some users were, however, dissatisfied with the speed level while others found it tiresome to correctly install the cable for better reading.
Top features
It is compatible with cellular networks
Hi-resistance for weather protection
It has a low profile and can be used in both indoor and outdoor spaces
The Vandal Resistant Proxicast MIMO 4G/LTE Omni-Directional Screw Mount Antenna has a low profile 3 inches tall with a 3-5 dBi Gain. It gives a cool and hushed environment for your connectivity. This antenna is designed for both outdoor use or indoor use.
Two SMA male connectors on the 10 ft Coax leads ensures easy connectivity. The main feature is that it's made from Vandal resistant materials and specifically designed to withstand harsh weather conditions. Additionally, the antenna is compatible with worldwide and American cellular networks 2G, 3G, 4G LTE cellular networks like AT&T, Verizon, Bell Canada, Rogers, Telus, and T-Mobile.
Lastly, the antenna can be used for Internet of Things (IoT), commercial and industrial applications like Kiosks, Vending, Hotspots, Machine-to-Machine, Point-of-sale, vehicles, and Digital signage among others.
PROS
It supports all cellular bands
The antenna is waterproof
The product comes with a warranty.
CONS
User Reviews
Most users are happy with the antenna especially on how it strengthens the signal. One user was pleased that the signal is maintained especially on road trips or in remote areas. He had a smooth ride as the young ones enjoyed steady internet connectivity. However, some users were dissatisfied with the antenna's performance in remote areas for having a very little signal gain.
Top features
Giant panel antenna for better signal
Its 10bd cross-polarized
Compact and lightweight
Specifically designed for 4G/LTE networks
The Proxicast 4G/LTE Cross-Polarized MIMO Fixed-Mount Panel MIMO Antenna is one of the best in terms of high loading speed. It has a double download capacity that will work well with your router. With a big MIMO Antenna, it offers a maximum 4G network that ensures efficient communication. If you need to save data, this should be your perfect choice since it has a long-loading connection. It is also ideal for those living in areas with poor network coverage or where the cell tower is some distance away. With its high receptive ability, the antenna ensures your downloads are fast. The device can also be set in the air for a high-quality signal.
The antenna is directional which means that it can be pointed in the direction of the base station for better signal reception and connectivity.
This is a high-performance antenna that is ideal for large-scale use. It offers strong cellular signals especially in rural areas or when you are on the road. Another great functionality of the Proxicast 4G/LTE Cross-Polarized MIMO Antenna is how it's simple to install and use by simply mounting on a pole that is high enough for quality signals. This Antenna also comes with a Proxicast for maximum protection against weather and resistance from corrosion.
Pros
It's ideal for large-scale use
Directional
The antenna is ideal for outdoor
Compatible with cellular routers
It offers maximum protection against the weather
It's lightweight and offers a strong signal
Cons
It's pricey.
Takes long to pick a signal.
User Reviews
Most users in rural areas were happy that the antenna can boost the signal from 110db to 103db. Even in strong weather such as storms, the antenna maintains a good signal without any major interruptions. Users are also pleased and consider this device the best MIMO Antenna for MoFi since the connection process is easy and one does not need a technician. However, other users were not happy with how the antenna takes long to pick a signal.
Selecting The Best 4G and 5G MIMO Antenna
If you experience recurrent network signal issues, you'll undoubtedly need a MIMO Antenna. Below are some of the factors to consider in choosing the best MIMO Antenna.
Speed
A good MIMO Antenna needs to enhance your internet speed. By increasing speed, you get a wider frequency to transmit on. It should increase internet speed in places far from phone towers. Even if you are on the road, you remain connected and can easily upload or make downloads. We have studied the impact of the antenna through user reviews of network performance.
Antenna Gain
Antenna Gain is a number that tells you how focused the received and transmitted signal going in and out of the antenna is. For instance in the picture below you can see that the lower the gain, the broader the energy spread at the expense of coverage. The following picture shows antenna gain for Helium systems. It's no different for 4G LTE or 5G.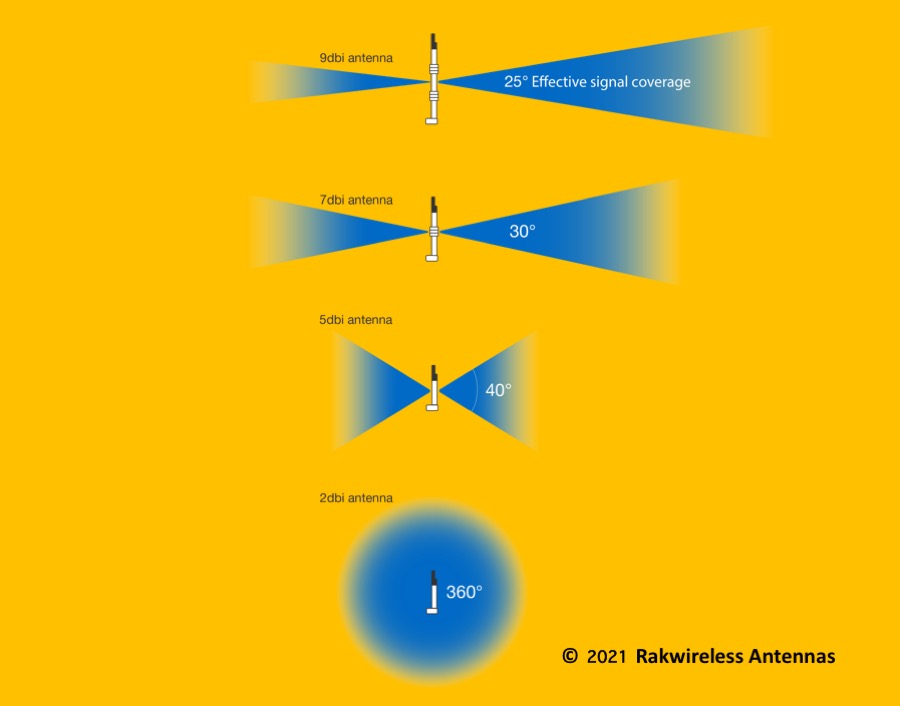 In our selection, the Bolton MIMO Antenna has the highest gain and should be used if you know where your 4G LTE or 5G tower is. If you don't have knowledge of this, we recommend using the Netgear MIMO Antenna which has the lowest gain.
Cables and connectors to use
Antennas improve cellular connections. For antennas to work efficiently you need to attach them with FME connectors which should be connected to modems through adapters. You, therefore, need to ensure that you get the right cables, adapters and connectors.
Compatibility
Your antenna should be compatible with cellular networks. If they can connect to a Wi-Fi network, that's an added bonus.
Portability
If you need an antenna for indoor use, you can check those that are portable. If they can be mounted on vehicles or any poles while you are outdoors, then they are the best picks.
Price
Antennas are priced differently. If you are on a budget and you can't compromise on quality, there are some best picks always available for you.
Warranty and Support
Another important consideration when choosing the best MIMO Antenna is the warranty. Choose Antennas that come with a warranty, have clear installation instructions, and those with good reviews from users. It's essential to properly install the antenna for proper signals. If your signal strength remains poor after installation, kindly check with your local store.
Conclusion
For the best results with MIMO Antennas, ensure your installation is done properly. If you need to mount the antenna for better connectivity, ensure its well-mounted and faces the right direction.
We hope this write-up will enable you to make an informed choice among the above best 4G and 5G MIMO Antennas.