If you're adding a wireless keyboard and mouse to a desktop or a laptop, you're faced with two options: Bluetooth or 2.4 GHz technology. In this post we discuss the pros and cons of each.
Quick summary : If you're looking for a simple connectivity solution for keyboard and mouse, we recommend going with the Logitech Unifying Receiver product family. If you're looking for something a little more versatile, with a wider range of peripheral support and other nice-to-haves, we recommend going with a Bluetooth dongle.
Let's dive into the detailed research.
Adding Bluetooth to your Computer
Bluetooth technology was first introduced to the market in 1999. It is excellent technology for connecting keyboards, mouse and other peripherals to your computer without the need for any wires.
In the case of most laptops, you don't need a separate Bluetooth receiver. Bluetooth technology is built into most laptops today. Most PCs however do not incorporate Bluetooth technology and in this case you need a Bluetooth dongle if you want to go wireless.
The most recent dongle is Bluetooth 5.0 although you can get dongles with older versions on Amazon. There's no reason to go with an older version of Bluetooth.
Adding a Unifying Receiver to your Computer
Logitech's Unifying receiver technology uses a small USB receiver (a dongle) which can connect up to six compatible devices at once. This can be bought separately or as a combined unit with keyboard and mouse.
This makes the unifying receiver technology versatile for communication if you're using more than one external device with your PC. You can connect your compatible headset, keyboard, mouse, touchpad to your PC with a unifying receiver. The paired peripherals remain paired for as long as you want.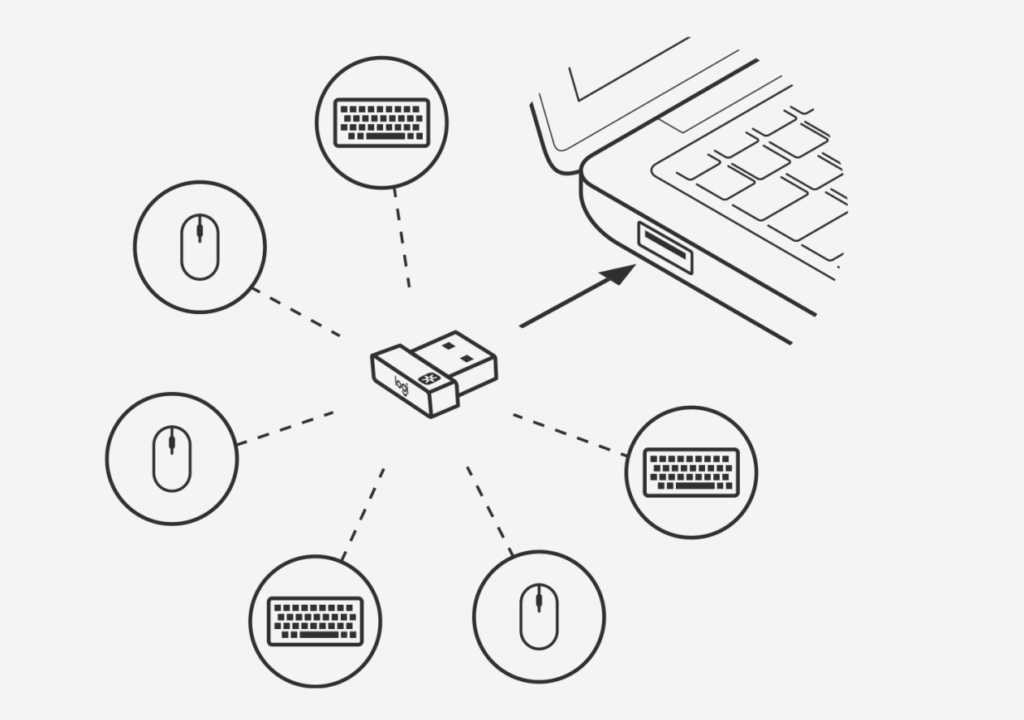 Unifying receivers eliminate the need for multiple USB receivers or dongles to operate. You don't need to unplug a receiver to insert another receiver to use a touchpad, for example, when the USB ports are all used up. You can simply connect a compatible touchpad with the unifying receiver.
Difference Between Bluetooth and Unifying Receivers for Mice and Keyboard
Now that the main features have been established, what are the differences between the two technologies? The technology in both Bluetooth receivers and Unifying Receivers use similar frequency ranges. They both use the 2.4 GHz ISM band. They are however incompatible technologies. That is, a Bluetooth keyboard or mouse isn't compatible with a unifying receiver and vice versa. Other main differences are listed below.
Pairing
As earlier noted, you can pair at most six devices using a single dongle through the unifying receiver technology. Some Bluetooth receiver dongles are able to connect up to seven devices simultaneously.
The pairing process with a Unifying receiver is quite simple. All you have to do is plug it in and turn the device on. Products under the umbrella of Unifying technology are made by the same vendor, Logitech and designed from the outset to work with one another. Bluetooth can be a little more complicated with multiple vendors involved.
Operating Systems
The Logitech Unifying system will work with Windows 10, 11 and Mac OS 10.10 or later. It will also work with Linux operating system.
Most of the available Bluetooth dongles work with every version of Windows – from XP to Windows 11. Some dongles like this Bluetooth 4.0 dongle also works with Linux. Note however that the Bluetooth 5.0 equivalent does not work with Linux. Bluetooth dongles do not work with Mac OS.
Battery Life
Generally, wireless keyboards start to wear after about three years into their use. At this point, the battery is no longer as efficient as it used to be; it reduces in power easily. The story is quite different for a wireless mouse as it can last up to five years before the battery starts to wear. It all depends on your device choice and how active you use it.
Bluetooth devices with internal batteries can last up to 25 to 30 hours of consistent use after recharge. Of course, you'll need to charge the battery and deactivate the keyboard light setting to save battery. Without deactivating the keyboard light, the battery will be affected by rate of about 2% to 3%. This means that keeping the keyboard backlight on consumes the battery faster.
Products from Logitech (with the unifying receivers technology) lasts for about three months if you use it for an average of 2 hours each day before they need to be recharged. So that's a total of 180 hours.
Latency
Most wireless keyboards and mouse have poor lag or latency as some have slow response times. This applies to both Bluetooth and Unifying devices.
When it comes to gaming, most professionals prefer wired or high-end Logitech Lightspeed keyboards and mouse because their latency is less than 1 millisecond compared with 3 milliseconds for Bluetooth and Unifying technologies.
Operating range
Many of the recent unifying receivers have keyboards and mice that can operate up to 33 feet (10 meters). The range of many Bluetooth dongles is quite similar. A notable exception however is the EDUP Bluetooth dongle that has an external antenna to enables a range of up to 100 meters.
You may want the longer distance if your use case is to operate a keyboard from a distance or use a Bluetooth pointer for a presentation.
Peripheral Compatibility
Logitech Unifying technology has an ecosystem of products that are compatible with the dongle. Since they are made by the same manufacturer that takes the guesswork out of the compatibility question.
With the Bluetooth dongles, there can be compatibility issues. For instance users have reported compatibility issues of some dongles with Windows 10.
Replacement Cost
Both Bluetooth and Universal Receiver dongles are designed to be small and that makes them easy to lose. The replacement cost of either dongle is quite reasonable at under $10.
In general Logitech dongles are easy to replace in the event of loss. However at times it can be complicated figuring out which product you have and receiver compatibility.
Supported Peripherals
Unifying receiver technology only supports peripherals made by Logitech. Bluetooth technology complies with a global standard. As a result Bluetooth dongles can communicate with any Bluetooth keyboard or mouse. Bluetooth dongles support a wider range of peripherals and that gives more flexibility.
Frequently Asked Questions
What to do if your PC doesn't have built-in Bluetooth for a Bluetooth keyboard and mouse?
You can buy a Bluetooth adapter which can be removed and inserted to your USB ports anytime you want to use your Bluetooth devices. The adapter is a dongle which can support up to 5 to 7 devices at once. However, only the devices, like Bluetooth 4.1 and higher, that allow "multipoint functionality", can connect multiple devices on such dongles. As an alternative, you can buy a Bluetooth keyboard which has an assigned dongle. This dongle can only connect one keyboard or mice, not multiple keyboards or mice, at a time.
Does the Unifying Receiver have a USB-C dongle?
The Unifying receiver has a USB-A interface. There is no version of the Unifying receiver with a USB-C interface.
Many users believe there is no need for a USB-C interface with unifying receivers. Others however are questioning why Logitech hasn't introduced a USB-C version of the unifying receiver.
USB-C is faster than USB type A. However most computers – in particular desktops, still support USB-A. Modern laptops that have only USB-C ports typically have built-in Bluetooth and can support an external Bluetooth keyboard.
It's likely that as USB-C connectors replaces USB-A on desktops, we will see a USB-C version of the Unifying receiver. Until then, a USB-C to USB-A adapter might have to suffice.
Is Wireless Keyboard Technology Reliable?
Yes, to a reasonable extent. Wireless technology offers freedom of movement as you are not rooted to a spot, making it easy to swipe through pages during a presentation without standing uncomfortably before the screen. With a range of at least 30 ft (9m) of the transmitter, you can use your wireless devices with convenience. Anything longer than that will lead to low responsiveness, meaning that your devices will lag.
Wireless technology also makes it easy to travel. You can travel with your wireless keyboard and mouse without having your wires tangling up. Wireless keyboard and mice de-clutter the desk helping users keep a clean table.
Summary
Both Bluetooth and Logitech Unifying dongles make wireless easy. With a dongle you can connect a wireless keyboard or mouse easily to a computer. In this post we have discussed the pros and cons of each technology.
The Logitech Unifying dongle provides a simple connectivity solution for keyboard and mouse. Bluetooth dongles are more versatile, with a wider range of peripheral support and other features. Additionally some Bluetooth dongles provide 10x the range of the Logitech unifying dongle receiver.