In this article we look at Helium mining in Canada, how it works and whether it is worthwhile for you to get into mining. We also list the best places to buy a miner, where to mine Helium for maximum HNT earnings and much more.
Now without further ado, let's get into the details.
What is Helium?
Helium is a network that is designed to connect IoT devices like dog tags, temperature sensors and more. By participating in the network, you earn (mine) cryptocurrency called HNT.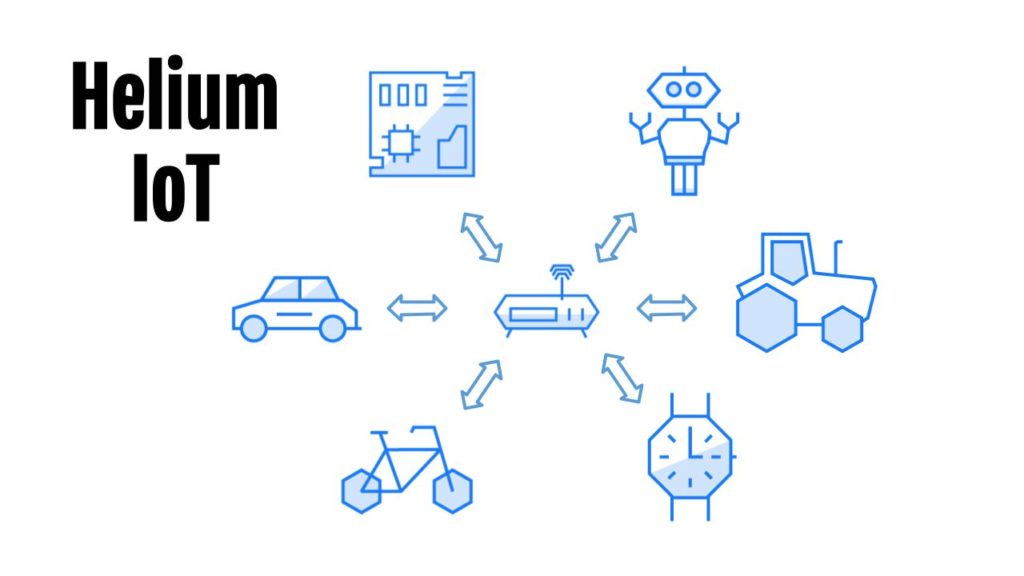 How to get started Helium mining?
To get started you have to buy a device called a Helium Miner. Depending on the brand this device can cost $700 or more.
Most Helium manufacturers are back ordered with long delivery times. One option is to buy a used miner on eBay. Another option is to buy a SenseCAP miner from Amazon.
SenseCAP is our top miner pick on account of its features and specifications.
Is it legal to mine Helium in Canada?
Yes it is legal to mine Helium cryptocurrency in Canada.
Where to place a Helium miner
There are two main considerations when placing a miner.
Helium miners earn HNT when they are able to communicate with other miners. The best place for a miner therefore is a location where it can see the maximum number of other miners. Typically this is on the top of a building or a hill with an appropriate antenna.
The plan for the Helium network is to have global coverage. Helium therefore incentivizes placing hotspots in area with low coverage. Placing your miner in areas where there are already a number of miners will result in lower HNT earnings.
Below is a screenshot from Helium explorer that shows miners in Canada. The green areas are those with active Helium hotspots. Although there are nearly 700,000 hotspots (30 times more than the number at this time last year) globally. In Canada, we've still got a long way to go.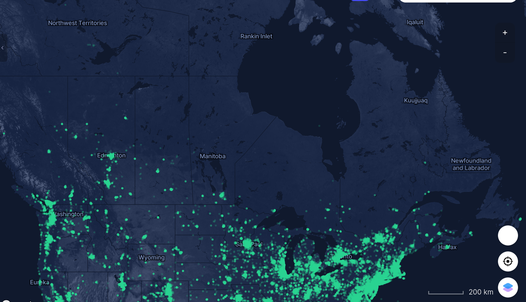 How much HNT can I earn in a day?
In other posts, we've broken down HNT earnings and a miner on average earns about 0.1 HNT per day. The best Helium miners make 1 HNT a day. These miners are typically placed with their antennas high above the ground to maximize reach.
Mining in a big city like Toronto
Toronto is one of the top cities in terms of number of Helium miners. It's currently at third place behind Los Angeles and London.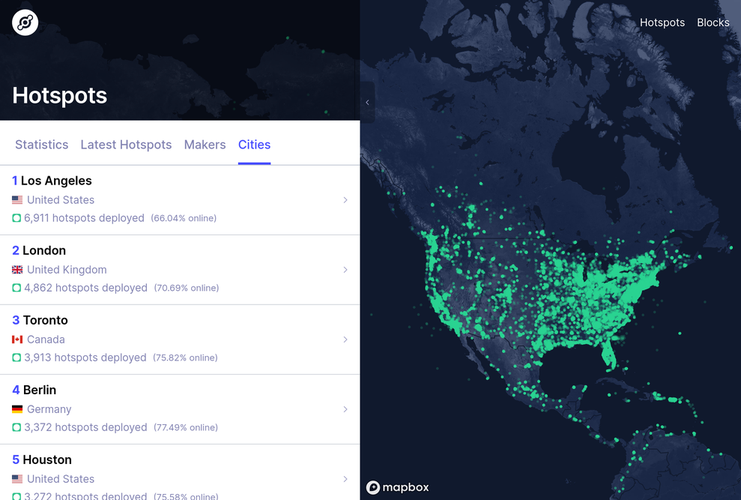 In downtown Toronto, the miner density is too high to make a reasonable amount of HNT. For instance in downtown Toronto there is a Hex with 42 miners. That's way too many!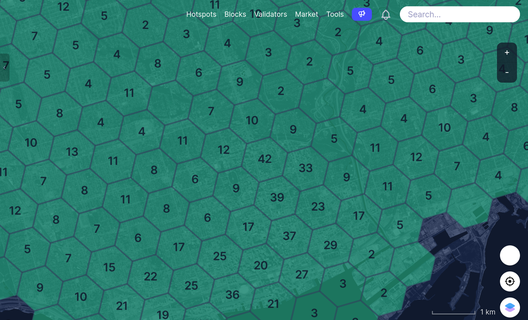 However there are exceptions to every rule and even in the densest Hex there is a miner that nearly makes the average of 0.1 HNT per day. The secret to this miner's success is its height. At 105 meters it towers above neighboring structures and is able to see a larger than average number of witnesses.

The larger the number of miners in a Hex, the lower the transmit scale. The hotspot above has a very low transmit scale of 0.02 as do others in the same and neighboring hexes.
In order to maximize HNT earnings, a miner should be able to witness beacons from miners with high transmit scales (ideally 1) and/or an above average number of beacons. This miner does both.
Miners in the outer reaches of the GTA for instance have transmit scales of 1 (indicated by the color green in the picture below). Those with low transmit scales in the downtown core for instance are indicated with red. So it would make sense to place a miner close to the green regions or high above in the core so that these can be witnessed. This will maximize HNT earnings.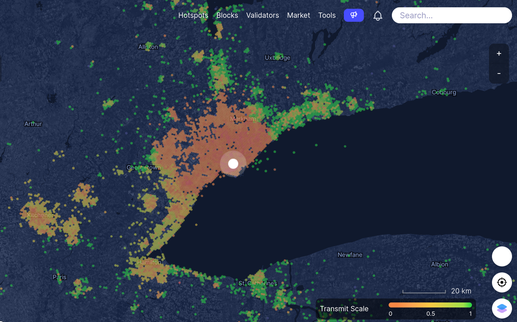 What if you're the only miner?
Certain small towns have only a few miners. Take for instance the village of Poplar Bay which has only one Helium miner. This miner has been able to make 0.1 HNT in the past month as it cannot talk to any other miners. The nearest miners are in the towns of Wetaskiwin (60 km away) and Leduc (70 km away).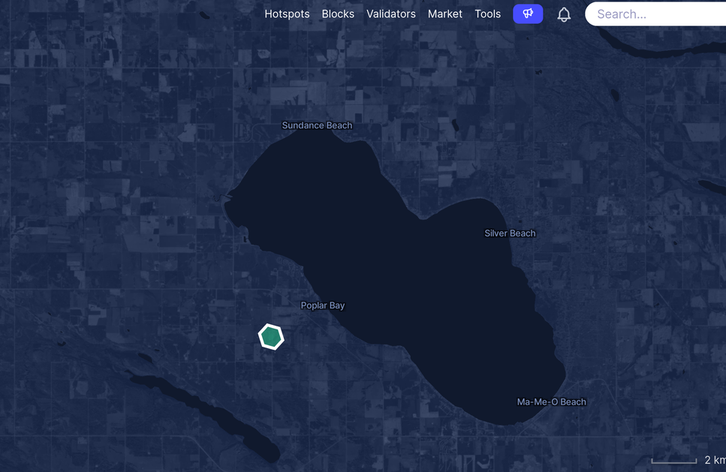 And the Winner is…
The city that earns the most HNT in Canada is Edmonton. In fact based on the 30 day average Edmonton ranks #3 globally.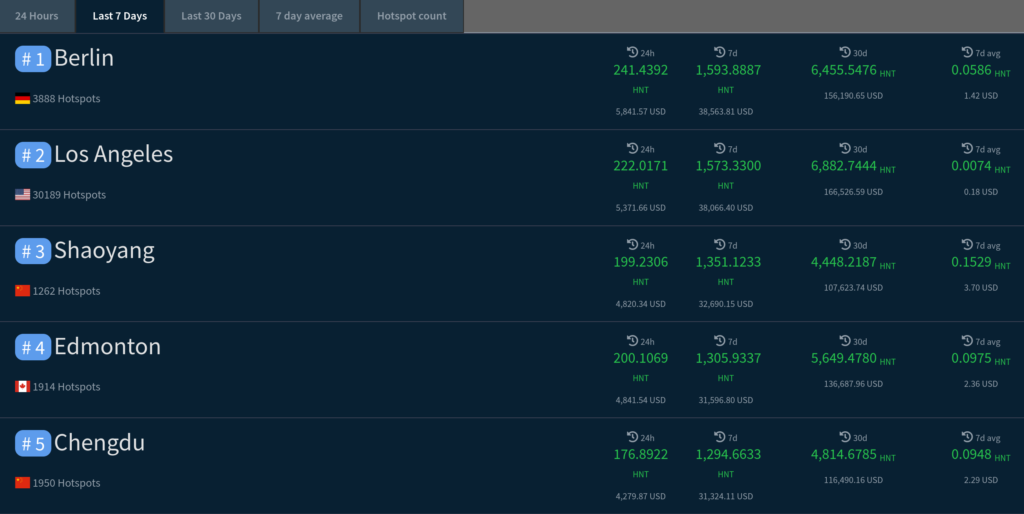 Is it worth it?
At the time of writing, the value of 1 HNT is $30. If your miner earns the average of 0.1 HNT per day, it can make $90 per month. Your miner will be paid off in 8 months and it's all profit after that. On the other hand, with careful planning you could earn 10 times that amount and get to profitability in under a month.
These numbers assume no other Helium miners come online, which is not a realistic assumption. So in reality the timelines to profitability might be pushed out accordingly.
Miner placement considerations
Ideally a miner antenna is placed at a highest possible location and to maximize HNT, the cable run between the antenna and the miner should be kept as short as possible. It's tempting therefore to mount your miner outdoors on a pole. There are outdoor enclosures that can enable this with relative ease.
However, miners are only rated to operate down to 0oC and therefore in most parts of Canada, it will not be possible to place your miner outdoors.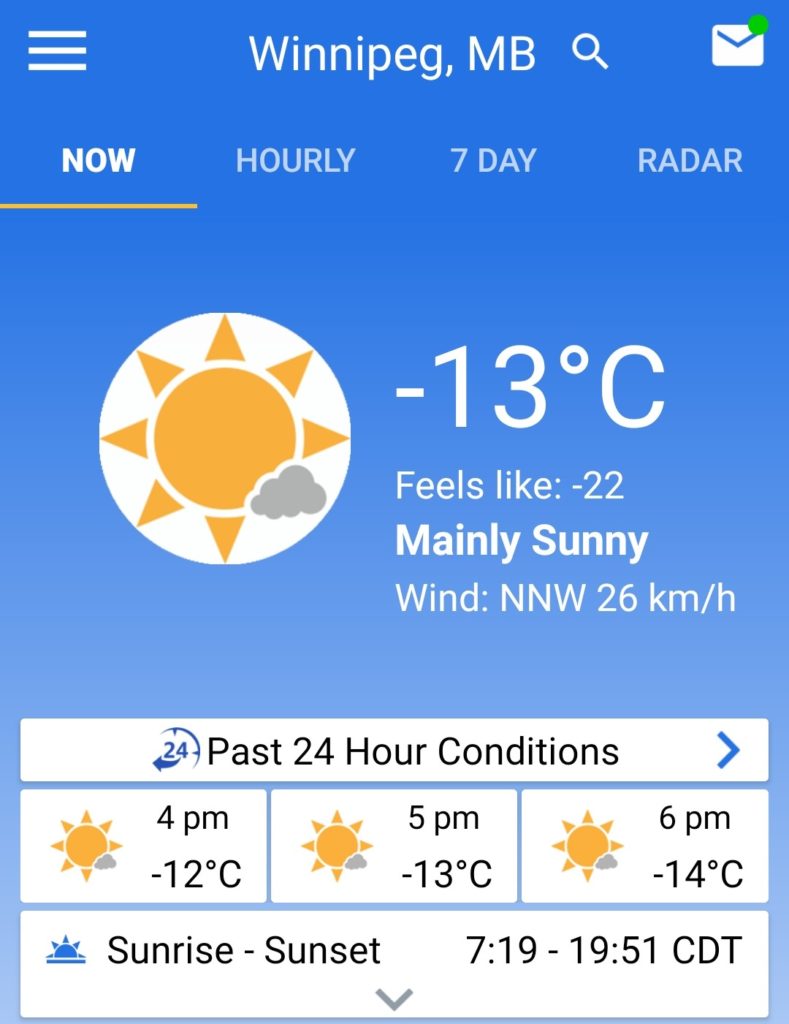 The best place for your miner is in your attic or by a balcony window if you live in an apartment building. There is also the option of deploying your miner in a friend's home.
Where to buy a Helium Miner?
Helium miners can be purchased on Amazon or eBay. Purchasing on these sites ensures that you won't have to wait to receive your miner.
Summary
In this post we have discussed Helium mining in Canada – considerations of where to place your miner for maximum HNT. Once you get your miner we recommend reading this post on getting started with Helium.